---

The MX-5 Miata of the Month from
---
April 2007
John Ewing-Chow
Congratulations to John on the selection of his well-travelled MX-5 as the April MX-5 of the Month!
---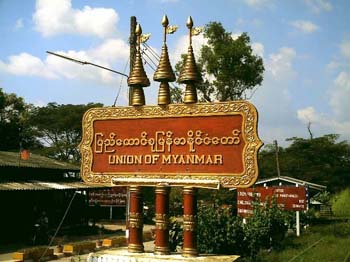 Boot-packing in Thailand

Why go to Thailand?
Singapore is too small to fully enjoy the MX-5. From one end to the other it takes a driver less than half an hour, on an island the size of Washington DC. Therefore, for a year since purchasing the NC, I've gone many times into my northern neighbor's country and covered lots of places in Malaysia. Together with previous forays, I reckon I've explored more than 80% of Malaysia and it is a beautiful country. Good friends in the northeastern Malaysian states used to cross the border into Thailand's Narathiwat province for food and drives and I've always wanted to do that too. However, in the last few years, unrest in that state and Yala and Pattani have destroyed that dream. I then learnt that crossing the Thai border at the end of the Malaysian North South Highway into the southwestern part of Thailand was hassle free. So one September day, I drove across the border into Thailand and returned safely and with that experience, decided to do more.

Is it safe?
9 out of 10 friends tried to dissuade me from going but they have never driven there themselves. The few who encouraged me with positive comments were the ones who have driven there before. The only warning I had was not to drive at night, as the truckees would be king of the roads in Thailand. From this trip, I would say that driving in Thailand is no different from driving anywhere else and in fact could be safer than even Malaysia. In all my travels in Malaysia and Thailand, I have not had one "angry face" incident. On the contrary, it was smiles everywhere I went as folks just loved to see this cute mx5 up close and personal or was it this cute old man traveling alone so far from home? Incidentally, I am 63years old and retired. As for night driving - no problem too. Sometimes I had to drive at night as darkness closes in early at 6 pm unlike Singapore and Malaysia which have set their clocks one hour ahead giving them extra day light in the evenings.

Road conditions:
There are excellent roads as well as very bumpy ones. Roads in the north are better. They are not so well maintained in the south. Most roads are straight, minimum 2-laned dual carriageways. Looking at a map of narrow and elongated Thailand, you will see why the roads are so straight in a north south direction. The best road I traveled on was central Thailand's Highway 11 from Phitsanulok to Singburi (80 km north of Bangkok). It was a brand new smooth 2 laned dual carriage highway heading for miles into the horizon with very few vehicles on it. It was 200 kph, evening, top down drive for long stretches. By the way, there are no tolls (except to the new airport) and no speed traps in Thailand. So go as far as you want, and as fast as you want. No fear of costly tolls and fines. Petrol costs only slightly more than Malaysia. Very roughly, 1 litre of petrol is US $1.20 in Singapore, US $0.55 in Malaysia and US $0.70 in Thailand. (editor's note: that's about $4.50, $2.08 and $2.64 per US gallon)

Accommodation:
So cheap!!!! US $12 per night gets me a clean and decent motel room which I preferred as it allowed me to park my car outside my room for easy boot packing. In the mornings, I was able to give my car a good wash before setting off for the day. I also tried a "love motel" in Bangkok in Papingkao again for US $12 for the night. You drive into this huge darkened 2 storey complex. Torchlights will guide you into a motel slot and immediately, a heavy curtain is pulled to cover your car from prying eyes. The rest is up to you including the use of a "love" chair which I did not use as I was indeed alone! Believe me! I did get up on the chair though but I don't think I will use it ever as it was so uncomfortable especially for bony people like me, metal rods on shin bones don't aid love making!

I also stayed in 5 star hotels along the Chao Phrya in Bangkok and they are sumptuous for less than USD55.

Food:
Thai food is simply delicious. I suppose many of us know that. You just can't go wrong ordering almost anything from any stall – so yummy, at least according to my palate. Not knowing Thai, I just point and eat. And so cheap – 40 cents for a bowl of beef rice noodle as an example. No stomach problems and I was not too careful either. The thing I would miss most after this trip would be real Thai food.

Destinations:
You lose your way often and you add an additional 2,000 km to your total trip. Mai peng rai! No worries. Never mind. Where you are is where you want to be anyway. The destination is not important. It is indeed the journey that matters. Traveling solo has great advantages – you can only quarrel with yourself and make split second decisions to turn left or right without having to consult. Lunch can be forgone or an apple from your storage bin will suffice. What freedom! No convoy to lead. No convoy to explain to for getting lost. No waiting for anyone or causing anyone to wait for you.

In all, I covered 8,000 km in 19 days in Thailand, up north, down south, west and then east and then round and round, knowing where I would be only a few hours ahead. It was almost as if it depended on which way the wind was blowing.

Highlights of my trip were:
I ran smack into the annual Loy Krathong festival on my first night into Hatyai. The roads were blocked and I spent one hour getting to my prepaid Lee Gardens Hotel. I stayed there once before in September and knew where it was but could not get in. Hatyai is far from any river and so they set up a huge plastic sheet in the middle of main street and made a waterfall cum river for the locals to put their floating flowers on it.
Dead tired and so immediately upon checking in I headed for the Thai Traditional Massage in my hotel. Ahhhh! Never knew Thai massage was this good. Note that there is no hanky panky in such joints!! Again, you have to believe me!! In fact, in a previous report, I wrote that it was difficult to find hanky panky activities in Hatyai. Knowing about Hatyai in the past, this was of great surprise to me.
I found that I could cope with the notorious Bangkok traffic though my very first day into Bangkok was a nerve wrecking. I struggled into the Shangrila Hotel to get my bearings. After that, it was OK. I could get around and even managed to visit a friend's family in an old part of Bangkok. They were surprised that I could find my way with only an address. This Thai Muslim family was living among Buddhists. It was a treat for me to visit this village in the city and to be given lunch, cooked specially for me after I appeared at the door.
I decided to leave the north like Mae Hon Son, Chiang Rai and Chiang Mai to another trip. I went west from Bangkok to Kanchanaburi and Sangklaburi and ended up at the Myanmar border. 430 km on and I would be in Yangon! I was very tempted to pop over but not on this trip. I will have to read up more and make calculated decisions as I did for this trip.
Sukothai the ancient capital was next and that brought me on to Si Sachanalai for the ruins.
Each morning I would read the Lonely Planet and my Atlas to determine where my next destination would be. Hey, there is the Thai Communist Party HQ on a mountain top nearby (some 250 km away)! I made it to the Khao Kho highlands near the Laos border to visit the Pho Khun Pha Muang campsite.
The ancient capital of Ayutthaya was next as I slowly turned south towards Bangkok.
Slow drive down the Kra Isthmus brought me to many bays and resorts. I hopped on to a car ferry to Koh Samui, half the size of Singapore. Again I visited all the bays and beaches and hills. A Frenchman wanted to sell me his paradise resort for a million US dollars. Beautiful place.
Down south to Khao Lak and Phuket to see the recovery of the devastation by the 2004 tsunami. In Khao Lak, I was the first guest to check into a newly rebuilt resort and the bungalow room did not have curtains yet!
Back to Hatyai and then to the border town of Dan Nong. If you just drive through the main road, you would see it only as a border town. But if you explored the roads behind, woooooohhhhh! Karaoke, bars, girls, etc etc, the image I used to have of Pattaya and Hatyai is now here at the border. Lots of Malaysian cars park at Bukit Kayu Hitam and the people walk across the border, get a border pass (no need for passports) and return without evidence of having visited Thailand!
That's all folks. Will go explore further up north next year. Sawatdeekrup!
| | |
| --- | --- |
| | Only 473 km to Yangon. Very tempted to go on but … |
| | … I didn't want to pay USD10 and … |
| | … you have to drive on the right hand lane, not left as in Singapore, Malaysia and Thailand and also I had zero knowledge of the country ahead. Next time??? |
| | The Thai border town of Sangkhlaburi... |
| | ...and the pedestrian crossing across the river that I had to find based on the Lonely Planet entry which served as my travel bible. |
| | Hopped on a car ferry and got to Koh Samui. I stayed in a resort on this beach. |
| | This is my resort from the beach and to make it really mine, Jacques wanted to sell his paradise on earth to me for US $1,000,000. |
| | "My" resort from my balcony. |
| | The resort is next to Hinta Hinyai, a "must-see" tourist site on Koh Samui. Why? |
---
---
---