NB Miata Fuel Filter Replacement
by Mark Spizzirri
Replacing the fuel filter in the Mazda Miata is a relatively straight forward procedure. These instructions apply to the NB series (1999-2005) Miatas, but should act as general guidelines. I have created these instructions as an addendum to the procedures outlined at Miata.net's Garage section. They are available here, and use a NA Miata as the example. The pictures I supply here document the differences between the NA and the NB Miata.The items you need for this replacement are as follows:
10mm wrench for opening the filter retaining clamp
Replacement hose retainer clips
A new fuel filter
Pinch nose pliers
Long nose vise-grips
A knife, or something with a blade to pry out the plastic cover screws.
Goggles!
The instructions provided at the Miata.net site are great, and there are only a few changes I need to mention here. First off, I recommend using long rubber gloves, like the kind you would use for cleaning in your kitchen. Latex gloves deteriorate almost instantaneously when touched by gasoline, and their short length wont keep the fuel off your sleeves. The Fuel Pump Relay in the NB Miata is located under the steering column right above the accelerator pedal. It is not a totally yellow clip, but the female clip was colored bright yellow on my car: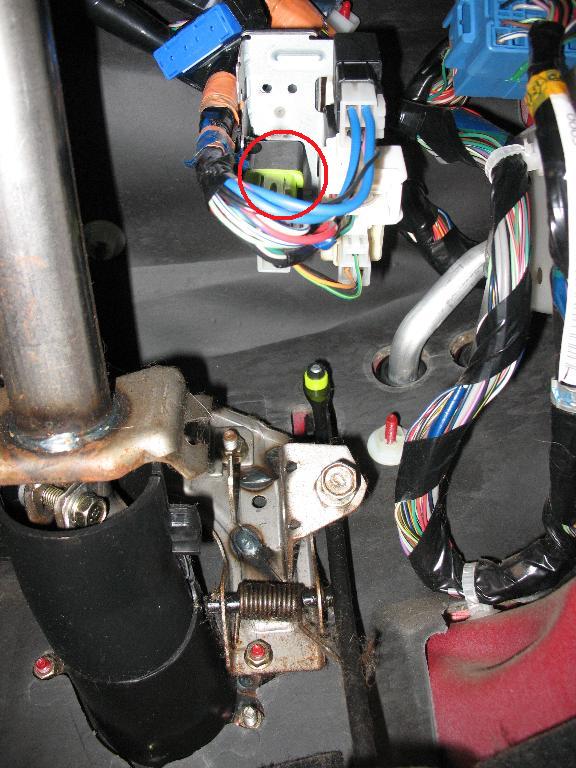 The fuel filter is in the middle, forward of the rear passenger-side wheel, and towards the center: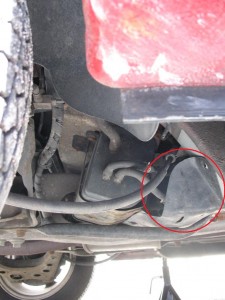 Following the instructions outlined in the Miata.net article, you can easily remove the plastic cover. Once you have the cover removed, the clamp loosened and bent out of the way, ready a new retainer clip in the intake side (The short horizontal pipe) of the new filter. Use the pinch-nose pliers to detach the old clip, and quickly put the dripping hose (it will be dripping*) on the new filter, be sure the other end of the filter is clamped or plugged! Once that hose is on, you can carefully move the old filter out of the way, remove the exit hose, and attach it to the new filter. Now place the new filter into the clamp, bend the clamp arms back into place, and use the long-nose vise grips to hold it together while you screw in the clamp bolt. Replace the cover, plug in the FPR, and make sure it turns on. That should be it! *Despite the fuel system being de-pressurized, fuel did flow out of the filter intake hose. This flow was more than a few drops, and will not stop unless you clamp off the line, or quickly plug in the new filter!
---
---
---