It's Here!
The guessing ends about the redesigned Miata!
(Click on images for full size photos.)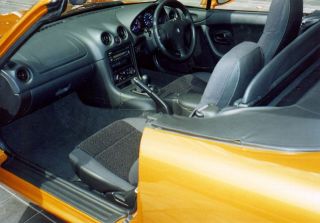 After years of speculation, trepidation, spy shots, and lie-shots, the redesigned 1999 Miata has finally made its public debut!
The verdict?
We like it - although we're certain the design will always be a point of controversy with owners of Generation 1 Miatas. The changes are mostly subtle - the way a classic should be. Most prominent are the exposed headlights - gone are the pop-up "barn doors". The other changes would probably go unnoticed by all but the Miata enthusiast.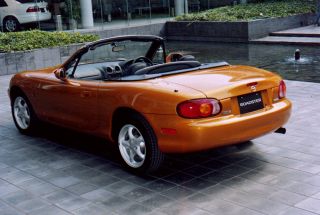 The overall lines of the car are a bit more aggressive. Not too much, but enough to suggest a bit more under the hood. And there is a bit more under the hood - about 12 more horses. The doors are now curved like we saw in the M-Coupe concept car and have a slightly sculpted line. And there's a little upturned curve to the trunk line which rounds off the rear view - not unlike the last generation RX-7. The mirrors are a little more contemporary to go with the rest of the styling.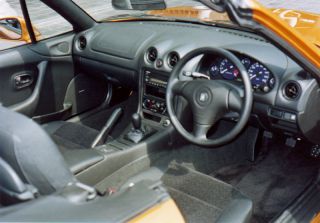 A new addition is the light weight 5-spoke wheels which is in contrast to the 7-spoke designs on the first generation Miata. The body color door handle eliminates that little glint of chrome - the only one - from the early Miatas.
Inside we can see the new interior color matched flip-up wind deflector designed to reduce buffeting at highway speeds. A welcome addition, although we'll reserve judgement until we determine whether or not it is effective.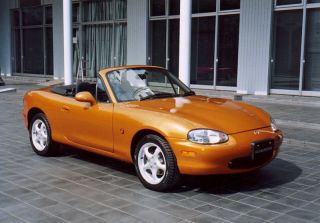 The US introduction is expected to be in December at the LA Auto show with the first dealership deliveries coming in February, 1998.
Note: The photos of the copper colored Miata on this page came from our sponsor, K.G. Works. The Detroit Free Press also managed to publish prior to the official US embargo date. Check their site for additional photos. Mazda's main web site also has a few shots as does http://www1.sphere.ne.jp/mazda/Motorshow97/en/Roadster/index.html
---
Copyright © 1997, Eunos Communications