The MX-5 Miata of the Month from


---
September 2001
Vincent Roy, Philippe Ouellet, Eric Philippouci and Jean-Francois Plante
vroy@yahoo.com, p_ouellet@yahoo.com, ericphilippouci@hotmail.com, jfrancoisplante@yahoo.ca

Congratulations to these four friends on the selection of their Miatas as our September Miatas of the Month!

---
It all started about 10 years ago… no not the story of the Miata, the story of four guys from different Canadian cities who met at the Military University near Montreal.
| | |
| --- | --- |
| | |
| Vincent - Philippe - Eric | Philippe - Jean-Francois |
We all had a common passion for the automobile and spent many hours dreaming of the cars we would buy once we graduated. Most discussions revolved around the common interest of offering us the greatest amount of straight-line performance. In May 1996, we graduated and went our separate ways. Like most of you who are reading this, we did not buy our ideal cars immediately after graduation! In retrospect, that's probably a good thing… we had time to improve our taste in cars. In 1999, when Mazda introduced its new generation Miata, it became the main focus of our conversations about cars. The first one to make a move was Jean-Francois (also known as G-F in the forum), who decided to lease a '99 LS Twilight Blue Mica (to save on monthly payments!!), and used the extra cash to modify the car to his specifications. Second was Eric, who found a great deal on a '99 LS Twilight Blue Mica with the appearance package. Third was Vince (vinceroy in the forum), who after over a year of torturing himself to see if it was wise to buy one, ended up buying a '00 LS Twilight Blue Mica in April 2000. (We hope you can see the trend here… J) Finally there was Phil, who couldn't care less at the time about the Miata. He was still dreaming about the day he would buy an old '68 Camaro SS and bring it back to life. Well guess what? Phil had been helping Vince with the pros and the cons of buying a Miata for over a year. Add to that a couple of rides on sunny days with the top down, and he was hooked...he wanted one too! Try as might to break the color cycle, Phil ended up being the fourth of four friends to buy a Twilight Blue Mica LS in July 2000.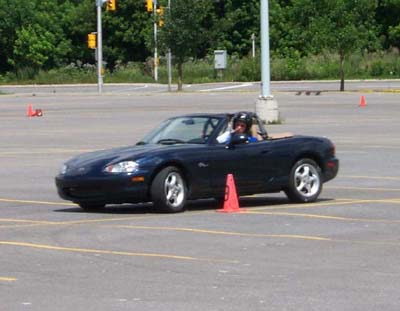 Since the day Jean-Francois purchased his car (www.cardomain.com/id/miatafan) he has been very busy modifying it extensively: brakes, full suspension, racing harness, header, muffler and a G-Tech to measure his improvements. Jean-Francois can regularly be seen with the Miata Underground Network in Ottawa where he perfects his Solo II abilities. He also attended a race driving school on the Sanair Circuit and has recently moved to Montreal.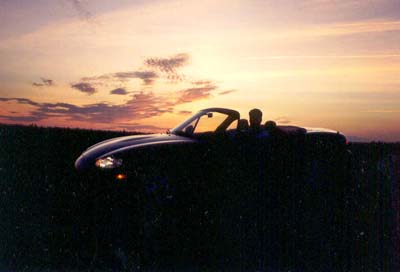 Eric now lives in Belleville, Ontario where he uses his Miata to unwind from his flights around the world as a pilot for the Canadian Air Force.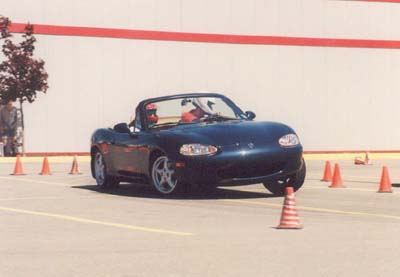 Vince has moved to Boston and has been busy discovering the sights with the Mass Miata Club (www.massmiata.net ). Vince has installed a roll bar, racing harness and enjoys shredding rubber in B-Stock Solo II events. His web site is www.cardomain.com/id/vinceroy.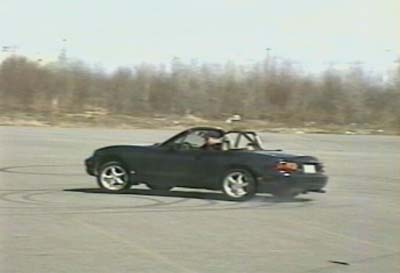 Phil, like Jean-Francois has gone full out with the race modifications in personalizing his Miata: www.cardomain.com/id/wello. We're sure that if you drive through Montreal you will see him ripping through tight corners and exits at a high rate of speed!

Four friends, four M2, four leather equipped Miatas… with the most beautiful color: Twilight Blue Mica. Although we are in different cities now, we still have the same love for automobiles…fine automobiles that is!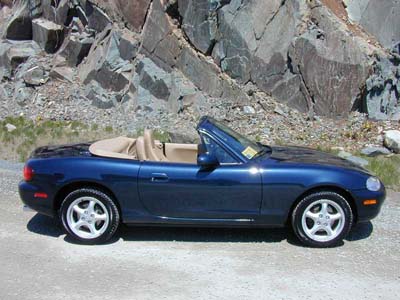 So far we have never been able to meet all at the same time with the four M2's at the same place. The closest we've come so far is 3 out of four so we are using the internet this month to make our reunion complete. We plan on meeting at the Deal's Gap in 2002 and invite all Twilight Blue Mica to meet us there.
So even if your Miata is not Twilight Blue Mica, enjoy it. Whether you're on a race track testing the limits of the car as well as your own, or simply cruising around on a sunny day, driving your Miata will put a huge grin on your face. Get in, sit down, hold on, and be ready to smile is our motto!

---
---
---