---

The MX-5 Miatas of the Month from


---
May 2002
Michael Fernandez
Congratulations to Michael Fernandez on the selection of his Miatas (and friends) as our May Miatas of the Month!

---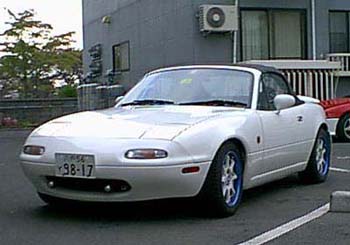 There is something special about Miata people. Owner, club member, racer, or just a fan of the Mazda Miata tells me a lot about them. There are people that have a Miata as a recreation vehicle. Other people use their Miata as a daily driver. There are even people who own several Miatas. What they all have in common is a Miata lifestyle. This is mine.
I have always preferred compact cars. In 1989, while in high school, I used to drive a Honda CRX. In 1990, while serving in Germany, I bought my first car for $400. It was a very well used Opel Ascona. During this time, a good friend showed me the beauty of top down, open air driving in a Ford Escort convertible. In 1994 I was assigned to southern California and had the chance to buy my first "real" car. My first choice was a new Honda Del Sol. Luckily, I couldn't afford one and found a used Mazda Miata instead. Of course, this was the right choice.
Owning a Miata and driving one daily is a must. It is my hobby, my joy, a social outlet, and a way to see Japan. Over the years, I have surprisingly acquired three Miatas and named them all after women. Hmm, I wonder what that says about me? Being a 31 year old single sergeant in today's military, raveling the world, partying, dating, and having fun makes sports cars a given. The two seats, minimum space, open air, dependability, affordability, decent gas mileage, and a never-ending modification potential of the Miata makes it "feel just right." I am currently a member of the Kanazawa Roadster Club (KRC), been in two issues of Road&Ster magazine, and have made life long friends. So, which one will I choose for the Miata of the Month? All of them, as they all have their own story. And you guys like stories, right?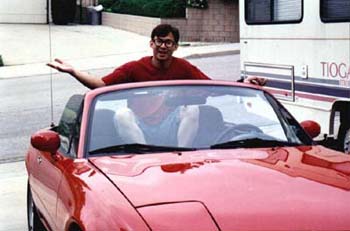 Jenny Kenheim is a beautiful Swedish girl I met at Alanya, Turkey. Alanya is a resort I used to frequent after three hours of curvy mountain roads. We danced only once, took a drive to a tower on top of a hill overlooking the Mediterranean Sea, and spent the early morning talking and drinking tea as the sun came up. We went to the beach, laid out, and shared music together with one earphone in each of our ears. I was amazed, stunned, how lucky I was to be with such a sexy young thing. I was in awe watching her as she took a dip in the water, I swear it was in slow motion. I named my red 1990 base package Jenny so I would never forget that sexy Swedish girl. Jenny is currently in Las Vegas with my brother. She has a Jackson Racing Cold Air Intake, Tokico handling package, and Borla cat back exhaust.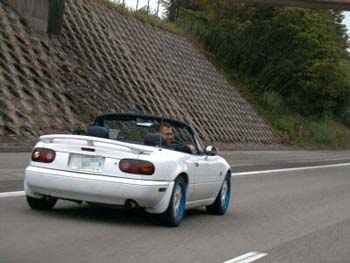 Yukari Meada is a sweet Japanese lady and a valued member of the KRC. She was one of my hosts while visiting Kanazawa for the first time. She gave me a ride in her Roadster and visited a Japanese automobile museum. She surprised me with lunch as we had a picnic. It was turning out to be a really great day. The weather, the company, the presentation of the food in the binto box was all giving me that stupid grin you get when you drive a Miata. You're not in Kansas anymore, I was in Japan! We communicated using plenty of sign language, her Japanese to English dictionary, and my English to Japanese dictionary. It was funny, awkward, and was very difficult but necessary. She made me three Origami cranes and I made her a flower out of cigarette foil. I named my white 1990 Eunos Roadster in her honor. Yukari is my daily driver and has a GReddy Turbo, Trust suspension, and GReddy exhaust.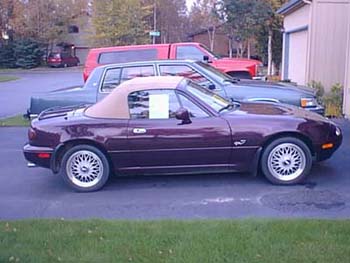 Esther is one classy woman, sophisticated, independent, and oh so lovely. We met at Chilkoot Charlie's in Anchorage, Alaska. It was clear she was out of her element in that red dress with the matching red shoes and red hand bag. I thought red only looked good on Miatas. Boy, was I wrong! It seemed that no one wanted to ask her to dance. Perhaps they were intimidated by her? That is when I decided to make my move. We danced and talked for a few. I was shocked to hear that her name was Esther as I knew the name is from a different generation. She was kind enough to give me her phone number. The next day, we had lunch at Orso's and shared a wonderful conversation. It is rare and a bit odd to "click" with someone so quickly. But we still keep in touch through letters and e-mail. It isn't easy but it is worth the special friendship we share. After I bought my 1995 Merlot M Edition I knew that I would name her Esther. Esther is with my father in Anchorage, Alaska. She is stock with only 13,000 original miles.
I love my Miata lifestyle! I hope to add to more to it. I would like to tour the United States and see this beautiful country I call home. I would like to try autocrossing, join more Miata clubs, and meet even more wonderful Miata people. And hopefully one day find someone special to share this Miata lifestyle with. But that, is another story.

---
---
---