---

The MX-5 Miata of the Month from


---
October 2002
Petra van den Berge and Snakebite - again!
Congratulations to Petra van den Berge on the selection of Snakebite as our October Miata of the Month - following on from September!

---
You met Snakebite last month. She continues to tell her story...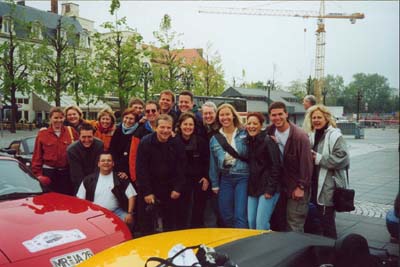 Trips and Events
About once a year there are big events here in Europe, and occasionally Petra and Robin are driving Robin's unnamed Classic Red Miata, and I am the host to their friends from abroad. Miateers from Canada and the US have been driving me around in London, Paris, Bruges, Marburg, Frankfurt, Reims, ... everywhere!
But also Petra and Robin have been driving me around, last year we ended up in the Alsace, at the Bugatti factories. It was there that I met some Bugatti ladies, at a Bugatti club meeting, they were quite old being from the twenties, but they certainly didn't look that way! Somebody was taking great care of them, I loved the way they looked, and loved their... Mariner Blue color! (which they, by the way, preferred to describe as French Racing Blue).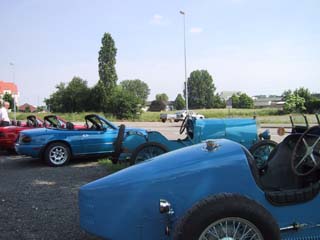 Alsace was great, from there we've been to the Porsche factories (I look a lot better than those young Boxsters, even the ones in Mariner Blue!), and the Bodensee in the south of Germany which is a highly recommended Miata area. I have made many European Miata.net friends, like Bibi in Belgium, Brua, Gialla and Funny in Germany, Ninotchka in Sweden, and of course all the Dutch MX-5s from the MX-5 Owners NL club!
If I were allowed to talk more about the Miata funruns and events, I would easily spend another hour.. However there are so many more things in life that needs to be mentioned too!
As I said, I got to spend a lot of time with Robin's unnamed Classic Red Miata. But there are more interesting souls that are sharing our garage...
Garage partners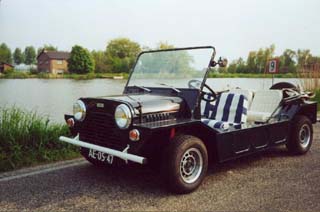 April 2000 we were surprised with the wonderful addition of Mokey, she's a great sport! She's a '68 Morris Mini Moke, in great shape, and even though she's a front wheel drive, she claims she has the same road handling as I have. I am afraid she's talking the truth - she handles like the Mini but even better as her center point of gravity is lower! For those that want to know more about her, I would like to refer to her welcome message she sent to my friends in those days.
Later that year, we were also joined by The Green Monster, a real European MX-5! She is one of the limited edition '91 BRG's in The Netherlands, she is number 44 of only 49. And she's supercharged... She's a bit of a tomboy, always bragging about her power, and with her winter tires and anti rust treatment she's not afraid to go out - unregardless the weather conditions. Even when it's raining hard or when the roads are salted. She doesn't mind! I must admit that I was quite envious when she was the Miata (MX-5) of choice, to join the Miatas to the Midnight Sun Run last year, where they all went to the Polar Circle and even further, in Scandinavia! I would have loved to be there, friends from mine from the US were there too.
Then, in 2001, we were joined by the unnamed '59 Austin Healey Frogeye. He's a cute little silver roadster with beautiful wire wheels, he's the oldest of us all! He has quite some interesting stories about being a roadster back in the "true Roadster days". But if anyone is complaining about the limited boot (trunk) space of a Miata - the Frogeye has no boot at all! There's some storage space behind the two chairs, but stuff that you put there, might be lost forever.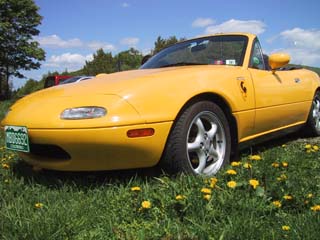 Finally, in 2002, we were joined by Happiness. Happiness is a little Yellow Miata, she's one of the '92 US Sunburst Yellows, and she definately has the most interesting stories! Just like the unnamed Classic Red and myself, she came from the US, but she has travelled the most as she was bought by Mike and Claire Saint who came from New Zealand, and they used her to discover America! Wow... the places she's been, the Miatas she's met... I have only heard the stories from Petra, never met those Miatas in real, and now these stories from Happiness! She's seen them all! And she even knew The Green Monster already, they met on the Midnight Sun Run last year.. She certainly has been around!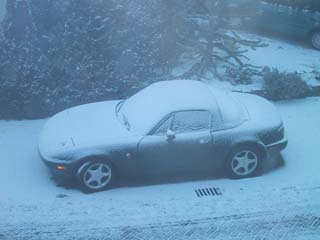 So you can see, we're a happy bunch of topless cars. Another thing we all have in common, are the Team Voodoo shift knobs, even Mokey and the Frogeye have them! And even though I am enormously proud to be the chosen Miata of the Month, it could have been The Green Monster, Happiness, or the unnamed Classic Red as well. Not the Frogeye nor Mokey though, they are not Miatas! Hahahaha!!! Oops - shouldn't be laughing about that, these old cars deserve respect.. They've been around so much longer than we have, Miatas were not invented even when they had our age... I wonder what Roadsters will be driving around by the time I am as old as Mokey, or the Frogeye, and who is then joining us in the garage!? I know Petra is always checking out the Lotus Elises, and Robin the Donkervoorts, I wonder if any of those would add some more diversity to our little group?
Diversity
That's the fun thing about being in Europe. There is so much more diversity, I have met "ordinary" MX-5s, but also right hand drive MX-5s, Miatas, Eunos Roadsters (which are also right hand drives), and then all the roadsters that never made it to the US - the already mentioned Lotuses and Donkervoorts, the Fiat Barchetta's, the (new and old) MG's,the (new and old) Alfa Spiders, and then all the classic cars that are still around. It looks like the more it rains in any given country, the more roadsters there are. And it rains a lot in The Netherlands...! However I will also never forget the fun we had in the US. Wished I could go back some day, and do the same trip Happiness has done...
It's so fun to be a Miata!
And it's even better to be the Miata.net Miata of the Month! Thank you!
Snakebite
---
---
---