The MX-5 Miata and a half of the Month from
---
February 2005
Mike Bradley
Congratulations to Mike on the selection of his Miata and a half as the February Miata and a half of the Month!
---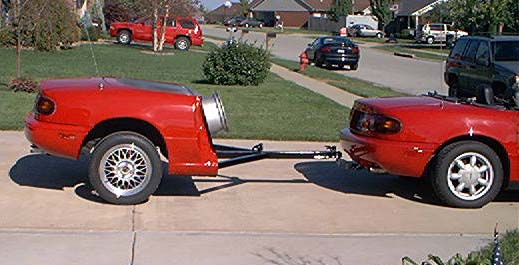 Editor's note: Yes, we know this one is short. But it was too unusual to pass up. Besides, February is a short month. Just wait until you see March...
My wife and I enjoy short trips, however, the Miata didn't give us enough room for luggage as well as purchases we like to bring back home. So the idea came up of if we had a trailer to take along. I knew the Miata couldn't handle too large a trailer and thought a UHaul was kind of tacky behind a Miata anyway. I have a friend that has a body shop and we decided to get a rear clip of a Miata and make a matching trailer. We cut the clip at the rear of the doors, removed the rear end (for weight purposes) and put hubs from a Saturn for it to roll with. We removed the fuel tank, spare tire and battery for space. Now I have storage from the rear to the front with the fuel tank out and mounted the spare on the front. If you look close, you can see the tailpipe installed, just to make it look real !
Mike Bradley
Versailles, Kentucky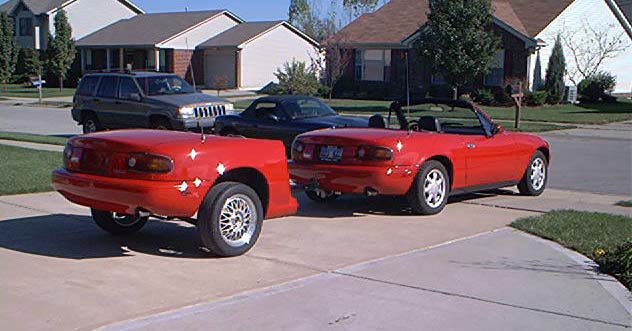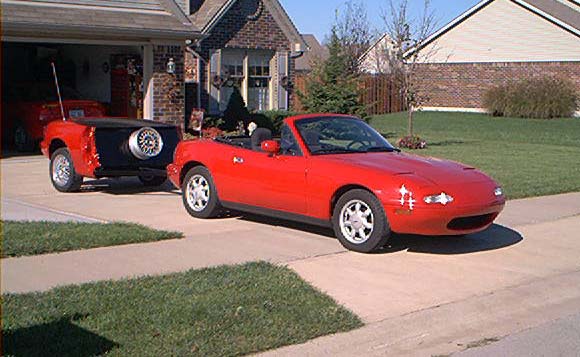 ---
---
---