The MX-5 Miata of the Month from
---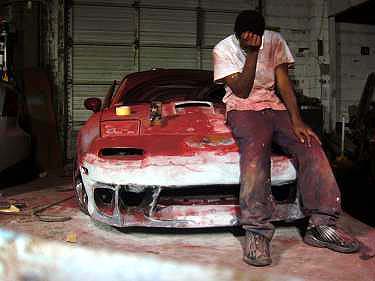 July 2006
Cory Holder
Congratulations to Cory on the selection of his 1993 Miata as our Miata of the Month!
---



"Well, first of all my Miata and I have known each other since the beginning of the year. You won't believe how much i got her for: $150! Surprised? I was. I fixed the timing on it which was the only problem and the reason why I come to this site :) I'm actually 18....well i just turned 18 a few weeks before I got it. I've loved Miatas for a long time and man was I happy.

"Anyway you'll be shocked to learn that I made almost everything for my car myself. Exhaust, body kit, etc. Sometimes people mistake it for a Porsche. Ha! My other Miata friends say it's the best looking Miata they've seen in a long time. I just need some better rims. It looks more aggresive, less kiddy, more manly, and nobody asks me to race them anymore - although the best thing I've done to improve its performance was a tune up and I made a dual muffler for the exhaust as well as a straight pipe.

"I just painted it April 27th and I'm still working on the look. Did I mention I made the hood scoop from scratch? I started with cardboard, then fiber glass, then bondo and went from there. I was actually thinking of making a wide body kit for it, but I like the fact that I can park anywhere I want. Anyway I painted a design on it, no vinyl, and now I'm pinstriping it and painting the engine bay.

"I like the way little kids walking down the street stop and drop their jaws in awe. I never got so much attention. I always get stopped somewhere, even if its the restroom, with people asking me questions. So now I'm starting my own business and hopefully I can make parts for all Miatas and other cars, just because of so many people wanting me to do so much for them and their cars. As you can see I have big plans and I'm hoping to make it big. I want to be in magazines and let everyone know who I am. That's why my Miata is gonna be the best Miata you'll see anywhere...hopefully.

"My plans for my Miata are to get it at around 300 hp with nice handling. This year I'm getting a supercharger, new brake kit and new suspension. It's a 93 so it's a must for new parts. And that's pretty much it for this year. I might do a few more minor modifications and tune my Miata as close to perfect as possible. Hopefully my Miata will be able to be loved by all Miata lovers and they feel that I'm helping give them a better reputation than it has."
---
---