---

The MX-5 Miata of the Month from
---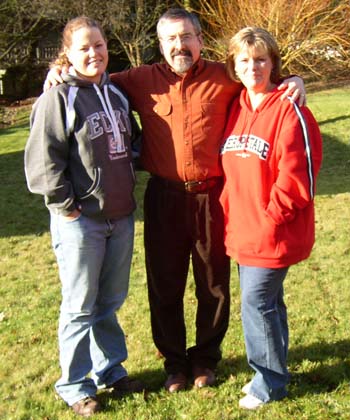 February 2007
Mark Snell and the Kliata
beaque1@msn.com
http://majica.net/JNR/here.htm
Congratulations to Mark on the selection of his V6 Kliata as the February Miata of the Month!
---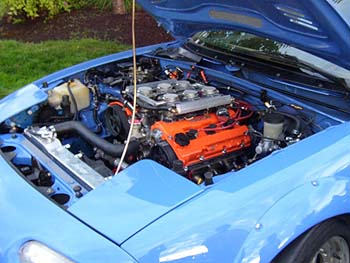 WHAT THE HECK IS A KLIATA?
What do you do if a) you are a Miata aficionado, b) a hard-core autocrosser, and c) have weakness for high-revving V6 engines? Simple, you put a Mazda KL-series engine in your NA to compete in SCCA's Street Modified class. Oops, did I say simple? Let's back up.
My first experience with this Mazda V6 was back in '92, when Jill and I bought one of the then-new MX3s. The car looked good 'on paper' and, one-test drive later, we took home an Elegant Beige (gold, more or less) copy. Sometime after that our first Miata joined the family and the wheels in my head began to squeak…
My closest pals and I discussed the KL-powered Miata scenario many times as the '90s reeled past. During that time, Jill and I had replaced our autocrossing activities with family boating adventures, but returned to cars in 2003, and ended up competing on SCCA's Street Modified 2 class, in my 350Z. Last year, we decided to make a serious commitment to that class and after considering various options, decided the time had arrived…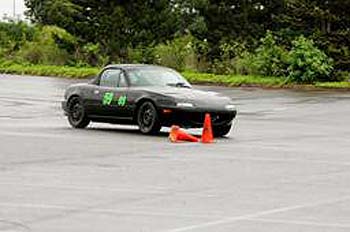 In April, 2005 a turbocharged, black '92 Miata was added to our stable. The previous owner had also added some aftermarket suspension parts and a rollbar. We competed in the car 'as-is', until June, when Project Kliata officially began. The turbo kit, engine, a/c, rollbar, suspension parts, intercooler, hood, wheels, etc. were found new homes; and several well-used V6 engines took up residence in the garage.
What, exactly, is the attraction of a V6? I have loved small-displacement 60-degree V6s since my '73 Capri. Although an all-iron push-rod motor, it was very short stroke, so it revved like mad. The engines are smooth-running, sound great – nice and 'growly.' With the KL, Mazda gave us a very trick two-piece crankcase, and a short-stroke, forged crankshaft with exceptionally large rod journals. The "V" configuration provides natural stiffness so, basically, this baby was born to run. In my MX3s, which have the even shorter stroke 1.8 litre variant, I would sometimes find myself inadvertently cruising along in 3d gear @ 5000 rpm in cut-and-thrust of freeway commuting.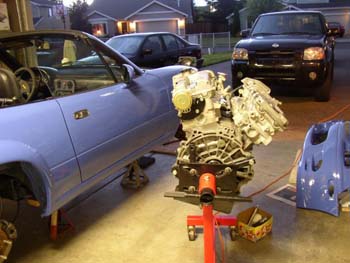 By the end of last year, the transmission (an RX7/Miata hybrid) was complete, and the adapter, starter and flywheel were ready to go. We fabricated several special parts for the cooling system, engine mount brackets that allow the use of stock Miata mounts, a remote oil-cooler arrangment, and the entire exhaust system. Our fabricator made us some long-tube stainless headers that are really nice.
One of the things that surprised me about preparing the Miata was the lack of body parts for the car, i.e., fender flares. I didn't need or want the monstrous "E Prepared" kit, so I had to get moderate-sized pieces from Japan. What a nightmare: w-a-a-y over-priced, 10weeks (!) to get and, to put it delicately, I was underwhelmed with the quality. (BTW, the Racing Beat nose we put on the car, is very nice.) The car was painted and generally complete by the end of June.
It started for the first time and ran uneventfully for, oh, 10 seconds, before it deposited several quarts of oil on the garage floor. It looked like a bad oil filter was the culprit, so we cleaned up the unholy mess and tried again. Success! This time it ran for 15 seconds before repeating its objection. A 50% improvement – that's what I call a good learning curve. After much brainstorming and a few well-placed emails, on July 4th we yanked the engine, replaced a stuck oil-bypass valve, and reinstalled the engine; whereupon it ran properly for the first time, just as the neighborhood fireworks show was ending – a fitting finale to the Independence Day celebrations.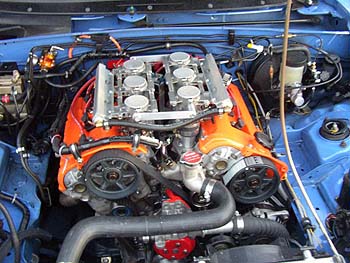 In the ensuing months, we have taken the car to three events, and I've driven it to work once. There has been an endless supply of detail problems, and I really burned myself out spending this summer in the garage, but now we are in teething mode.
Jill was skeptical at first – not about whether it could be done, but whether the 'package' would be competitive and how much effort would be required versus a proven configuration, aka, a supercharger. She agrees it is a beautiful machine and exciting to drive, but neither of those enticements interests her as much as making the car competitive. And that won't be known until next season.
My gear-head daughter, Caitlin, has been an enthusiastic supporter of the enterprise from the beginning and is eagerly awaiting her chance in the car. She was the 'throttle-man' on the July 4th inaugural engine test, and when I had her hammer the throttle a few times, the sound of the engine made her cry. I am a lucky Dad.
A lot of work remains: engine build-up, suspension tuning, probably some chassis bracing… and, of course, we need loads of seat time. Meanwhile, we feel good about how far the project has come, and it is a delight every time we turn the key…
For the full story on the creation of the Kliata, visit the project homepage.
---
---
---