The MX-5 Miatas of the Month from
---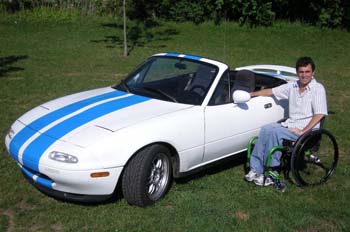 December 2007
Mark Thomson
Congratulations to Mark on the selection of his Miata as the December Miata of the Month!
---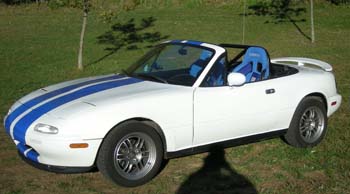 While my Miata is not red, in my humble opinion it's pretty cool. I intentionally went for the 'boy racer' look, and with the blue stripes, blue seats, blue steering wheel, and big polished tip throaty exhaust I think I nailed it. The car's biggest fans seem to be between the ages of 6 and 21, so it must look as fun as it is to drive.
A little history first. In May of '86 I dove into a shallow pond and broke my 6th cervical vertebrae (commonly referred to as a broken neck). I was 22 years old at the time and working as a tool maker apprentice. After 3 months in the hospital I was released to go back home. I was fortunate enough to have a job waiting for me designing sheet metal stamping dies at my dad's tool shop, where I worked prior to my diving accident. I was one of the first CAD tool designers in our neck of the woods back in '86. Up to that point the only 'sports cars' I had owned were a Sunbeam Alpine (purchased from a junk yard as the proverbial teen-car-restoration-project, that never got finished) and 3 Volkswagen Karmann Ghias. I bought a full sized Chevy van in '93, had hand controls installed, and taught myself to drive on country roads around my house. During all that time I really missed driving small, fun cars.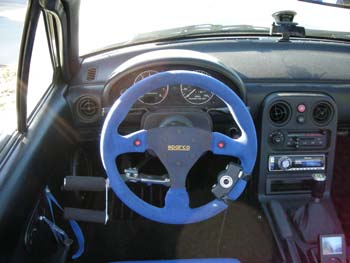 Now to the story at hand. I've always been a car nut, with a special fondness in my heart for convertibles. I'm also a serious racing fan. So about 6 months ago I began my quest to find a car, and a place to compete with that car. I had several criteria that had to be met with the new car. It had to be a convertible, had to have an automatic transmission, had to be the right height so I could transfer from my wheelchair in and out with no assistance, and it couldn't be terribly expensive. So after an extensive search I located the perfect car in Detroit, a bone stock white 1991 Mazda Miata. After negotiations the previous owner delivered the car to Indy and we picked it up and brought her home.
Now it was time for the real fun to begin. I had hand controls installed (the automatic transmission is a necessity for me as I steer with one hand and control the throttle/brakes with the other hand), then began accumulating some performance parts to make her handle better and go and stop faster. Of course the interior needed some attention too. So in went the blue Corbeau seats with blue 5-point racing harnesses, a blue Sparco steering wheel, and a HardDog rollbar. I was a little apprehensive after seeing all of that blue, but it has really grown on me and now I wouldn't change a thing. It gets a lot of comments and attention…I actually had a guy pull up next to me at a stoplight in a Mitsubishi Evo that looked like it came straight off the race track who hopped out of his car and quickly told me about a club that he's a member of that sponsors car shows with the proceeds going to local children's charities. He handed me a business card for the club and asked me if I wouldn't mind bringing my Miata to one of their shows!!!!!!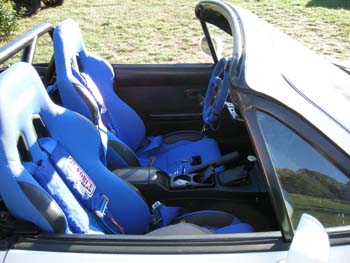 I've always been a fan of the SCCA (Sports Car Club of America) in that they promote motorsports on a grassroots level, which coincidentally is exactly where my new racing career would have to begin. I investigated the opportunities to compete somehow locally and found that the local body of the SCCA hosts autocross) events about once a month. This is a type of racing that involves racing around a course laid out with pylons one car at a time competing for the best time to negotiate the cone-course.
So now I had the car, tuned a bit for better on-track performance, and a place to race. I spectated a couple of events then decided it was high time to give this a try. I joined the SCCA and registered for my first event, which was September 30th. My friend, Robert, and I showed up early, walked the course, and began the mental preparation required to compete successfully at this level. The competitors were split into 2 groups and I was in the second group, meaning I worked the first round, as the starter. My friend, and main wrench, Robert, went also to compete for his 1st time in his '86 Nissan 300ZX. We were both very apprehensive after seeing how hard the other competitors were attacking the course, and a little worn out after over an hour in the sun with non-stop cars from the first group starting one after another....in reality we were both terrified of making a serious mistake on the course and looking really foolish or damaging our cars.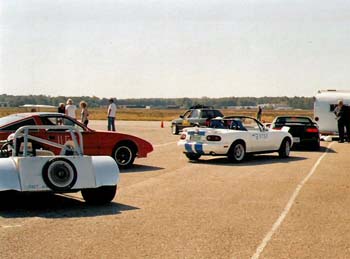 That all changed after my first run. It was very hard work, both mentally and physically. The average time to complete the course was approximately 60 seconds, but that short 60 seconds was as demanding as any other minute I've ever spent. After that first run I was fired up and grinning from ear to ear. I managed to dnf (more racer parlance for did not finish) my first 3 attempts, meaning that I missed part of the course – cones coming at you at 50 to 60 mph can sometimes be a little confusing. Fortunately we got 6 tries each, and the club vp asked me to take a Solo veteran with me on my next run to help me figure out where I was missing part of the course. He pointed out where I had been missing a gate (an area bordered by two cones that the car must pass through). Now I was ready for round 5. I waited in the starting line mentally going over the course. I was a little tentative (i.e. slow) on my next run so as to not miss the gate AGAIN, and my time reflected that. The next, and last, round another club vet told me I had left a little on the table and should be more aggressive...so I took his advice. I left the 180 degree turn around at half course sideways with tires spinning and grinning like an idiot. The rest of the run was great too and NO CONES were damaged. I'll take my hat off to the guys of the Columbus Indiana Sports Car Club, they have been very helpful and supportive of us two newbies, and basically a good bunch of guys.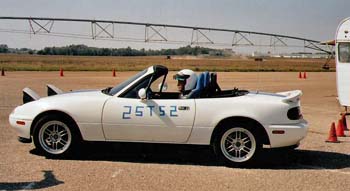 I was first in my class and actually got a trophy and a nice round of applause. I mentioned that I was the only car in STS2 right? STS2 is the class my car competes in due to it's small engine size (less than 1.9 liters) and the modifications I have made to it. But my times were competitive, at only 3 seconds off my buddy's time in his Nissan, which is a much more powerful car than my little Miata.
So now I'm an actual motorsports competitor, or racecar driver as we like to say….fulfilling another life-long dream. I'm anxiously awaiting our next event and plan to work hard to become as fast as me and my car can be.

---
---
---