The MX-5 Miata of the Month from
---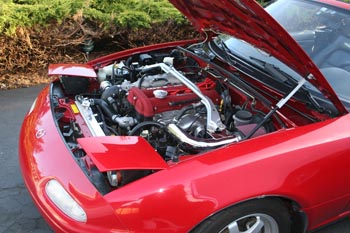 February 2008
Mark Brandt
Congratulations to Mark on the selection of his 1995 Mazdaspeed Miata as the February Miata of the Month!
---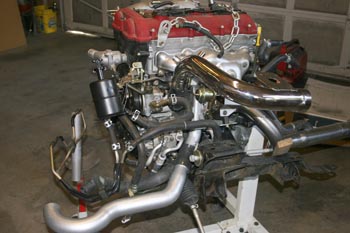 Extreme Makeover, Miata Edition
It all started innocently enough, but then so many of our "adventures" do. For example, several years ago a close friend pulled up to our '95 after a spirited drive over the Beartooth Highway and said "your lifters are deafening". My wife (the Miata is ostensibly her car) asked me what that was all about, and can I fix it. So a friendly jibe became justification for installing a '99 cylinder head, which became a complete '99 engine, which sort of morphed into higher compression, mild porting, etc, etc. (Thanks again, Dale!) Most of you have been there and know what I mean. Miata projects can take on a life of their own.
This project actually sprang from another friend's misfortune. I have to confess that my second thought after hearing that one of our club members (we'll call him Fred) had been involved in an accident in his Mazdaspeed Miata (MSM) was "gee, I wonder if it will get totaled, and what is the appropriate mourning period before I can ask if I might purchase it". I really did think of their well-being first! When I broached the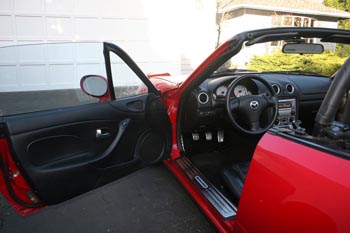 subject to my wife, she reminded me that we have "The Rule": I could keep my race car or get a turbo for the Miata, but not both. She asked if I was really such a low-life as to profit from a friend's problem. Turns out I am.
Fred made the whole thing a lot easier. I let a week or two pass before I called to see how they were recovering. Towards the end of the conversation, Fred remarks that someone should buy the wrecked MSM – there are a lot of good parts that didn't get damaged. Bingo! Now I can ask about buying the car and not feel like a complete heel.
The next step was to sell the project to my wife. I got past "The Rule" by framing the project as a truly unique opportunity. For the purchase price of the wrecked MSM, we would get a complete turbo motor. A turbo kit from Flyin' Miata would cost a similar amount, but wouldn't come with a nearly new engine. Dannie bought in on my plan and several days later I came home to find a crunched Lava Orange MSM in my driveway.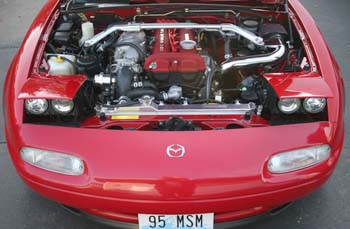 The details of the project would bore many of you to tears, so I'll sum it up by saying that the "DNA" of the original Miata continued to run strong all the way through the '05 models. I knew I would be able to use the turbo motor, the 6 speed and the big brakes, but I was pleasantly surprised to find that a great deal of the NB series will bolt onto an NA Miata. Some pieces are fully interchangeable, some require the use of complete assemblies rather than individual parts and other parts require some modification. Anything attached to the doors fits in the latter category.
As for mechanical systems, I've installed the engine, trans, diff, suspension, steering and brakes from the Mazdaspeed. Inside the car we kept the '95's seats (we like our headrest speakers, seat heaters and leather), but upgraded the dash, door panels, console, radio, most of the switch gear, plus the cloth top and glass rear window. We thought the transformation was thorough enough that the car needed new license plates: "95 MSM".
This is actually the third time the car has gotten a bit of exposure. Flyin' Miata has had a picture of our rear view mirror with embedded Link display on their website for a couple of years and the modified, normally aspirated Miata soundtrack in the latest edition of the Forza Motorsport Xbox game is our car pre-turbo, with the dual Supertrapps uncorked.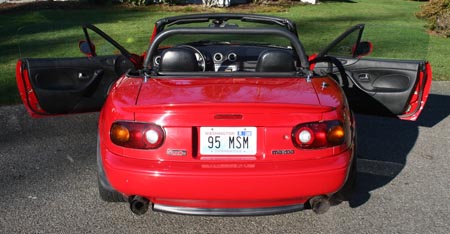 ---
---
---