The Miata of the Month from
---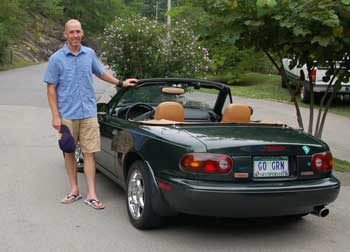 April 2009
Chris Caird and his 1997 Miata
Congratulations to Chris on the selection of his Miata as the April Miata of the Month!
---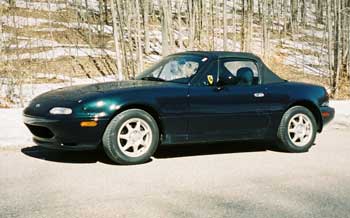 Hi my name is Chris. I was born and raised in Northern Michigan in a little town called Petoskey. I spent 27 years of my life in Michigan where it is cold about 9 months of year with snow on the ground for about 7 months.
I am a big fan of the playing outdoors in the sun. I'm a big fan of the environment and studied Environmental Science with a minor in bugs (entomology) at Michigan State University in 1998 and grabbed a Masters in GIS & Remote Sensing from Western Michigan in 2001. All this time was spent either without a car or with something big old, cold and uncool.
My parents are the best a kid could ever ask for. My father helped me out financially between graduating from MSU and my graduate school at WMU with functional cars and paying the insurance. I couldn't find a job after my undergraduate degree and my pop foot all my bills. My mother is a saint who put me through college without any student loans so I didn't have any debt. She had my brother and sister in college (U of M an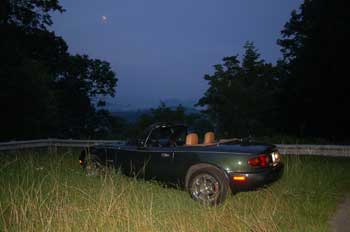 d CMU) at the same time and put them through without loans either. I love them both dearly.
Living in Michigan, I have always felt like a giant solar panel and always craved a sports car or jeep where I could soak up the sun and really be happy.
As soon as I graduated in 2001, I had to find the sun. I moved to Panama City Beach, Florida and test drove everything I could find where the top went down. I test drove a Jeep, Del Sol, Z3 and the S2000. I then got a chance at a 1996 Montego Blue Miata. It just felt so natural and so much better then any of the others and it was within my budget. I bought it and it became the 1st car I've ever owned. I had no idea what I had bought...but it felt right from the very first moment. It was truly MY FIRST car. I was just looking for a good affordable fun car where I could put the top down. I had no idea that the little car would change my life as well as the lives of those close to me.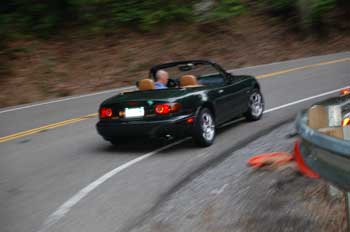 By 2002, I was a member of the Panhandle Miata club and had added some bigger wheels and after market stereo. Then in 2003, I saw my dream car and it was a green Miata. I have such strong ties to Michigan, Michigan State University and the natural environment that I just had to have the best and last year the NA's were around. It was a 1997 M edition with ALL the trimmings with 59k on the odometer. The first thing I did at the DMV was buy a vanity plate that said "GO GRN".
I now had two Miatas. I decided that my Dad deserved something from his son. I gave him the 1996. For the first time in my life, I felt like I wasn't a worry to my parents. My career was taking off and I had a few nickels. Life was great and I was able to give back to my folks a little something even if it was a faded used Miata. It meant so much to them and to me to be able to give back a little bit.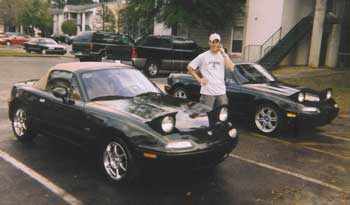 My pop had always wanted a MG TC for as long as he could remember and I said "Here you've earned this.. you've been a great father to me". I told him just try the Miata and then sell it in MI if you still want an MG. He came to visit me in Panama City a couple of times and he drove it all over Panama City during his visits. He just loved taking it to the wonderful beaches and enjoying the sun and his son. We took a road trip in it on a quest for Civil War history. We went from Panama City, Fl to Eufaula, Al all the way through GA (Andersonville, GA and Vidalia, GA were our two favorites) to Savannah and back.
We took a trip to Biloxi, MS to see the home of Jefferson Davis and stopped in Mobile, Al and most places in between to see what there is to see. He was smitten and said he'd be back in 3 months. In the meantime, he asked me to have it painted since the sun started to cause the car to fade and put some different wheels back on the Miata. He came down to get it and we had Chris Lambert of Panhandle Miata put a new vinyl top on it and he drove it home to Petoskey, MI.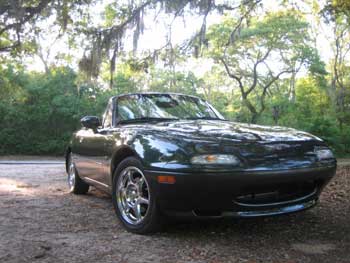 At nearly the same time, I started to do some improvements to my 1997 M-edition by having Chris Lambert put a new canvas top with glass window on my failing original top. I have to confess my pop and I were pretty close prior to the Miata's in Florida but with my love spreading to my new Miata he became more and more enamored with his Miata. He and would talked long distance on the phone for hours about our cars.
In 2005, I moved to Hilton Head Island, SC and that is where my relationship with my car and my dad took a turn to the next level. I joined the Low Country Miata Club and enjoyed a bunch of new people and went to my 1st Deals Gap adventure. WOW. My father and I spoke weekly about our cars and the next improvement we thought we would make to our cars. I traveled to San Diego for work and in my 'free time' I met up with the San Diego Miata club and met Tom Thomson who sold me a Voodoo shift knob practically right out of his car and a screaming chicken plastic decal. I turned around and gave them to my dad. They are his two favorite items on his car.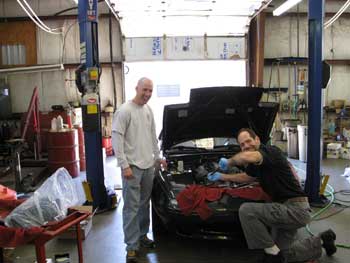 With each improvement we consulted each other, bought each other items, and commiserated when we had car trouble. Our relationship has really become more solid. I had him come visit one time and help me put sway bars on my car. He sheared off a bolt and we drove to my master mechanic to fix. He felt terrible..but after it was fixed he liked the time we spent, the guilt, and the ride quality so much he went home and within 2 months put the same new shocks and sway bars I had on his Miata. I feel that that the improvements we've done in person and on the phone have meant little to our cars but meant everything to our friendship.
Recently, I mentioned superchargers and my pop didn't even hesitate. He said "Sure.. I think it's a good idea". Well, I must say my father has always been the conservative ,"I don't think this is a good idea" kinda guy but when he didn't hesitate. I knew what I had to do. Less then 2 months later after our 1st conversation and many many hours of talking and doing research together. I bought a MP62 supercharger and had it installed. It took my master mechanic 4 full days to complete asI spent two of those days in his garage as moral support. I must confess that I started to have doubts because of how long it took and the cutting of things that was required. I've just gotten my car on 3/2/2009 with a brand new supercharger. I can not even begin to tell you in words how excited I am feeling. The car is just a dream to enjoy.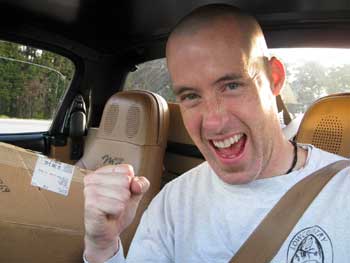 My passion for my little car and the conversations with my father has reached new heights since the supercharger. We talk almost everyday now even if it's just for a few minutes. I'd like to thank miata.net and all the contributors, vendors, staff, and folks throughout the country and the world who have made my life so much better because of a little affordable 2 seater convertible.
Thanks
Chris Caird

---
---
---