The Miata of the Month from
---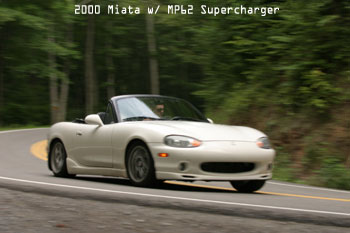 February 2009
James Jones and his life-changing Miata
Congratulations to James on the selection of his Miata as the February Miata of the Month!
---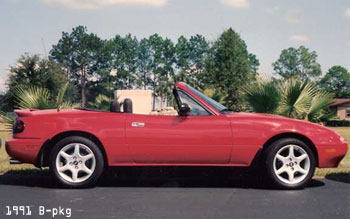 The Miata was Car of the Year in it's first year.  My reaction back then was, "What the hell?  That little bar-of-soap-looking car?"  I really thought the car magazines had lost it. I had recently graduated from high school and up until that time my cars had been from GM with V8 engines under the hood.  Cars such as a '79 Chevy Nova and my then current car, an 1989 Trans Am GTA (a car to this day I do still love).  Obvious to me now, I was then ignorant as to what a real sports car was.
My life was about to change in a way that most twenty year old kids are not ready for and few individuals of any age will ever experience.  I had worked a night shift at the emergency room and on my way home I stopped to get some gas in the GTA.  I had $7 on me, so I put $5 in the tank and bought two $1 Florida lottery scratch-off tickets.  I went home and crashed into bed.  Sometime during my night (noon for all the regular people in the world) I got up to use the restroom. I grabbed the tickets and a coin and proceed to plop my then-skinny ass down onto my porcelain throne. A few moments later I was up washing my face with water trying to make sure I was awake.  My $1 lotto ticket said I was a winner -- of $50,000.00 – but my mind was not believing it at first. Once it began to sink in I knew I wasn't "set for life," but I knew this was huge too.  After all, I was still living at home with my mother and my finanical obligations consisted merely of a car payment, insurance, and college tuition & books.
Before long my search for a reasonable new car began.  Oh sure, my mother and I went to the Acura dealership just to look at the NSX. I knew it wasn't something I I would get or could afford, but I had to look while I had "big bucks" in the bank account just to see what that feeling was like. As I examined the market more and more, I realized there really were not many options out there.  Nobody made an inexpensive, two-seat, convertible sports car that didn't cost an arm and a leg-- except Mazda.  If you picked up a car magazine in the early 1990s then you couldn't escape the Miata and all the accolades it was receiving.  Perhaps I had discounted the little car too quickly. I was off to the dealer to find out. 
On my way to the Mazda dealership I stopped and looked at the Alfa Romeo Spider.  I was actually intrigued, and the salesman's face was aglow with happiness. That was up until the point where I said, "I like this car, but I was actually on my way to check out the Mazda Miata."  It was as if I had ripped his heart out.  I later understood that he simply knew I wouldn't be back.
Mmy first Miata was a brand new red 1991.  After one test drive I was in love.  I had seen the light and later renewed all of my car magazine subscriptions.  The rags were right, the Miata was phenomenal!  The "Miata Wave" was rampant as new owners acknowledged to one another "Hey, we get it!"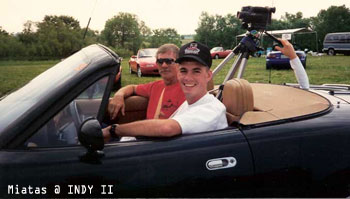 I discovered in the local paper that a new club was forming and I was there for the first meeting. That made me a charter member of the Central Florida Miata Club.  I later joined the Space Coast Miata Club as well.  One other guy who joined the club was Ken Hill.  He would later move to Colorado to work for a company called Flyin' Miata, and was featured in the Miata of the Month in October 2000. This fact would be a bit ironic later in my life as my career path would eventually be very similar. Ken moved on to work for Flyin Miata while I eventually moved on to work for BR Performance. Small world, eh?
I hadn't had the red Miata long at all when the first Special Edition Miata came out - the British Racing Green (BRG) with tan leather interior. I had to have one, and I lucked out in finding one (with hardtop) in Virginia through word of mouth. I called the owner and told him not to sell it, I was getting a flight up and would pay him his asking price.  My BRG was #0040 out of 4,000 units. My girlfriend at the time, Melissa, thought I was nuts.  We had only been dating a couple weeks and I now had two Miatas as I waited to find a buyer for my red one.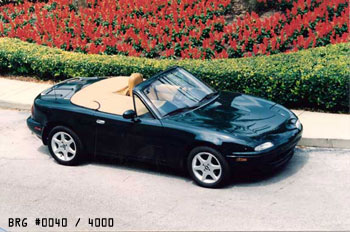 It was with the BRG that I started getting more into the performance modifications of the car. I ordered one of the first Sebring Superchargers and was the first Miata in my club to have forced induction.  I then upgraded the suspension, the exhaust, wheels & tires, and of course all the interior goodies as well.  I was amazed at just how much customization could be done with the Miata!  It was at this period of my life that I feel I became a Miataphile.  The car and the people in the Miata community were a huge part of my life.
My weekends revolved around Miata activities or drives in one way or another. I spent every weekend I could going on some sort of Miata related gathering or function.  It wasn't uncommon for me to just get out and go for a 4 hour drive at any time of the day or night. One year I drove up to Indianapolis to attend Miatas at Indy. I swung by Ohio first and picked up my dad and took him with me.  The trip gave us a chance to get to know each other once again while we drove our way into the Guiness book of world records. While there we also drove on the Indianapolis Motor Speedway and Putnam Raceway Park. 
Fast forward a few years and I found myself married to that Melissa chick and for some reason thought we needed to get a more practical car.  So I made one of the biggest mistakes of my life and sold the BRG to buy a Mazda MX-6.  We loved the car, but it didn't take me long to figure out that we had done something I would forever regret.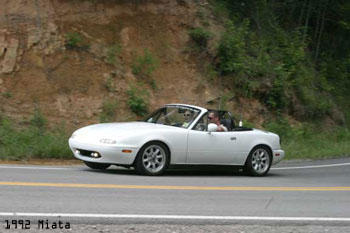 The birth of our first child prevented me from bringing another Miata into the family for a while. We were struggling to make ends meet and I was actually working at the Mazda dealership selling cars. Each of our new Mazdas were purchased from the same dealer in Orlando so I was kinda friends with the owner/general manager. I could sell Miatas better than anything else. If I sold 15 cars that month, 10 of them were sure to be Miatas.
I wasn't that good of a car salesman. So we moved to North Carolina to be near my parents and so they could be around their grandson.  I was still crazy about Miatas and was even volunteering as a moderator here on Miata.net.  Finally, it became time to get my third Miata.  How odd that the color white was now my first choice.  The same color that first made me think of the Miata as a bar of soap.
I bought a '92 White B-package and was surrounded by what are arguably the best Miata roads anywhere.  The mountains of North Carolina and the Blue Ridge Parkway were literally in my back yard.  I caught the mod fever fast, and once again I became on a first name basis with the UPS guy.  I also became active in the local club (Ridgerunners Miata Club) there in Asheville, NC.  They are an older club, and quite formal.  But I still enjoyed the people and the roads we all shared.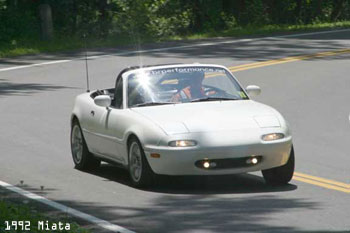 I decided that I would host an event one month. I first scheduled a scenic drive through the Lake Lure, NC area and then a visit to the new BMW plant in Spartanburg, South Carolina. There we would tour the plant and watch production of the BMW Z.  From there I planned a short drive over to a new vendor in the Miata world called BR Performance.  The entrepreneur, Brant, was just getting his business started up and had only recently moved it out of his garage and into a real shop after quitting his "real job."  He was developing a MP62 supercharger kit for the Miata and I thought it would be a welcome change from the typical sort of event the wine-n-cheese crowd normally did.  Brant catered in BBQ and we had test rides in the supercharged 10AE as well as a Q&A session afterwards. 
After the event Brant and I remained in contact with one another and he asked me to consider moving to SC to help him with the business.  The pay to start would suck, terribly, but the job would be 100% fun and would revolve around something that I loved, the Miata.  It was a risky move on our part as I had a very good job with Coca-Cola.  However, there were advancement opportunities for my wife with her employer in SC, and those opportunities could possibly act as a safety net.  I went from making around $50K per year to my first check at BR Performance being less than $300, but I was having a ball and the hard work was rewarding. Working with Brant at BRP was the best job I had ever had.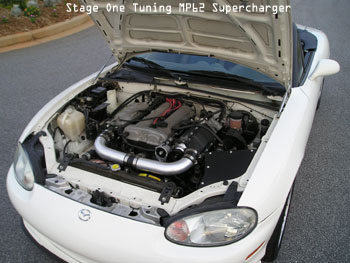 As the company grew with the successful launch of the MP62 supercharger kit, my desire for a NB Miata grew. I eventually traded in the '92 for a '00 Miata that was also white.  I now was working for a company that made and re-sold Miata accessories, and I was in heaven!  My work didn't feel like work, and many of our customers became friends. I'm proud to now have friends from across the country and around the world, all because of the Miata.
Several of those friends are located in Canada, the Miataphiles of Toronto to be exact. Brant and I eventually made a trip up to Toronto to do a TV show called Tuner Transformation. Miataphile Dave B. was also on hand to do some work on the featured Miata in the show. You can see the episode on YouTube. While you won't see my face much, pretty much any time you see a red shirt with hands actually doing work, that's me.  If you see a red shirt and gums bumping, it's Brant.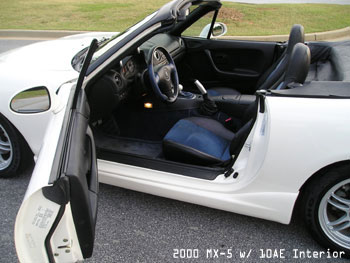 In 2004 I moved from BR Performance to work for Barker Products.  It's a long story about the history and relationship between BR Performance and Barker Products as well as how Stage One Tuning came into being.  In short, Barker Products had always been where the design, fabrication and assembly of the supercharger kit components took place. I was tapped to oversee the production and assembly of the kits at Barker Products, and when BR Performance closed, Stage One Tuning became the division to sell the kits. Variations of the kit are also sold and supported through our distributors: Flyin' Miata, Performance5 (UK), RS Aizawa (Japan), and soon, Static X Motorsports (US).
The point is that it's now 2009 and I'm still manufacturing those MP62 supercharger kits for Miatas. Since 1991 the Miata has played a major role in my walk of life. It has had an impact on who my friends are, where I live, where I work, and even who I married. That little "bar-of-soap-looking" car has certainly been more than just a car to me.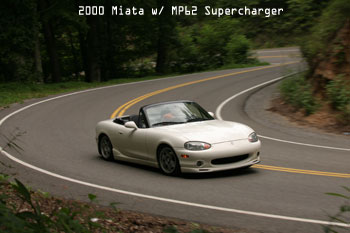 ---
---
---