The Miata of the Month from
---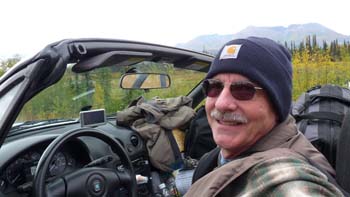 November 2009
Jack Leach and his 1999 Miata
mx5miata@soytnly.fastmail.fm
http://www.travelblog.org/Bloggers/soytnly/
Congratulations to Jack on the selection of his silver 1999 as the November Miata of the Month!
---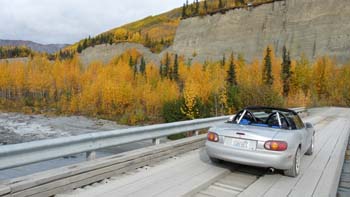 So, I'm recently retired, love driving my 1999 silver Miata, looking for adventure and wanting to visit Alaska before I kick the bucket (not that I'm expecting to depart this earth anytime soon, but you never know). So what do I do? I start planning my 6000+ mile road trip from Ridgefield, Washington (near Portland, Oregon) to Alaska and back. Then I ask my friends and the Miata.net forum what they think. Boy, did I get an earful! "In a MIATA! You're crazy", "Maybe in a Hummer, but in a MIATA?", "You have more courage than I!", "No way would I do this trip!", "You're going to beat the crap out of your car", "You'll shred your tires", "You'll need a moose deflector on your car". But none of this deterred me; I just took it as a challenge.
I also received some positive, reinforcing feedback that the trip was "doable". In particular, I heard from the "founding father" of the Alaska Miata Club, Mike Fernandez, and he assured me that there were more than two or three Miatas in the state and that they actually had PAVED ROADS that would not destroy my car. That's all I needed to hear. "I'm on my way, Mike!".
I bought a new set of General Exclaim UHP tires for the trip, installed a grill to protect the radiator, mounted plastic covers to protect the headlamps, put a bra on the car to protect the nose of the Miata and assembled a collection of parts that "might" be of some value on the road (fuses, belts, filters, hoses, etc.). And of course I needed an assortment of tools, tire repair kit, 12-volt air compressor, fire extinguisher, road flares, flashlight, jumper cables and a two-gallon can of emergency gasoline (oh, and don't forget the duct tape!).
I received many comments through the Miata.net forum that I should seriously consider taking along a full-sized spare tire, so I bought another tire and had it mounted on a new steel wheel. I didn't know where I was going to PUT the thing, but I figured that I could resolve that later.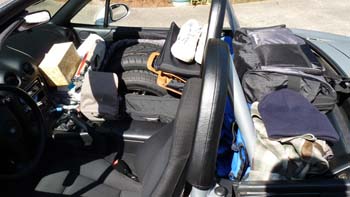 Next I gathered all of the personal effects that I would need for a four-week road trip - clothes, laptop computer, snack foods and all the usual "stuff" that we just can't live without. Then, with the Miata in the garage, I tried to find room for everything. Ouch! Reality set in; I had too much stuff! So now I had to get creative; whittle everything down to the essentials; but I was still having problems.
There just wasn't any room for the full-sized spare tire, so I finally decided to remove the passenger seat and leave it at home (I'm traveling alone, which you probably figured out by now) and the big tire became my "passenger" for the next 6260 miles, along with a bunch of other stuff that was crammed into the cockpit. I even decided to carry the original emergency spare tire with me but moved it into the passenger compartment so that I would have more room in the trunk for items that could be locked and secured.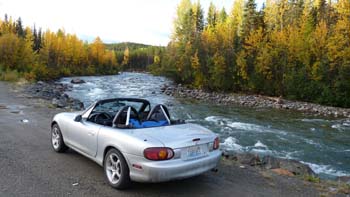 I finally hit the road in late August. I planned this trip so that I would spend all of my time in Alaska in September to avoid the crush of motorhomes and mosquitoes that plague the state in early and mid summer. I charted a leisurely course that covered about 200-300 miles daily and traveled for seven days through Washington and British Columbia before jumping on the Alaska Marine Highway (a ferry through the Inland Passage).
After two beautiful days on the ferry, the Miata and I hit the road again at Skagway, Alaska and we continued up into Yukon Territory, hopped on the Alaska Highway near Whitehorse, and continued into "the big part" of Alaska. I anchored myself at a Bed and Breakfast in Palmer, Alaska for six days and used the Miata to take day trips from there, mostly to destinations where I could hike for half the day. After moving on to Seward for a few days, I started the long drive home. Driving home wasn't as much fun as driving "up", but I still managed to find alternative roads for most of the journey so that I was usually on roads that were "new" to me.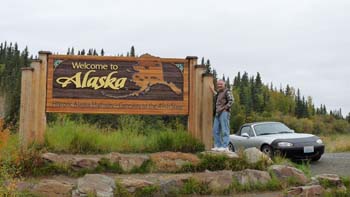 Over the course of the journey, I crossed the U.S./Canadian border six times. I was always asked different questions by the customs agents and sometimes their questions and statements about the Miata were amusing. Some examples:
"You're driving to Alaska in THIS?"
"Do you have any passengers with you?"
"Do you have a motorhome somewhere that you use to tow this?"
When I was planning this trip, I just "knew" that the Miata would enhance my driving experience, and boy, was I ever right about that! I was extremely lucky and had great weather for 26 of the 28 days I was traveling and I kept the top down on the Miata almost constantly. Even on nippy Alaska mornings when it would sometimes dip down into the low 30's (and even 26 degrees one morning!), I would bundle up with a knit cap pulled down over my ears, pull on my driving gloves, put the top down and hit the road for another incredible driving day on the beautiful Alaskan and Canadian highways. It was magnificent - and I'm not easily impressed!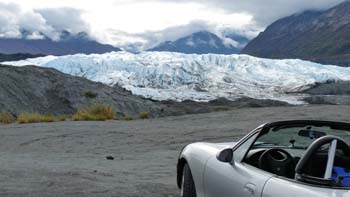 The ONLY negative experience I had on the entire trip was accidentally dropping my cell phone into the "outhouse style" toilet at a rest area in Alaska. It went "ker-plop" into the stinky abyss and I said goodbye to the phone. A friend who heard about this incident later told me that he tried to call my old cell phone but it "sounded like crap".
The Miata, which started the trip with 44,660 miles on the odometer, ran flawlessly for the entire trip and was simply the perfect car for this adventure. And even though I covered about 50 miles of gravel roads, several hundred miles of "rough" paved roads and numerous, short stretches of rocky construction areas, the car and the tires performed perfectly. The Miata suffered a few (very minor) paint chips from the gravel roads, but I was expecting far worse and was actually very pleased that the car completed the trip in such great condition. And what about all of those spare tires and parts and tools and emergency supplies that I carried with me? I didn't need any of it, but I'm still glad I had it all with me.
Almost every day of the trip I was able to find Internet access and update a travel blog with photos and a diary of my day's travels. If you're interested, you can view it all.
If you're reading this, you probably already know the pleasures of driving a Miata, but to drive this great car through thousands of miles of incredible scenery in Canada and Alaska is a driving experience that is beyond compare. I've always liked my Miata, but we've now shared a great road trip together and we're truly "buds".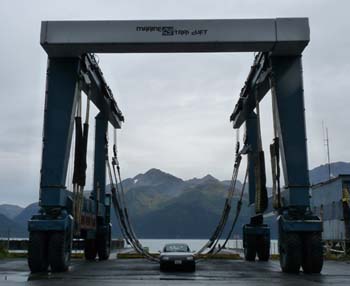 ---
---
---