The Miata of the Month from
---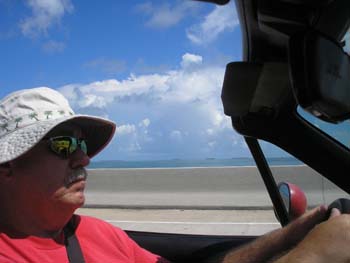 October 2009
Mike and Sharon Leuschner and LILred
astromike59@yahoo.com
The Adventures of Mike and Sharon
Congratulations to Mike and Sharon on the selection of LILred as the October Miata of the Month!
---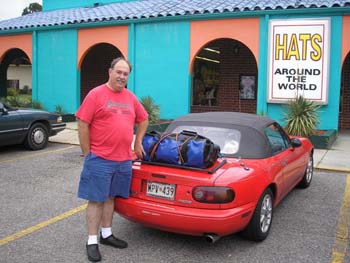 "I can't believe that you are going to drive a car with over 250 thousand miles to Key West!" my father in law said to me when he heard my wife and I were planning a road trip in our 1991 Miata, affectionately known as LILred. After doing the timing belt, water pump and seals during the month of April, we were on our way for warmer climates at the end of May. Our plan was to combine our love of camping and Miatas together. Unfortunately, the weather had other ideas and we only ended up camping one night out of the 10 days we were on the road.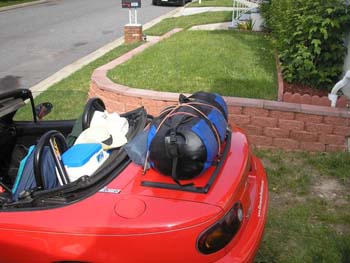 You can take a Miata on a road trip and be comfortable. When our kids were growing up we owned a camper, so we were used to having everything and the kitchen sink with us. When you take a Miata on a camping trip you are forced to think more creatively and only take what is absolutely necessary. Necessities included a one burner stove, a Ziploc bag with necessary kitchen items, air mattress, pillows were placed in a space bag along with towels and a sheet and an air pump to fill the air mattress and also remove the air from the space bags. That left the quilt and mess kit. All of this was placed in the trunk. We purchased a waterproof duffle for our clothing, and along with our tent, attached them to our luggage rack. Two small coolers with drinks in one and some food in the other were placed on the package tray. In the passenger seat we had our computer with mobile net access, GPS and a power supply. The net came in handy for making reservations along the way, check the weather, and to upload the blog we were writing about our trip to share with the Chesapeake Roadsters. My wife found out her RAZR phone fit very nicely in the inside door handle of the car. Every space was used! We even brought our Mia and Tia mascots with us.
The first day we got to South Carolina and decided to stop. We took pictures of our Miata at South of the Border, the tacky roadside stop that you see the billboards for miles before you actually ever get there! As there were torrential downpours that were in and around the area, we made the decision to stay in a hotel that night. My father in law called later in the evening to see how we were doing and ask how the car was. I told him it was great. LILred actually got 35 MPG on the first tank, beating the 32 MPG that it usually got.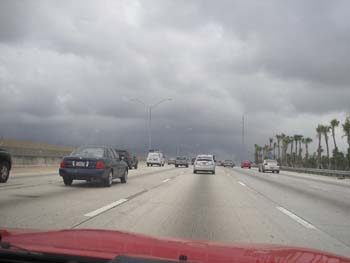 The following day we cooked lunch at a rest stop in Georgia and met an older couple that could not believe we were driving our Miata all the way to Key West. They were impressed when I showed them everything we had in the trunk, told them the age of the car and showed them the mileage. Our destination was Daytona to see the raceway and the beach and the only place where the weather actually cooperated enough for us to pitch our tent in a campground. Both of us were in Heaven as this was part of the whole plan. We slept under the stars and enjoyed dining with the bugs. Many people might not be able to appreciate listening to crickets chirping, but we were lulled right to sleep by their sounds.
After packing up and getting on the road a little late, Key Largo turned out to be our next destination where we stayed at the Holiday Inn due to bad storms in the area. We had a chance to relax in the pool and enjoy a seafood dinner and tropical drinks at a local restaurant. My wife called my father in law to let him know we were still okay. He was probably pacing the floor as he had not heard from us the day before.
We left early the next morning where we enjoyed the sights with the top down driving the Overseas Highway to our final destination of Key West, stopping and taking pictures along the way. We arrived there mid afternoon and once we parked the car we drove very little in our three day stay, choosing to see Key West on foot. Mia and Tia even went with us to the Sunset Festival. It was a fast three days and before we knew it, we were on the way back home.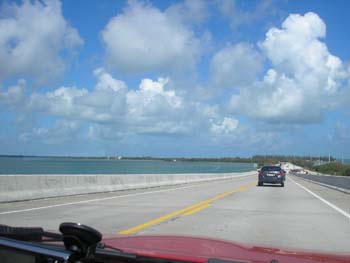 We chose to drive up the west coast of Florida through Alligator Alley, where again we were caught in a terrible storm on our way to our last destination of Deal's Gap to tame the Dragon. We spent the night at Fontana Village and dumped the car of everything so that both of us could really enjoy the zigs and zags the Dragon has to offer. We both drove it several times before returning ourselves and LILred back to Maryland and the realities of life. My father in law called the cell phone when we were almost home and asked again if we were okay. He could not believe a car with so much mileage was running so well, but then he couldn't believe it when we purchased the car with 213 thousand on the clock either. His words to me shaking his head were "Didn't I teach you better than to buy a car with that much mileage?" He is shocked my car runs so well!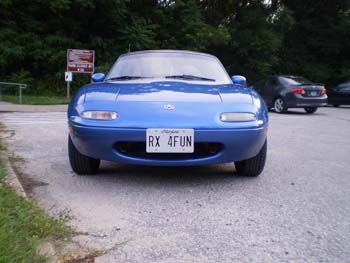 In February, we purchased Bloo, a 1995 Laguna Blue Leather Package with 110K on the clock. Bloo was a garage queen purchased from an owner in NC listed on Craigslist. My wife was so tired of me having all the fun that she wanted her own so I obliged because I have such faith in these cars and they are so easy to maintain. I have learned a lot over my 5 years of owning LILred thanks in part to the Chesapeake Roadsters and the great people we have encountered there and from Miata.net, where there is a wealth of knowledgeable owners.
Unfortunately, LILred has a blown head gasket that I am in the process of dealing with, but I expect to have it roadworthy again very shortly. It was shocking when I pulled the engine apart. I can still see the hone markings on the cylinder walls. I have worked on a lot of cars over the years, but I am truly amazed at the condition of LILred's engine, all things considered.
Would we take LILred on another road trip that far? I am not sure, but my wife Sharon is constantly talking about buying a motorcycle pop up for our cars, so I think she is game. Our only complaints were our aching behinds even after stopping every two hours due to sitting for long stretches of time. At some point that we will be dropping another engine into LILred, so another road trip isn't out of the realm. Thankfully we have Bloo as a back up Miata and we're actually looking for a third one to modify!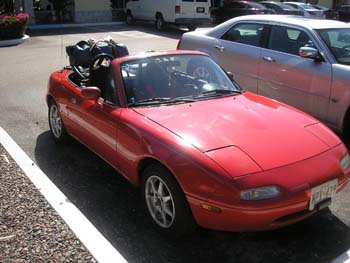 ---
---
---