The Miata of the Month from
---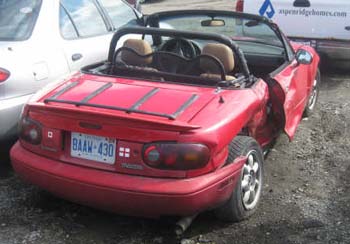 July 2009
Ian Ridge and his 1990
Congratulations to Ian on the selection of his brave Miata as the July Miata of the Month!
---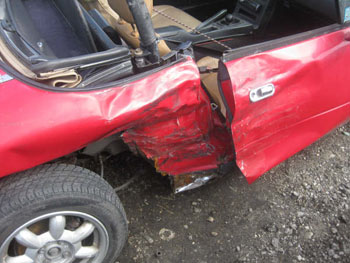 Gone Daddy Gone.
That's what the girls told me in the hospital. Our mutual project and object of family love was in the scrapyard.  
We had started three years earlier in a barn - finally found a 90 that was worth saving and not priced like a rare prize. She arrived home on a flat bed; much to my wife's surprise, but after 10 minutes she asked if it would be ready for spring - this was January in Canada. I assured her it would be on the road by the end of march. And many cold nights and weekends later the little red bomb had a new gas tank, new brakes and a new quarter panel and passed both safety and emissions first time. She had 200,000 miles on all original equipment and I was the 11th owner.  
A week later we were on our first trip on the back roads with the top down and any and all doubts were erased from our minds about running her hard and often.  The next two winters, she got new suspension and 1994 brakes, new top, new seats, R-pack spoilers and a whole bunch of time and affection.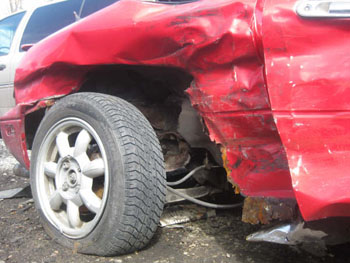 She saw many more long drives. Both my young girls would go out of their ways to invent reasons for me to drive them somewhere so their friends could see the car and get all the great compliments that these cars bring out. In working on this project my girls learned to do brake jobs, how a radiator and water pump work, how to change plugs, check oil and all the other life lessons that will pay off later on in their lives when they have vehicles of their own. My wife and I enjoyed countless summer nights driving out in the country counting stars and sharing dreams.
April this year the car saved my life (with the help of a good roll bar) when a van ran a red light.  We all miss the car and signing over the ownership caused some of the sharpest pain I have ever felt.  Will I be back? Right now it hurts too much to see them on the road; mine was mine. Modified and made exactly - MY CAR.  But my best friend comes by with his MSM fairly frequently and I find my eyes back in the classifieds, more often than not in the Miata section. It may be a year or so - but we will be back.
Thanks to a very special car, community, and great enthusiasts that make these cars so special.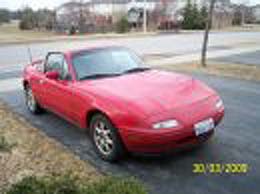 ---
---
---