The Miata of the Month from
---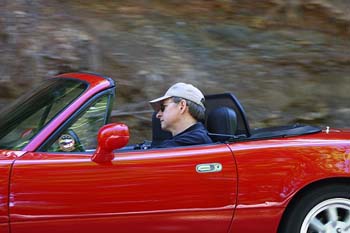 June 2009
Rick Sparks and his summer friend
Congratulations to Rick on the selection of his Miata as the June Miata of the Month!
---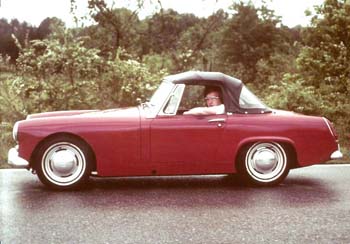 Top down, foot to the floor, tach needle straining toward redline. I slapped the shifter into top gear and reveled in the freedom of the open road.
Glued to my back bumper was a high school friend behind the wheel of his pristine '73 MGB. He was having no trouble keeping up with my newly purchased '69 Austin Healey Sprite. The baby Healey was my first true sports car: red, British, fun. I loved its simple ways.
The Healey quickly became my teacher, and I had much to learn. S.U. carbs, Lucas electrics and Smiths gauges were all in the primary courses, with advanced studies in heel & toe downshifts, slow-in/fast-out curves, and the importance of keeping British steel clean and dry. The Sprite excelled at being the simple, cheap sports car that Donald Healey intended.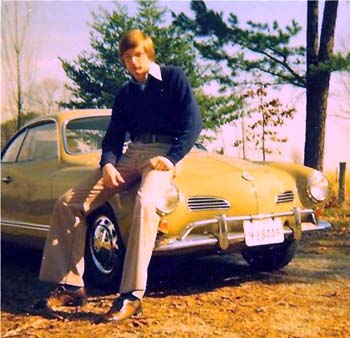 Fast forward 30 years, past an assortment of broadcasting jobs ("up and down the dial"), graduate schools and college professorates. Along the way, I survived an assortment of German, Italian, British and even a few American cars. Some were roadsters, a few were sedans, but most were coupes. It was, in fact, my very first coupe, a '68 VW Karmann-Ghia, that I sold in order to buy the Sprite. The Ghia was a beauty, but, unlike the humble Healey, she was no sports car.
Which brings me to my summer friend.
By the spring of '07, I had gone too many years without a softtop in my garage. Besides the fun factor, I needed the stress-busting therapy to be found under a blue sky at speed on back country roads. The Miata seemed the best possible choice to take me there: cheap, plentiful and easy to maintain. Above all, a driver's car.
I found my muse in an early white '90 on a small lot north of Atlanta. She wore a new coat of paint and had solid body and mechanicals. After a quick inspection and satisfactory test drive, I wrote a small check and drove off, feeling like I was making a getaway after a highway robbery. I was the thief, and the Miata was my booty.
Armed with maps of Tennessee and North Carolina, a radar detector and bottles labeled SPF 70, I began the summer of my recovery. It was a rare day that I wasn't on the road: top down, accelerator down, stress levels down. And grins way up. I drove my summer friend hard, not always to redline, but often. In return, the Miata did what she was designed to do: give me joy.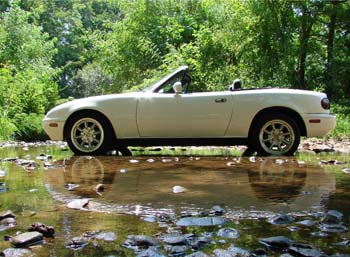 Snapshots from that summer:
Driving the Tail of the Dragon for the specific purpose of getting some action pictures of the Miata and me from the good guys at killboy.com. It normally would also have been for the kick of 318 curves in 11 miles, but with heavy-handed THP enforcement that summer of the artificially low (30 mph) speed limit, there was little joy in driving the Dragon. However, a few miles south of the last curve, I knew a secret place where a road forded a mountain creek. I parked the Miata mid-stream, pulled off my shoes & socks, and waded in with camera in hand. The resulting pictures, "Skinny Dippin'", got quite a response on the Miata.net forum.
On the hottest day of the year (105+), I drove to Tullahoma, TN and found an F-14 Tomcat on guard in the grass a few hundred yards outside an Air Force base gate. Figuring it was better to seek forgiveness later than ask permission, I pulled the Miata off the pavement and into the grass beside the big Navy fighter. I hurriedly pulled down the top, fastened the boot and took some quick snaps. Unfortunately, a dark blue truck headed my way just as I was finishing up. Let's just say the ensuing conversation with a military policeman wasn't the most pleasant part of that day. Profuse apologies, quick exit by the little sportscar driver with a big grin on his face, and killer pictures in my camera.
My first drive with the local Miata club began with a weekday breakfast, followed by a small fast convoy to some astounding backroads in the hills of East Tennessee, enroute to the magnificent Cherohala Skyway and The Dragon. Try as I might, the guys in their NBs & NCs ran off and left me. My 116hp NA lacked not only the power but the tires to keep up. When I got home, I ordered a beautiful set of 15" silver Chaparrals mounted with Yokohama S.drive rubber, along with an aluminum front strut brace. These simple upgrades did wonders for the '90's handling and responsiveness. I was never brave enough to find the new limits, and actually never needed to.
One final special Miata memory from that summer was a weekend trip with my wife to Pall Mall, Tennessee, the home of legendary WWI hero, Sgt. Alvin York. We were honored to be given a tour of York's homeplace by his youngest son, Andrew. Now in his 70s, Andrew is a Tennessee state park ranger, his homeplace a state park. Just down the road, we stayed in a turn of the century country house, complete with period furniture and appliances (and no TV). We sat on a big stuffed sofa in the living room and read 1930s issues of "Life" and "Look." Simple and real. The Miata fit right in.
The next spring, I struggled with the decision to sell the '90 to a friend who had totaled his pristine '01. I wanted my friend to have a good Miata, and he was offering me an excellent price. On the fateful day, he and his wife stood in our living room and asked me if I was sure I wanted to sell.
I hesitated about five seconds, then said "No." Then, "Yes."
I watched in silence as they drove away. I had sold my summer friend.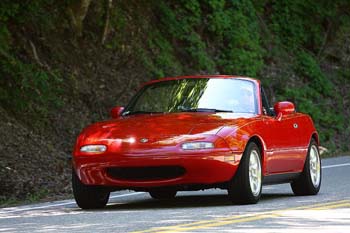 A wonderful truth about the Miata: you always get a second chance. A year after I replaced the '90 with a gorgeous late model XJS coupe, I sold the Jag because I missed the freedom, the simplicity and the joy of a Miata.
After months of searching, I found a classic red '95 at RSpeed in Atlanta. They were selling it on consignment for a customer who had moved away. Differences from the '90 included a significant increase in horsepower and torque, as well as the luxury of cruise control. The '95 had new paint, a new top and recent brakes, water pump and timing belt. At my request, RSpeed added a set of silver Chaparrals mounted with Yokohama S.drives, along with an aluminum strut brace. Déjà vu, all over again.
Waiting back home in my garage in South Carolina were several boxes of accessories, ordered after I had made a deposit on the '95 over the phone. They included familiar items: high flow grill, Nardi knob, BadBoy airhorn, shifter rebuild kit, Redline gear oil, new plugs, wires, filters, etc. The '95 responded to them just as well as had the '90. The only maintenance items I didn't plan for were new clutch slave and master cylinders. I had them installed by the local Mazda dealer, and was happy to find the staff there are kindred spirits who know and love older Miatas.
Last week, I bought a new book called "Backroads of South Carolina." It's full of hidden treasures for those willing to find them. And I am willing.
Top down, foot to the floor, tach needle straining toward redline, I slap the shifter into top gear and revel in the freedom of the open road. Me, and my new summer friend.
Rick Sparks
Taylors, SC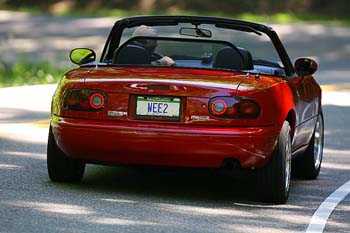 ---
---
---