The Miata of the Month from
---
March 2009
Jack Wyss and his 1990 Miata
Congratulations to Jack on the selection of his Miata as the March Miata of the Month!
---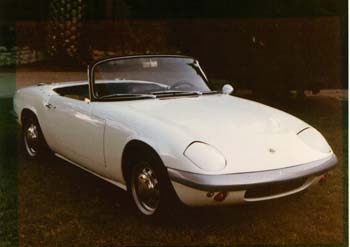 As we approach the 20th anniversary of these wonderful machines, I submit mine for your perusal.
When I was a teenager living in southern Wisconsin in the mid '60's, my father (I believe he owned the only 280 SL Mercedes in the state) and I would occasionally take a Saturday drive down to Chicago to look at exotic car dealerships. We always ended up at the Lotus dealership.
We were fascinated by the Super 7 kit packages and fell in love with the Elite. Lacking sufficient garage space (no Super 7 kit) and my Father being extremely intelligent (no Elite) – we passed on both, but were smitten by Lotus, and said – "someday".
In the mid-80's, I was living in San Diego and lucked upon a woefully neglected '64 Elan S1. A body off, frame up restoration began. As with most British cars, it was a love/hate relationship. You want problems – try Lucas electronics with a fiberglass car! I repainted it Old English White. On one of the many times my wife and I were being towed home, I commented that, " if they ever made one of these that worked, it might be the perfect car for me."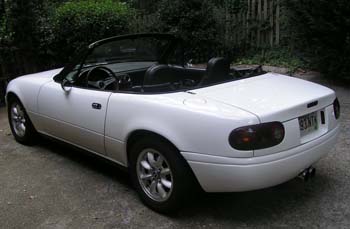 Fast forward to 1990 – the wife shows me a magazine ad for the Miata and asks "when?" I respond, "as soon as the prices settle down."
The next week, I come home with a set of 14" Panasports – even she knows they were not for our beloved 911 SC. Two weeks later we buy our '90 UC, base model.
This has been an exceptional car. I've replaced 2 clutch slave cylinders and the radiator went out at 200,000 miles – that is it! It has been garaged all its life and that has obviously helped.
I do all maintenance myself (major assist from "wademonkey" on the clutch). The engine is untouched internally with two timing belt changes. The car got a rebuilt brake system at 200,000. The clutch was replaced at 205,000 miles, and my machinist said it probably had another 100,000 left on it. The pictures show most mod but you can't see the RB front lower brace, Cannon rear brace, JR front sway bar, Tein Basics with a 12.5"/13" ride height andHKS exhaust.
After 19+ years, it probably needs a repaint –I'm thinking about Old English White.
I will be buried in this car.
(editor's note: we've always felt that a clear vision is crucial to making a nicely modified car. The more we look at Jack's, the more little Lotus-inspired details we see that make it a cohesive whole. It's a great example of a how to modify a car well)
---
---
---