The Miata of the Month from
---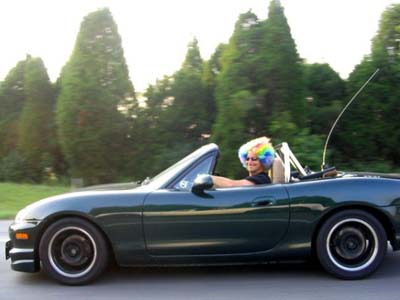 September 2010
Dave Biagioni of Dave's Garage
Congratulations to Dave on the selection of his Miatas as the September Miatas of the Month!
---


Editor's note: Over the next few months, we're going to be featuring some of the cars that started your favorite Miata toy shops. Every Miata shop is run by Miata enthusiasts - and here's what they drive.
My name is Dave Biagioni and I am the owner of Dave's Garage in Oakville, Ontario, Canada.
I was a bit of a late bloomer into the Miata world, mainly due to my fascination with V8 powered muscle cars in the early 1990's.
My brilliant wife, Angie, was the inspiration into this world of tiny two seaters as she had obtained the first Miata in 1996. This was the beginning of what would be a long string of Roadsters in our family.
After driving Angie's red 1990 for a few months I knew I had to have one as well, and pretty soon we had owned 13 Miatas.
Our current rides are a 2007 MX5 PRHT and a heavily modified 1990 white Miata.
My parents have owned several Miatas and even my in laws own Miatas. Pretty much every one of my friends own, or have owned, Miatas as well, There must be something to these great little cars.
After obtaining the first, and second Miata I quickly began modifying whatever I could get my hands on - and afford.
Wheels, suspensions, rollbars were the start and then this progressed into turbos and superchargers. Most of this work was performed on our third Miata, a brand new 1999 green and tan NB. This car had over 12 different exhaust systems fitted over the years and a dizzying array of modifications that included two different superchargers and a turbo kit as well. This was my main test mule and I had quickly discovered what worked well and what didn't. I had owned that car for 8 years, that's a record in my books!


Later on I decided to return to the roots of the Miata and purchase a white 1990 from Atlanta, Georgia. My friends at Rspeed helped me to inspect the car and insure the deal was reasonable. It started life as a pretty stock Miata, daisies and all.
The quest for more power was so addictive that my current 1990 has approx. 300 hp at the engine. It's power plant includes a 1.8l engine swap, a BRP/SOT supercharger, Link ECU and TDR Intercooler. It makes me smile every time the gas pedal is depressed and it has shocked many other cars who try to out power or out handle this little girlie car! It's a real head turner - you can read all the details on my Cardomain page.


Two of our most notable cars have been my wife's 1992 Sunburst Miatas. She has owned two of these very limited MX5s and they have both been tastefully modified with upgraded 1.8l engine swaps, suspensions, rollbars, and a host of other changes to make them more fun. They have now both been sold to fellow Miata friends who continue to cherish and maintain these beauties.
What does anyone who works on their own Miata dream of? Having their own Miata shop of course! I've been a licensed technician since 1990 and after some time and experience with my own Miatas some of my friends asked if I would work on their cars. Of course I was happy to oblidge in my spare time, after hours or on my weekends. With many of my clients referrals I was becoming very busy in my off hours and this has led to my first fully fledged garage, profoundly named Dave's Garage!



The response has been amazing and I have kept very busy making new Miata friends every day. My dream was to make a destination and hang out for Miata folks and I'm glad to say that we have alread held three get togethers with more than 100 customers at each event. Our next event is on Sept 12th and hopefully you can make it. With lots of Miatas, great folks and free food it's sure to be a good time.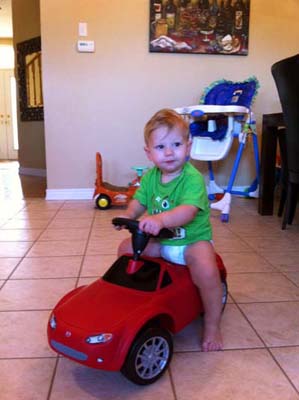 Our family has recently grown with the addition of our first boy, York, and within no time at all he'd obtained his first Miata. Here he is riding his shiny new MX5.
Many thanks to Miata.net who have made an incredible place for Miata owners to converge. This is a major factor in what makes the Miata community such a great place for car nuts.
Dave Biagioni
Dave's Garage


---
---
---