The Miata of the Month from
---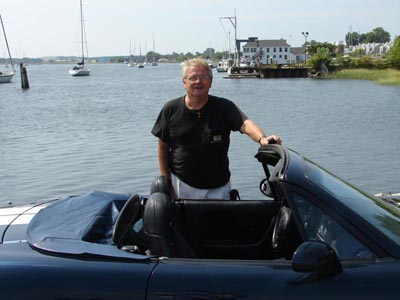 November 2010
Peter Cameron-Nott and his Italia II
Congratulations to Peter on the selection of his Italia as the November Miata of the Month!
---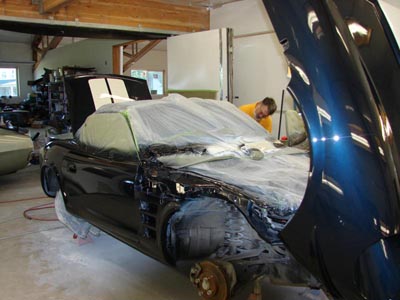 HAVE ITALIA II, WILL TRAVEL!
- My 8200+ mile 36-state trip in a Simpson Design Italia II
By Peter Cameron-Nott
For 10 years now, I've been the proud owner of a 1990 fly yellow Simpson Design Italia with genuine knock off wire wheels. When I saw artist renderings for the new Simpson Design ITALIA II on the series 2 Miata [NB], I immediately knew I had to have the first one so I called up Jim Simpson and ordered one, sight unseen. I purchased a '99 Miata and had it shipped to Simpson Design in Clinton, WA. Then I booked a flight from my home in Florida to Seattle on July 4th, 2010, to witness the completion of my car.
In an unbelievable 8 days, the entire conversion was completed including paint! On the 9th day, with the paint barely dry, I dropped the top and embarked on a circuitous cross country trip, a planned 8200+ miles from Clinton, WA back to Melbourne, FL via Connecticut, a trip that would take me through 30+ states. I have always wanted to drive across the USA; the bonus would be doing it in a convertible.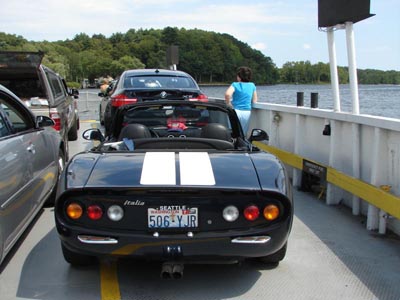 The first leg of my journey was the scenic ferry ride from the south end of Whidbey Island, where Simpson Design is located, to Seattle. From there, I turned east on I-90, en route to Oregon and Idaho. The road climbs through the Cascade mountains, majestic views of Mount Ranier, Mount St. Helens and Mount Hood off in the distance. I made a point to stop off at some of the scenic wineries along the way.
From Boise, Idaho, my road turned south through dust storms and wound briefly into Utah before heading east. Passing through Laramie and Cheyenne, Wyoming, I ran into a thunder and lightning storm, complete with torrential rain, and with windows up, wipers on and top down, I proceeded at 75+ mph and stayed perfectly dry! From Cheyenne I headed south for Denver, CO. and witnessed a truly magnificent rock mountain sunset.
Next day I stopped in nearby Castle Rock to visit an old friend, Jim Youngs, editor of Kit Car Builder magazine, for a photo op and story - the article is featured in their December, 2010 issue. From there, it was Pikes Peak, Pueblo, and briefly into New Mexico on my way to the Texas Panhandle and Amarillo. The way took me over some of the old Texas highways through what used to be booming oil and cattle country, now replete with ghost towns.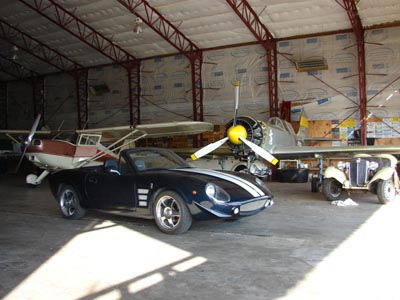 That night I stayed in a small backwater town and found lodging at the 'It'll Do Motel'. It lived up to its name - the first room they gave me had a padlock on it – I declined it. The next wasn't much better.
Lodging aside, the car was performing perfectly – hey, it's a Miata! - and getting a ton of attention. I've never seen so many people with camera phones taking pictures while driving. The only hiccup I experienced was the need to scrape splattered bugs off the windshield and clean the bug splattered grill to ensure air flow.
After a side trip to Lawton/Fort Sill, OK, I headed for Dallas. Somewhere on my way to Dallas, I took a wrong exit and ended up in downtown Dallas in Friday afternoon rush hour traffic – not memorable.
During the course of the trip I made it a point to stop at several Mazda dealerships to get their reaction and each time it was the same - the dealership emptied out into the parking lot. Some looked with disbelief that it was actually a Miata - externally the 'give away' is the windshield rake and stock doors.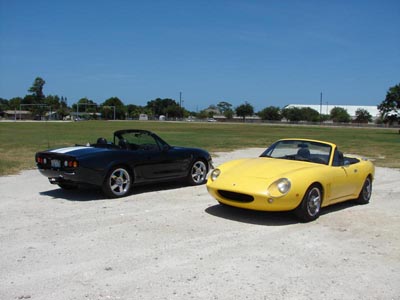 From Dallas it was on to Shreveport, LA and across the mighty Mississippi into Vicksburg, MS. Next stop was Cuba! Yes, Cuba, 'Gateway to Alabama', to visit my friend, Alex Harwick. Alex lives in Tallassee, AL, actually owns his own airport and has a hanger full of antique planes and classic cars, including classic Ferraris and Jags. Alex is a long time friend of Jim Simpson's and decided it was time to own an Italia. I told him that my 1990 Ferrari fly yellow Italia with the genuine knock off wire wheels, lowered suspension and modified Italian exhaust was for sale, and we struck a deal. I was glad to have it go to an appreciative home.
I had originally planned to drive directly into Georgia and up I-95 to Connectcut - I had lived in Milford, CT for 24 years - but Alex wanted to see and drive my yellow Italia so I had to postpone that part of my trip. He followed me back to Florida and left his Mercedes Benz SL550 with me as collateral while he drove the car for 3 days. Final decision – he's coming back out to Florida to trailer it back to Alabama.
During the 3 days back home, I did an oil change and mowed the 'meadow' that my yard had turned into. Then it was time to do a 'Willie Nelson' and get back 'on the road again'. The drive to Connecticut is one I've done many times – climb on I-95 and drive 1,200 miles through Georgia, South Carolina, North Carolina, Virginia, DC, Maryland, Delaware, New Jersey and New York - a drive that can be pretty boring unless you're 'topless' in a Miata.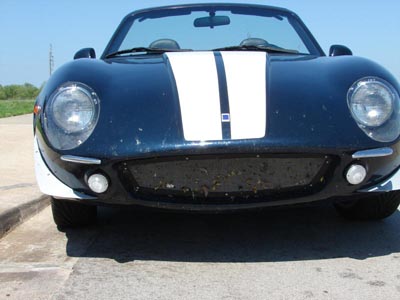 Whilst in Connecticut I was there for the Labor Day weekend vintage fall races and the Concours at Lime Rock Park racetrack. However, since racing is not allowed on Sunday, the track was opened up by invitation to owners of classic sports cars. Interestingly enough, my Italia II was slotted into the Italiano corral along with several Ferrari Dinos, a pristine 365 GTB Daytona coupe, Lamborghinis, Alfa Romeos, etc. It was a unique experience, being able to actually 'drive' the track, albeit it, at 30mph!
I was able to attend at least 2 car shows a week during my stay in CT. I have a Miata owner friend who maintains a retired fighter jet for one of his clients so I was able to shoot the car next to the jet in US navy livery. I also stopped in New Jersey to visit another Italia owner, Bob Mittenmaier – he has Italia serial #007, which he has owned since 1997. We took a short drive to Englewood Cliffs for a quick photo shoot in front of Ferrari's North American headquarters.
All told, the entire trip was spread over 10 weeks and the car never missed a beat. This is my 4th Miata, all of which have been fitted with custom handbuilt Simpson Design body designs. This time, since mine is the prototype, it has a few subtle custom touches. In the last couple of weeks, I have fitted the Italia with period correct 'panasport' style wheels. The car continues to be my daily driver and that's what I love about it – it delivers pure sporty enjoyment on a reliable daily basis.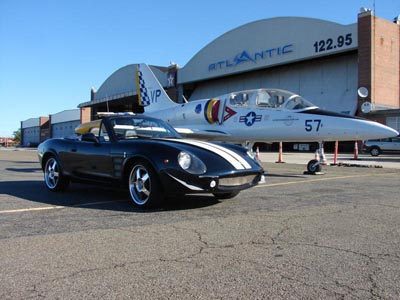 ---
---
---