The Miata of the Month from
---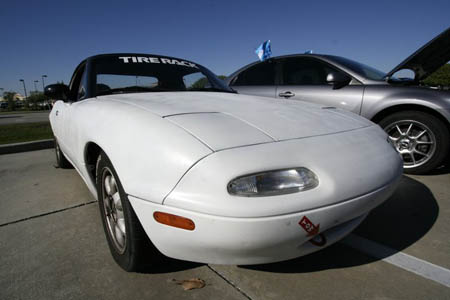 December 2010
Josh Chaney and his 1990 Miata
Congratulations to Josh on the selection of his 1990 as the December Miata of the Month!
---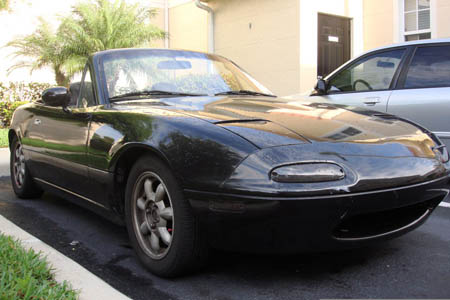 My NA is my first true love in the car world. My previous vehicles ('91 Mazda MX6 GT and an '02 Protege5 respectively) were just hot, short lived affairs. I purchased my Miata in March of 2010 with the hopes of finally finding true love, with a car that is. I found a black (originally white) 1990 base model on Craigslist with a tick over 80k miles on the clock and the price was right. I jumped.
As it turns out, I am the fifth owner of this Canadian market beauty. That's right, she even speaks the language of love! To be honest, she was in disrepair. It was obvious that she hadn't been driven in a while and needed a lot of parts replaced or rebuilt. The bass boat black paint with rainbow speckles wasn't doing it for me either, especially in the Florida heat.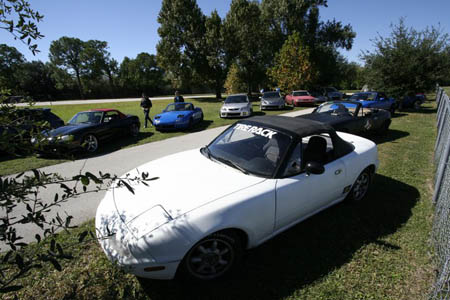 Since the purchase, she has been returned to her original colour. Though rattle canned on a budget, she still looks good from 10 feet. :P The fluids have all been changed and the shifter has been rebuilt as well. Added lightness and a few mild mods (suspension drop and a Spec Miata exhaust) top off the package. The easy 36mpg on the highway is a big bonus for me as well, being the fuel mileage nut that I am. Since purchasing my Miata, I haven't looked back.
The road ahead is long for the both of us and if I play my cards right, I hope to be racing her in N.A.S.A. Spec Miata in the next few years. The Miata is, and always will be, a timeless classic. I recommend one to literally everybody and even my girlfriend is considering one for herself! I look forward to many happy years with my NA and hope that others will be able to feel the joy that the rest of us get behind the wheel of our little ragtops. As it's been said before in many a magazine and touted by numerous enthusiasts, the Miata truly is the greatest car ever built.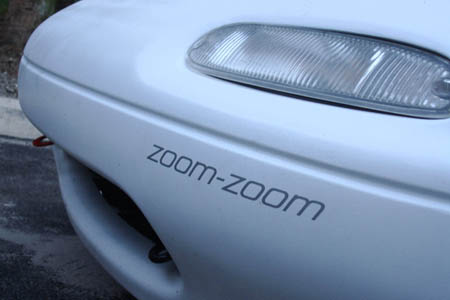 ---
---
---