The Miatas of the Month from
---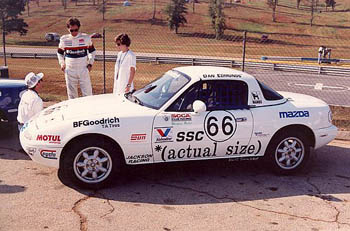 April 2010
Dan Edmunds and his road-racing Miata
dedmunds@edmunds.com
Actual Size on the Miata forum
Congratulations to Dan on the selection of his record-setting Miata as the April Miata of the Month!
---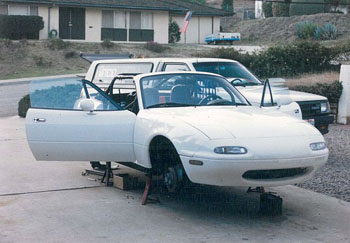 The Miata's success at racing is pretty well known. There have been literally thousands of wins at racetracks over the last 20 years. But where did it all start? We need to go back to Willow Springs in February 1991. 
At the time, SCCA Club Racing wouldn't let a brand new model race in Showroom Stock. Such cars had to be at least a year old. So the Miata had to sit out the 1990 season. A Miata ran SCCA Pro racing events in 1990, competing in World Challenge, but the team was unable to chalk up a win. 
When the Miata was allowed into Showroom Stock, Dan Edmunds was ready.
His little white 1990 had been issued an SCCA logbook in September 1989, and ran in a driving school that month to get some track time. At the time, the rules also stated that the car could not be repainted in non-factory colors. Since hardtops were initially only available in red, Dan's car had a bit of a checkered appearance.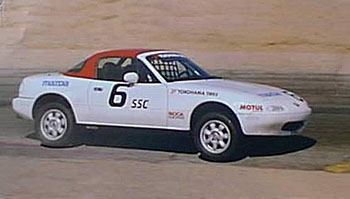 The first two races of 1991 were held in Florida in January. They were won by carryover cars from the previous season, a Toyota MR2 and a Honda Civic Si. But the Miata was just getting warmed up.
Race number three was the first Southern Pacific division race of the season, held at a chilly Willow Springs on February 9-10, 1991. Dan took the win in Showroom Stock C, notching up the first road racing victory for the Miata in North America. He didn't just win, he also lowered the lap record by some 2 seconds! Talk immediately turned to the car's classification. "There was initial grumbling that the car should have been put in SSB," remembers Dan. "I probably should have sandbagged a bit, but I was having too much fun out there."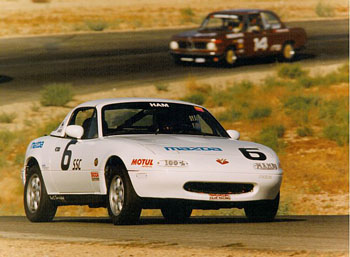 When Mazda PR called Dan to congratulate him, they also suggested the car would look better with one of the white tops that had become available in 1991. So it ran the rest of the season with a slightly more traditional appearance. Dan continued to set records over the rest of the season, including knocking more than 3 seconds off the lap record at Laguna Seca and competing in the Runoffs. The number of Miatas in fields around the country started to grow quickly due to his convincing victories, and the rest, as they say, is history. 
But that wasn't the end of the road for this particular car. Have you ever heard of the Miata that ran in SCCA rally? Full details are coming next month...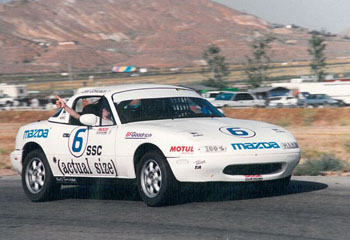 ---
---
---