The Miatas of the Month from
---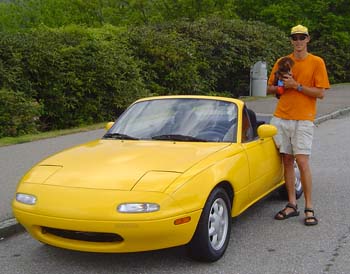 January 2010
Kip Newton and his Miatas
kip.newton@us.michelin.com
Congratulations to Kip on the selection of his two Miatas as the January Miatas of the Month!
---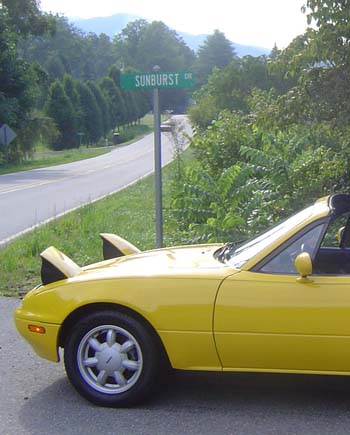 I've been a Miata fan since the car landed on our shores but it took until 1997 to get one.  It started with a '91 BRG which only had 16k miles. 170k miles later it is still running strong as my daily driver.  
Two years ago I found a '92 Sunburst with 35k miles and could not resist.  The Sunburst is completely stock and the BRG pretty close with a K&N air filter and adjustable Konis.  I even had an NC for a while but decided to sell it with kids' college tuition approaching.  During that time the inevitable comparisons made me appreciate the simplicity of the original cars to the point that I figured I could live with one (or two) for a long time.

Working in the tire industry at Michelin, I have had many opportunities to drive interesting cars as a test driver (6 years in US, 3 years in Japan) and a technical marketing manager.  However, I still love to drive a Miata. There is something so pure, simple and mechanical about them.
 While living in Japan, I visited Miyoshi Proving Grounds on several occasions and worked on the NC version tire development. For a Miata guy, that was definitely a career highlight and I made sure to share my passion for the car with Mazda's engineers. I have on occasion thought of moving into 911s, Lotuses, etc.., but it's hard to justify when I have so much reliable fun in a Miata.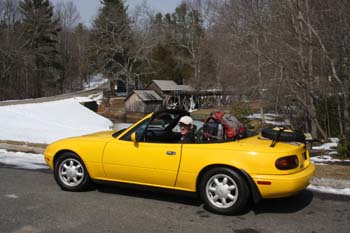 Living near the Blue Ridge Mountains - Tail of the Dragon, Pisgah Forest, Great Smokies, etc - I have many good memories of Miata travel.  Work always involved intense driving so, more often than not, I putter around in my cars and enjoy the scenery. Not to mention that my lovely Japanese wife has a pretty low lateral g tolerance!  When we visit her home in Nagaoka, Japan I always stop by a local shop that specializes in Miata tuning and racing.  They're great guys and a good example of how this wonderful little roadster crosses geographical and cultural boundaries.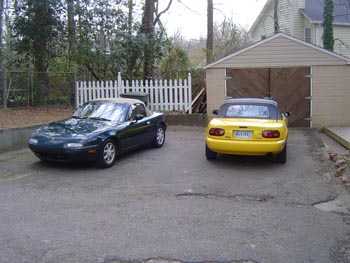 ---
---
---