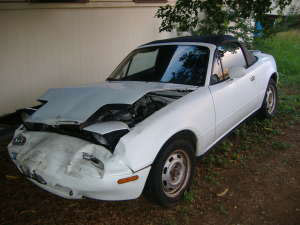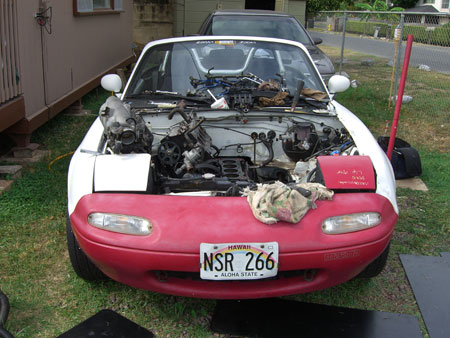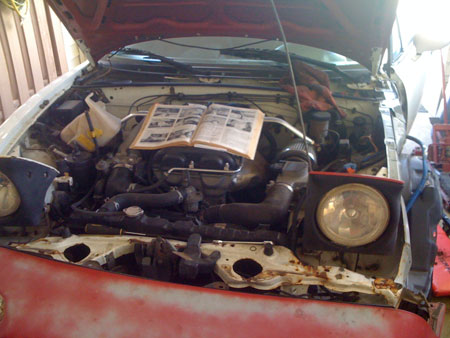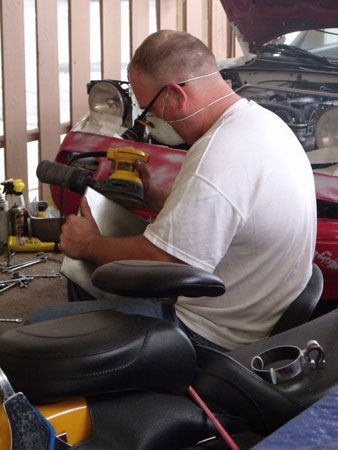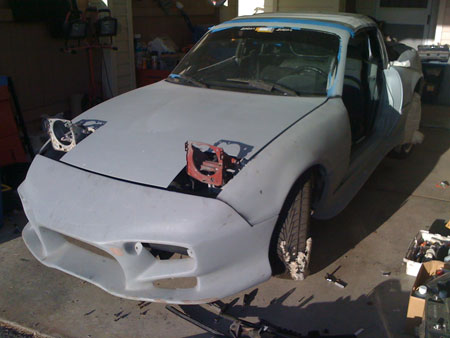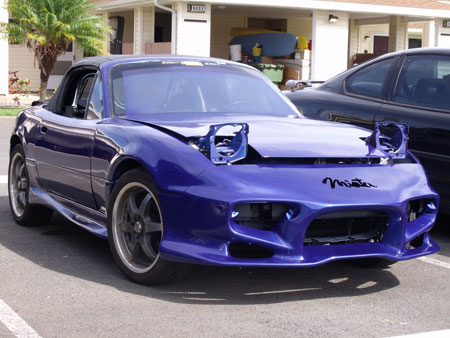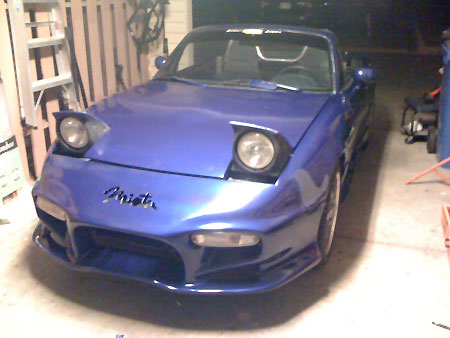 My car was born in Japan and shipped to Tony Group Mazda on Oahu where it was purchased by a professor at the University of Hawaii. She loved and babied it for the next 15 years only driving it on those special occasions; only racking up a whopping 35K miles, having all the maintenance done timely and even having a new top installed with the glass window upgrade. One day while driving to UH, she slammed on her brakes and skidded under a typical Hawaiian style lifted truck. It smashed the headlights, hood, and smiley face bumper. Sad, sad day that was.
Her insurance bought her a new Miata and the tow truck driver kept the car for himself. It turns out he was friends with the professor and knew the history of the car. 8 months later, he posted it on Craigslist after it sat in his yard with failed hopes of restoration. I arrived and saw the car all smashed and looking pitiful in its neglected state...but I didn't dispair, I saw great potential and a beautiful car underneith a bunch of moss and leaves.
I bought it for $900 and had it towed home where I promptly named her Rayne and gave her a bath. Over the next month she was cleaned, detailed, gutted and completely fixed - drivable again. I did all the mandatory maintenance and went above and beyond (head gasket, timing, water pump, intake/exhaust manifold gaskets, wipers, timing belt, plugs, wires, coils, o-rings on the injectors, tranny flush, diff flush, coolant flush, new radiator and a lot more. My new wife of one month was pissed that I bought the car - with our wedding money! - but I told her I was never getting rid of it and it was a fantastic investment. We found out 2 months later she was pregnant, but I didn't care. I was keeping a non-kid-friendly car.
The car started out its life a white color, then eggshell, then dupli-color fix-a-scratch color. After I spent $400 in the deceased miata graveyard I had a red and white franken-yata and a badly bent driver fender. but I didnt care, I sported it like a champ for 3 more years just like that, proud of my awesome car. Even after the birth of my youngest daughter, I still kept the car. When I got divorced and she wanted the car, I fought for it and won. when I met my current wife, Samantha, one of our first dates was to the junk yard to pick up a new fender for the Miata. It was love at first crank of the wrench. At that point I went from having a candy cane miata to a red, white, and blue flag car. Samantha said "Hey, why don't you paint it? I'll even help!" and that started my 9 month project.
I start by pulling off every part that had factory paint on it and hand sanding it with a 5 1/2 in orbital sander. I loathe when people paint over paint, so I stripped every inch of paint off by hand, even under the hood and trunk lids. We removed the luggage rack and filled the holes. Removed the seats, top, and carpet too. Buzzing and paint dust went lingering through the air for months. After it was done, Rayne had a new fresh coat of
primer and the first time she had been a solid color in 4 years. I found really hard to find parts in Texas at Miata Auto Salvage. They had a Veilside body kit they sold me for $700 with shipping, and I couldnt pass it up. So last minute I installed it and prepped for the paint booth.
First I went to Sherwin-Willians auto paint store and hunted for colors. I found the most amazing limited edition color paint for a Mazda RX-8 called Aurora Blue. It may be a factory color, but it is spectacular with lots of flake. I towed it to the paint booth on Hickam Air Force base and, having never painted a car before, went to work. 8hrs later she emerged elegant like a woman in that notorious little black dress, sparkling, curvy and very seductive. I took her home and reassembled for 3 days with Samantha helping me. I was a great bonding experience. So even through 2 kids, a divorce, and a remarriage....my car is still with me and will be until I die. See, it was a great investment!
The m oral of the story: even though others may see faults like rust and moss and try and keep you down from your dreams, there is always potential and inner beauty underneith of a smashed body. With a little love and support anything can be beautiful again. M y car is a testament to that.
Happy birthday Rayne (July 1991-July 2011, 20 y/o, 69k orig miles)