The Miata of the Month from
---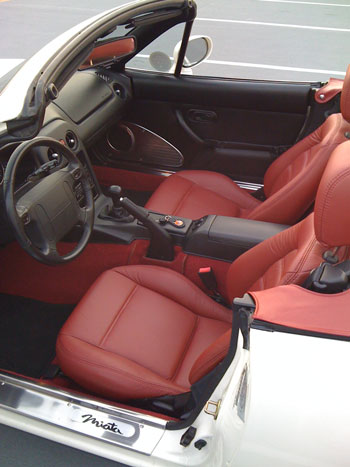 June 2011
Frank Reiss and his 1995 Miata
Congratulations to Frank on the selection of his special Miata as the June Miata of the Month!
---
I have been a car nut since I was a young kid. I've attended almost every auto show in NYC from the early seventies, until now. I poured over the brochures like they were the holy grail, I knew more about the domestic makes than anyone would ever care to admit. Esoteric optioning, color, and model designations. I watched with dismay what was happening to the auto industry as it spiraled into banality, and watched with enthusiasm as it clawed its way out as well. Thus it was, until the late 80's, a time of real renewal for the automobile manufacturing business, and the dawn of a new roadster era.
The Miata caught the imagination of every real car person, and was, in my eyes, the most complete car I had ever seen in the magazines. I didn't have a need for a car, because I lived in Manhattan at the time. However, I thought for sure that one day soon I was going to own one.
That day happened in the Winter of '92-'93. I was living in Allentown, Pennsylvania at the time, and found a beautiful '91 B package at the local Mazda dealer. It was the Fall, entering the worst Winter that I had ever seen. I learned to drive the car in every possible weather situation, and can tell you that it is an unbelievably easy car to drive well, and if you have skills, it makes you feel like you are a pro. I drove it for an additional 5 years, and then sold it to a Canadian who took it back to Canada.
That car left a big imprint on me and defined car charisma for me. Lots of cars have power, have slick technology, or some other must haves, but the Miata was a car that aligned many different moons to just get it all right. In fact, the plethora of small 2 seat convertibles since then have become an affirmation of the brilliance of the Miata. The fact that it is in only the 3rd generation, has sold nearly a million units since 1989, and has succeeded where others have not is also a testament to the brilliance.
I got married, sold the car in 1996, continued to live in Manhattan, and vowed continuously to get another if/when it was appropriate. I moved to NJ in 2002, not long after the Sept. 11 terrorist acts, and relied on the family car until I got a 2002 BMW M roadster. It had power, branding, and a really fun personality. It also cost a ton to maintain, paid by BMW.
I sold that car, and started on my quest to find the perfect Miata. The perfect Miata became an elusive, almost mystical quest. I went through 9 cars until I found the right one. The cars that I bought ranged from the unbelievable garage queen, a '93 LE with 4900 miles, to a rat 1990 that I put a lot of time, effort, and money to restore. I honed my restoration skills along the way, and squirreled away lots of cosmetic parts in order to make the ultimate project Miata a reality. It is mechanically OE , but cosmetically upgraded.
The fact is that I am very pleased to now be the proud owner of a 1995 Virginia born and raised Chaste White Miata. It was in unbelievable condition, pampered by two prior owners. I bought it in late November, and couldn't drive it through the entire Winter, as it was just as bad as that first Winter so long ago. The weather finally broke, and it is now customized in what I consider to be aesthetically sensible. Not too much, but just enough to make me smile, and I can now see that I have essentially come full circle. I hope you folks reading this can relate to some or all of the story, Miata's are soul stirring, life affirming, and a pleasure to hang with, just like a friend. Here's my friend, I hope it makes you lust just a bit, because with time and patience you can make any Miata into a friend just like mine, maybe.
---
---
---