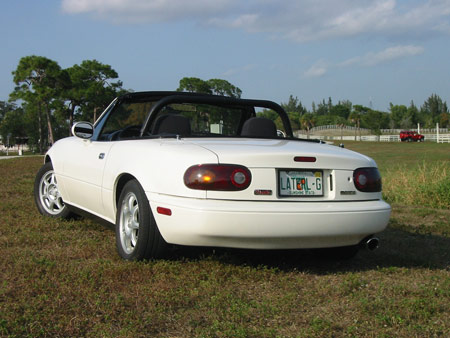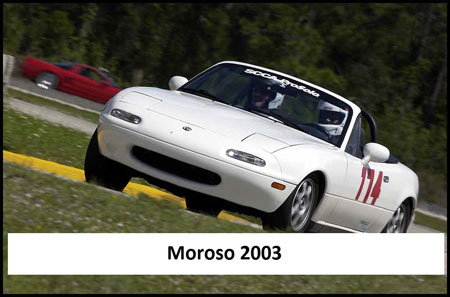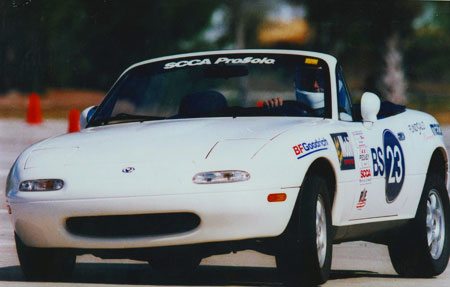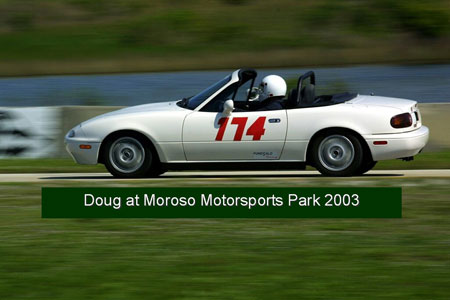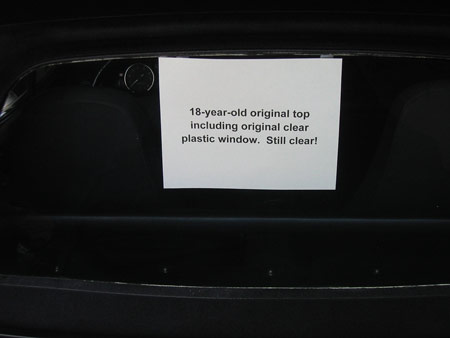 "nelli"
or
How A Miata Created Two Full-On Car Nuts
It was some time in 1991. Well-known autocrosser Darrin Disimo and I were good friends, and Darrin had just gotten his white 1991 Miata. I was a die-hard Mustang fan (OK, stop laughing), having owned Mustangs all my adult life, from my first car at 18 through my first Miata (more on that to come). I had owned a '66, '69, two '70s, a 71, an '85 and a '91. Most were performance models, including a '70 Mach 1 show car. The car I learned to drive in was a '70 Fastback, which my father finally sold around 1990. I started autocrossing the '85 in 1989 and continued in the '91. But this is a story about Miatas.
Every time Darrin and I would go somewhere and he had his beloved 1991 MX-5 he would throw me the keys. And each time I had a grin from ear-to-ear. When he was ready to upgrade to a '94, I took the plunge and went with him. We bought two identical cars on the same day from the same salesman, '94 white, B-package models with MSSS.
Darrin has since moved on from that car and has had way, way more success in national-caliber autocrossing than have I, he having upgraded again to a '99 Sport, then a second-generation MS-R from my son, who had bought an early gen2 MX-5 and added the MS-R components from Darrin, creating the first MS-R package car in the country.
Back to "nelli": After autocrossing Mustangs in F-Stock, and finally getting my '94, I was hooked on Miatas. It was the antithesis of the Mustang: torque vs momentum; point-and-shoot vs handling; braking early and hoping vs. stopping NOW. What a blast the Miata is to drive and especially autocross. It does everything the driver tells it. It will oversteer, understeer, or be neutral, all with driver inputs. Cannot get much better than that.
So, when my boy, Doug, Jr (aka "DJ") turned 16 and got his learner's permit, off to autocross school we went. There was a short slalom and a few other cones set up using a portion of the old South Florida Fairgrounds, which itself was for a time, the site of some big-time professional races by IMSA, IndyCar, and SCCA among others. We used a part of the track that had a small oval, which even further back in history, was active as a roundy-round track.
Well, I had been instructing students all day. All of them tiptoed through the slalom. I told my son to stand on it exiting one of the oval turns and to go through the next slalom full throttle. None of the students ever do what the instructor tells them, especially when it comes to being that aggressive. I was telling him "Don't lift! Don't lift". (OK, I was probably screaming it.) But he did exactly as I told him to. To his credit, he never lifted. And he didn't make it. We got sideways, he corrected, tank-slapped, and off into the grass we went. The 8,000-lb highway concrete barrier approached, and quickly(50+ MPH). I braced myself for the nose of the car to be taken off as we were traveling nearly 90 degrees sideways. Thankfully, we missed, and when we went and looked at the tire marks through the grass, I still to this day cannot explain how, given the distance between the tire marks and the barrier (around 12"), we actually did miss the barrier. So "nelli" !
lived to fulfill many, many more years of driving pleasure. Oh, stupid me: AFTER that incident, I drove the course and came back and said "Oh, OK, you really can't go through there flat." Multiple lessons learned here: don't instruct family, and ALWAYS drive the course yourself first! (DUH!!!)
My son DJ became hooked, and he is a very good driver in his own right. It's been a while since I've beaten him in competition, and these days he has to coach me to get lap times within .5 second of his times in our '90 Track Rat Miata. He prepares the track car and has become orders of magnitude more knowledgeable and practiced about Miatas (and Hondas and anything that can be taken apart) than I ever was. I attribute his love for cars to our joint experience while he was growing up, attending and later participating in autocrosses with me and "nelli". It used to be asked of DJ "aren't you Doug's son?" Now I'm the afterthought: "You're DJ's dad?!?"
"nelli" has participated in Pro Solo (highest finish 2nd, but I realized later that the competition wasn't all that strong; I'm not, nor was I ever, all that good), National Tour, local autocrosses, and more recently Chin Motorsports track days at Sebring, Homestead, and the old Moroso.
"nelli" is my favorite car. Ever. And this includes its current garage-mate, a 1991 Acura NSX. I will never sell her (I know, never say "never"). She looks as good as the day I got her. These days she is retired from competition and track days (the 1990 ex-Spec Miata "Track Rat" fills those duties now), but still offers top-down fun around town. She has been almost dead-nuts-on reliable. OK, there have been some woes: antenna mast; two clutch slave cylinders (and one of these was my fault, heating up the clutch doing multiple clutch drops in a row at a Pro Solo school), and front hubs (Sebring Turn 17 is brutal, especially on left-front). And that's it. The only failures in 18 years and nearly 84,000 miles.
She still sports very shiny near-flawless paint courtesy of Meguiar's (dozens of dings have been removed by paintless dent repair experts), perfect seats (they have been protected by aftermarket seat covers since month 1), and the original top, and, believe it or not, the original plastic back window, which is as clear as glass (and I have pictures to prove it).
This is, by far, the best car I have ever owned. I see "nelli" as part of the family for a very, very long time, hopefully, another 18 years or more.
Doug Quara, Sr.
Coconut Creek, FL