The MX-5 of the Month from
---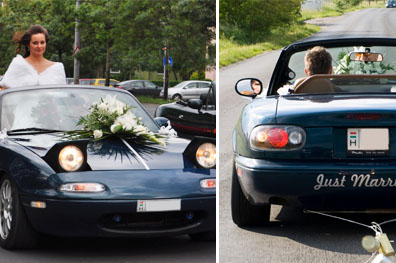 September 2013
Gergely Gácsi
Congratulations to Gram on the selection of his 1996 as the September MX-5 of the Month!
---
Let me introduce the big connector: she is an 1996 1.8 NA in Montego Blue color with tan interior. Nothing special at the first look. Or the second. But look at what she caused.
Let me explain. The MX-5 was something I fancied ever since I saw it on the page of a Hungarian car book released in 1992. I was 15 then but still have that book, opening automatically on the particular page. At that time it was a far dream to own such a roadster but my destiny had been written.
As I grew up the political structure changed, I bought several nice cars driven by common-sense and budget. One day a friend of mine asked about the rear seat of my perfect Accord: is it comfy? I told him I don't know as I never tried, and - wait a minute - nobody sat there in the last two years. It was a sign I got at that moment: It's the time.
I think many of us have a similar story. Of course, I hope so. But I didn't expect the story happening after.



Getting rid of the ridiculous automatic tranny. Converted to 6-spd with Torsen LSD.
At the time there was only 3 NA to buy in Hungary, the other 2 was 1.6 litre without any extra. Easy choice.
I just wondering, is there anybody out there I can share the joy of Miata ownership with in Hungary? It wasn't so obvious as you may think. Because of the lack of money locals spend on cars, Miatas and any other special cars are rare. So I registered the 'miata.hu' domain and started a very basic page. Today, as the founder of the Hungarian MX-5 Club, I can proudly report we are the largest club in the ex-socialist region, counting 240+ members, and - as is the most important - most of my best friendships originated from here. (a big thanks for you guys! :) )
9 years... We have had so much adventure together, there's no time and space to recite all. Just a few stops in a picture: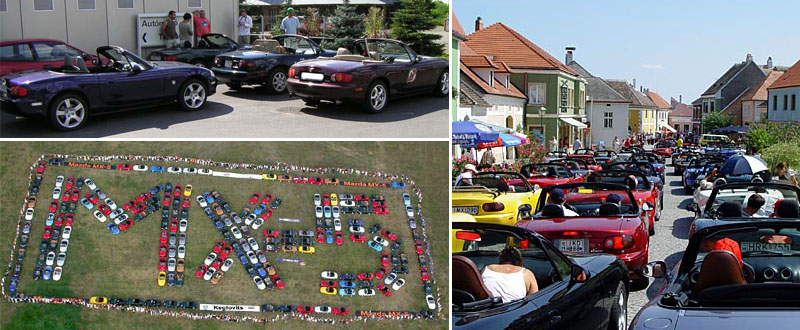 Our very first meeting with 5 cars in 2004. Every beginning is tough.
A year later in Oslip, Austria with the local club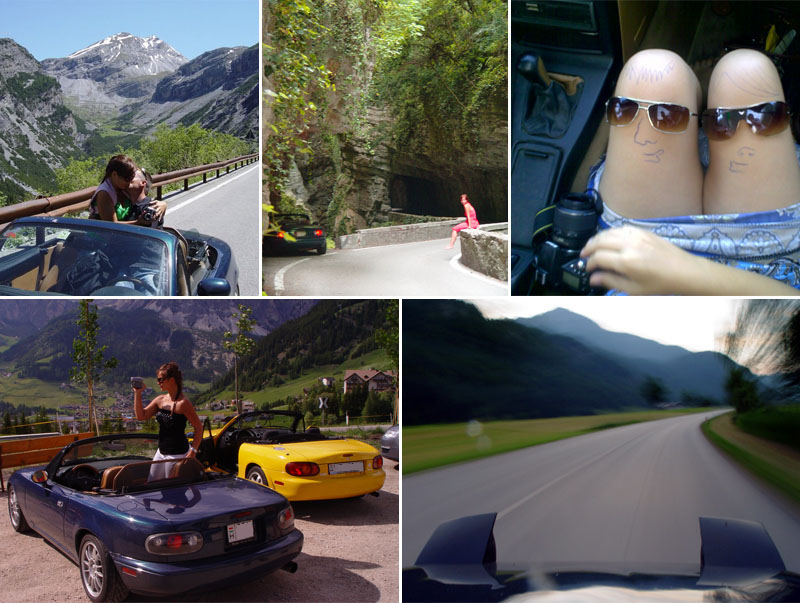 Uncountable trips and curves: Dolomites - Stelvio Pass, Tremosine, Honeymoon... I hope we've just started.

A car enthusiast's work is never done.
Wedding procession with ~30 cars, and endless fun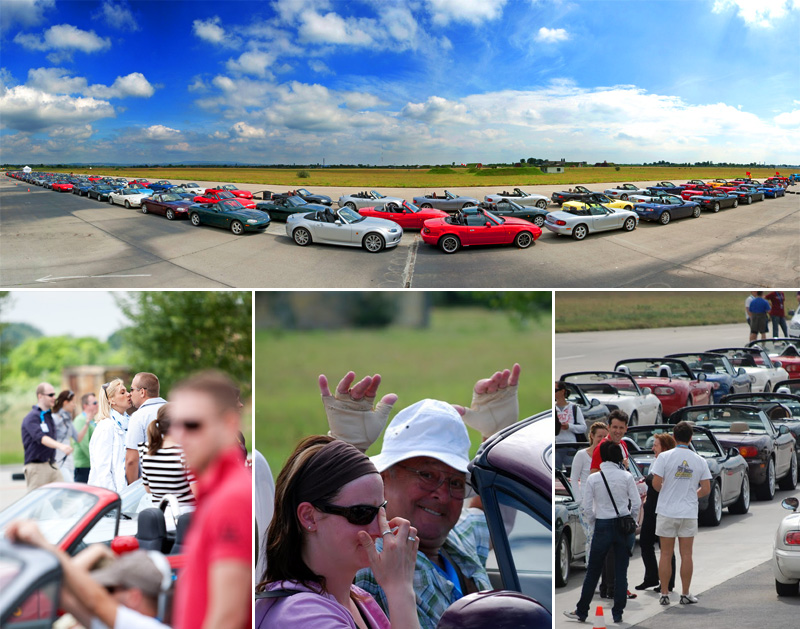 Couple of friends - 20th Anniversary meeting (scroll me->)
I thought my Miata would be a good partner on those winding roads to my home, eventually she drove me much further, to an outstanding, true-hearted community. Thanks, Miata!

Cheers,
Gram (and the whole Hungarian MX-5 Club)
---
---
---