The Miata of the Month from
---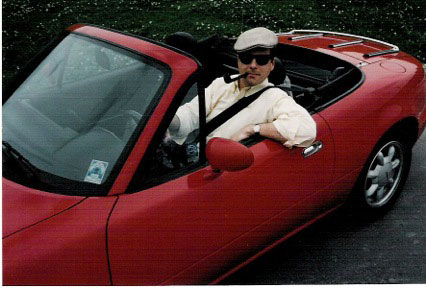 October 2013
Jon Russo
Congratulations to Jon on the selection of Lil' Red (versions I and II) as the October Miata of the Month!
---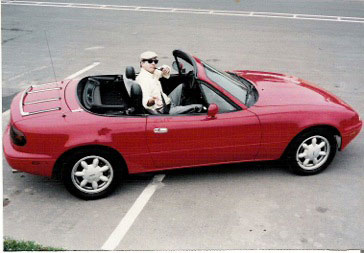 My first car was my worst car: a 1976 Pontiac Sunbird. I owned it for nine excruciating years. After that I owned a Honda, a Chevrolet, a Ford and even an '88 Honda Prelude which I loved but it didn't love me.
Back in college (LSU) a guy owned a brand spanking new '76 MGB which I thought was the coolest car ever made. I recall sitting by my dorm window admiring that shiny British Racing Green exterior and big black rubber bumper. I had to have one but years would go by before I would even consider it.
Fast forward to 1995, I was working as an advertising account executive for the New Orleans Times Picayune and would attend the MG rallies whenever I could. I had asked the president of an MG club about the car and what would entail maintaining the car. 
He asked, "Do you like working on cars?" I said, "No."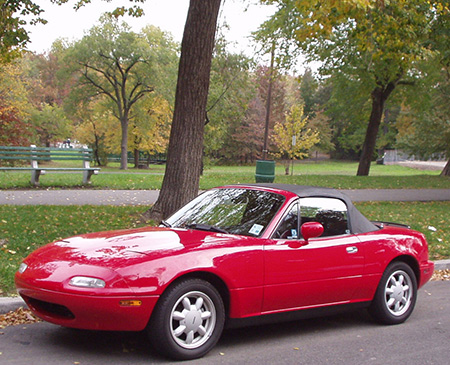 He said, "Then buy a Miata. All the fun of an MG with less work."
Let me explain, I am no mechanic. Now I enjoy washing and waxing my car but let me assure you, getting my hands grimy is not my within my orb. 
So I purchased a 1990 red Miata and used it in my work, traveling from one account to another. It was a whole different dynamic for me. There was a driving thrill and sensation that was different from any other vehicle I'd ever owned. My wife drove the other car and we were all very happy until something drastic happened. 
She got a huge promotion to Fifth Avenue in New York City. So I left my work and hometown and moved to a high rise on the Jersey side of the Hudson River . The only way to wash my car was to drive to Hackensack at a pay car wash which was sheer robbery. If you didn't wash, soap and rinse your entire car in less than 2 minutes you would have to insert another $5 in that Jesse James-coin box. 
We used our Miata for everything from moving furniture to carry groceries. I also spent two pleasant years driving up and down the Palisades Parkway to Bear Mountain and back. But then something even more drastic happened.
My wife got another promotion, this time to Paris. I wanted to keep my "Lil Red" so I decided to store it at my Miata mechanic's garage in Louisiana. I drove it there, stored it and moved to the City of Light. After two lovely years in Paris came another surprise: a baby girl. And me at the ripe age of 47!
After moving far away and having such a huge change in my life I decided I should give up Lil Red to someone who could appreciate her. So I sold her at a price I am too embarrassed to reveal. 
Years passed and we relocated back to the States; this time to the Rockwellian suburbs of Glen Ridge, New Jersey. And after five years I got the itch to have another Miata. I wanted my car back. I wanted my 1990, flag-red Miata again. I certainly did not want that bland white,  horrid yellow or toy-car blue. (OK, maybe I would have settled for that British Racing Green.)
This past June I found one on craigslist: the right year, the right mileage at the right price. So I bought it and it's mine!
And as for me, it's like it never skipped a beat. I love driving my Miata. And wherever I go in "Lil Red II," I always take the long way.

---
---
---