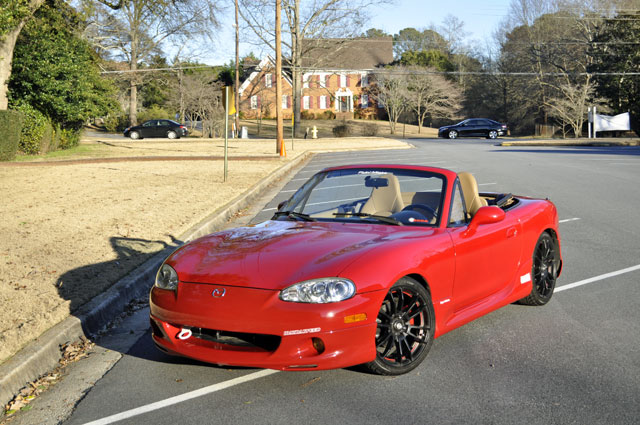 I remember my mom buying it for her for her 84th birthday. The Classic Red 2002 Miata with a tan top. It was perfect. I was five or six then and riding in the topless car with my grandmother was exhilarating. It was just like her. My grandmother, who lived with my family and me, was young at heart and the Miata was perfect.
As I grew older and really started to gain a strong appreciation for cars, my admiration for the Miata only grew stronger. It was the most perfect piece of art I could imagine. Absolutely gorgeous. As I began to drive, my grandmother stopped driving. After a major surgery lead to kidney failure and a six month hospital stay, my grandmother put her last day of driving behind her. She was glad, however, that I took enough interest in the Miata to take it as my first car.
My grandmother took great pleasure in how much I loved and took care of the Miata. She was always impressed by the new modifications I would show her whenever I could find the money to work on the Miata. She was also extremely proud and supportive of me as I started autocrossing it last June - something I've continued to do.
A first car is always something special to someone. For me, it is everything. I park it at school in the morning and cannot take my mind off it until I return to it in the afternoon. I adore it and could not imagine not having it. It is special in so many ways to me, something much more than just a car.
My grandmother passed away suddenly late last year, leaving the Miata as my biggest memory of her. It carries her soul within it. She was always happy to see me enjoying it, and I never plan to stop enjoying it. People often don't understand my attachment to it, asking me what kind of price I would accept to sell the Miata, but its never leaving me. Its far too valuable to me to part with and I intend to keep it until I get old and can pass it on to someone who will be equally in love with it.
Alex Gray
Atlanta, Georgia