---

Featured MX5 Miata!
---
Emilio Montecillo
Congratulations to Emilio on his selection as our Featured MX5 Miata!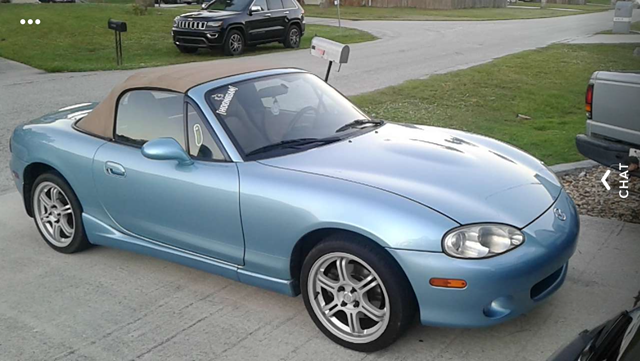 Life is precious. As a nearly 19-year-old broke college freshman, I probably have no business ranting about the precious things in life. I will however, share my experiences I have had so far during my life. I was fortunate enough to be born into a family that had a passion for cars. My mom was into the imports of the '80s and '90s while my dad had a passion for euro cars and American Muscle. When I was little, I remember times when my dad would have me hand him tools while he was installing spark plugs on his old air cooled 1987 911 Carrera, or we would spend all night watching Herbie movies. Constantly being around cars and in the toolbox helped me discover an everlasting appreciation for cars and how they worked.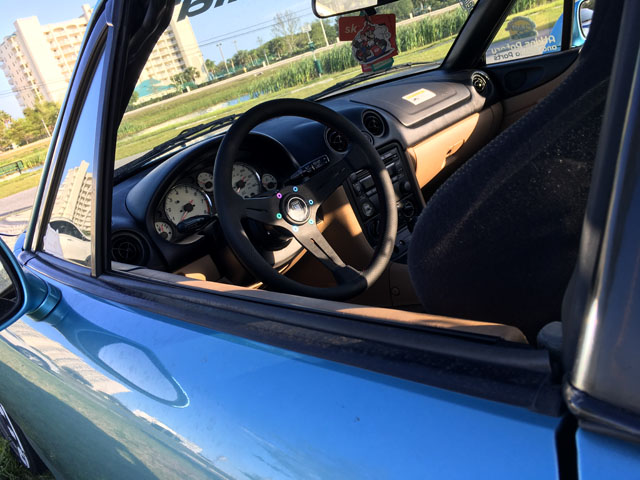 I was 13 years old when my dad first got a 1990 Mazda Miata. Growing up with 3 siblings, I was the only one that had a liking to the little car. At first, I thought it was just a tiny two-seater. It lacked the rumble you get from that raw V8 power of classic muscle; I thought it was slow. I didn't realize what the point of a Miata was until my dad took me for a joyride on a twisty road. The way the car seemed to hug the corner and yet, it had no power like a Mustang. If an under powered roadster could put a smile on my face, I knew what that meant for me. This car would be my FIRST car. I would happily assist my dad whenever he needed help bleeding the brakes, or changing a clutch, because I knew that this would be my first car. It had almost no "trouble causing" power, it had functional airbags, and was a pretty reliable car that could get you from A to B. Had I known my dad planned on selling the car, I would have used these points to convince him to consider keeping the c! ar around. Ever since then, I would browse craigslist for used Miata's. The Miata my dad had let go had left an impact on me.
Around September of 2018, my dad came across an ad for a 2002 Crystal Blue Miata LS. I always liked the pop-up headlights of the NA Miata's, so owning a NB Miata wasn't such a fond idea for me. After all, it didn't have those quirky pop-up headlights, and the color seemed a little "weak". The seller however, insisted he have the car sold fast, as he contacted me and said that he would offer a nice bargain for the first buyer. While I was not very interested in the car at first, when I test drove it, I realized how fun this car was, but it was BETTER than my dad's old 1.6 Miata. This model came with the VVT powerplant, it had a 6-speed manual gear box, and a Torsen Diff.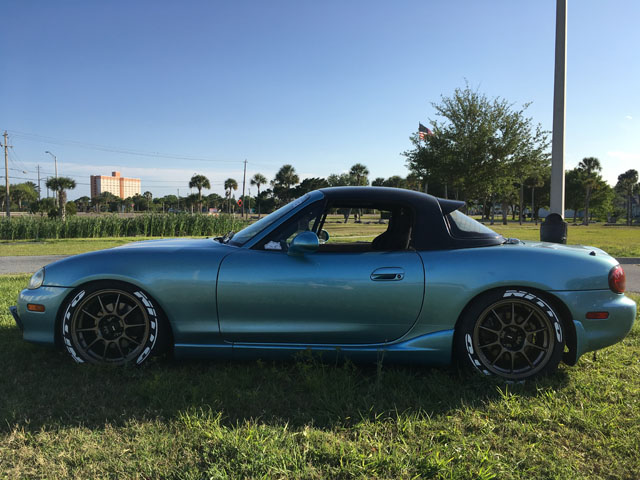 Of course, there were problems that needed to be addressed, so I fixed the suspension with a set of coilovers, bought stiffer sway bars, and installed adjustable end-links so I could properly lower the car. This car, as me and my friends say, could "get it". It handled corners nice and tight, and broke loose and did sweet power slides and donuts on command. One time, I got a little carried away. I was showing off the car to my friend who's over 6 feet tall. To get him in the car, we had to take the top down. Neither of us were expecting to have our faces smacked with tall weeds and grass as we slid into a ditch off an exit ramp just a few miles away from my home. With any accident, there is always a price to pay. Fortunately, my price was only the $85 dollars that the tow truck driver requested from me for pulling my car out. Law enforcement let it slide THIS TIME and kept the accident off the books. Both me and my friend were unharmed, and for the car, I only needed to rins! e off the mud that caked up inside the right-side front and rear wheel wells. Remember how I said life is precious? While I may not be old and wise, I do know about a very familiar quote "A lesson earned is a lesson learned". I learned quickly that you can't just make major adjustments to your cars and then go full send into a corner, or more specifically, an exit ramp. I am also realizing you can't escape the law forever.
Remember how the cops let me go free after my accident? That was not the case for me when I got caught doing parking lot donuts. I got slapped with a hefty ticket, and attorneys are not cheap. Sometimes you gotta pay to play, and other times it's better to just play it safe.
In any case, life is full of many learning experiences. For those of us that own a Miata, whether that learning lesson be it's your first drift missile, your first speeding ticket, or your first time driving a stick shift car, if that lesson learned leaves you knowing that smile was worth it regardless the consequence, then a Miata will leave a big impact on your life just as it has done to mine!
For anyone in Florida who resides close to the Cocoa Beach area, there's a local car meet every Saturday night at 10pm in the "Frankie's Wings and Things" parking lot, right off state road 520. You can find out more information on their dedicated Facebook page: https://www.facebook.com/merrittislandcarclub/ You can find me over there with either my Crystal Blue NB Miata or my Red 1994 Toyota Celica Hatchback.
This is my story for now, as I am still young and have plenty of life left to live. For now, keep learning and finding that reason to smile, mine happens to be making girls giggle while I slide my Miata around a cone in a circle ;)
Emilio P. M. (pinkbandit315 on the Miata.net forums)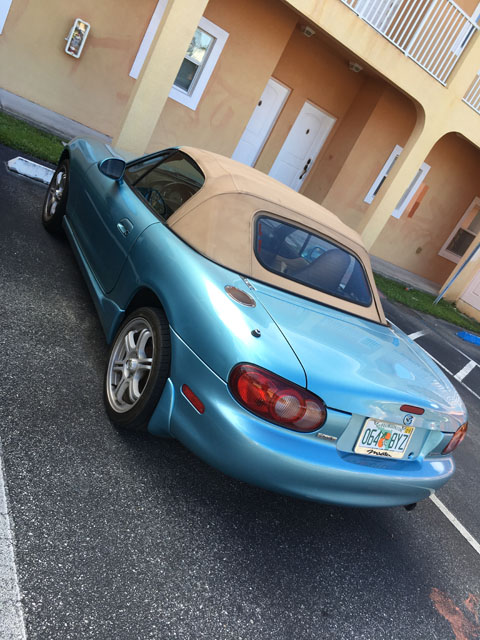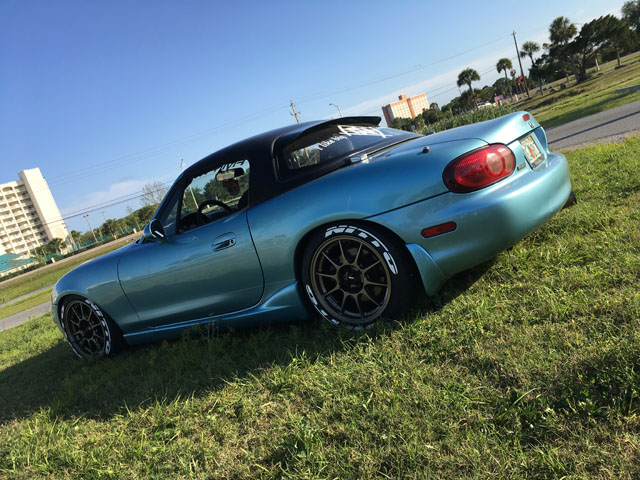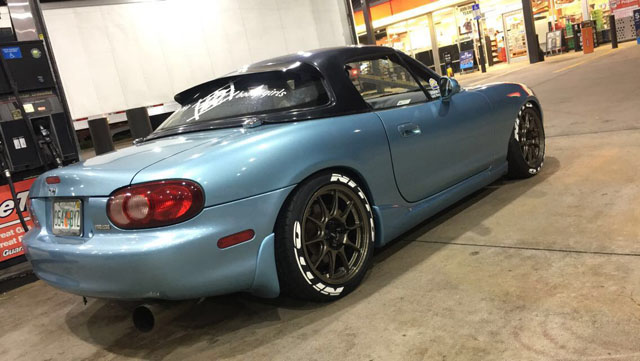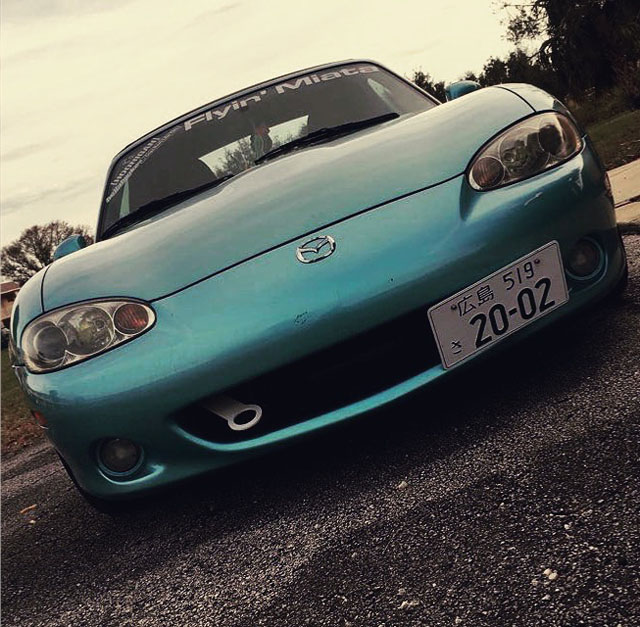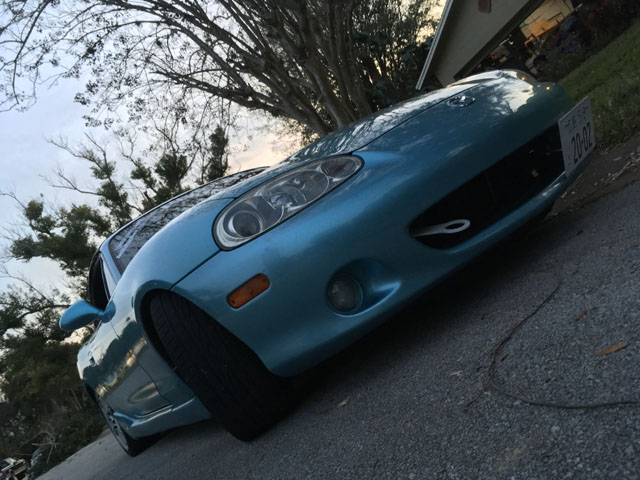 ---
---
---