Mazda Australia Introduces Turbocharged 200hp MX-5
by Bob Hall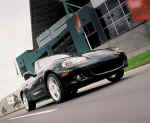 At the 90th Sydney Motor Show. Mazda Australia publicly revealed the turbocharged MX-5 is Sydney-based motorsports arm has been developing. Mazda Australia has commissioned a run of 100 of the cars - named MX-5 SP, to be produced in Melbourne, Australia by Prodrive, with sales beginning in January. Mazda Australia's Managing Director Malcolm Gough has indicated that the planned 100 car production run might be increased, as the company already has received expressions of interest - as well as some deposits - from more than 100 potential customers.
Mazda Australia will be selling the SP as a complete car, with the engine turbo package not available for aftermarket sales. There will be no export (as in non-Australian) sales of the complete car or the turbo package.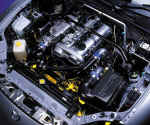 Development of the engine is still in the last stages (so an final power output is available), but Mazda is quoting an estimated output of 150kW of power and 280Nm of torque. In the what remains of the non-metric world that equates to approximately 201hp and 207lb-ft of torque. The engine uses water-cooled turbo with moderate boost to provide a broad spread of torque. Mazda Australia will cover the cars under the same three-year, unlimited kilometer warranty as all its other cars.
The MX-5 SP is is derived from the normal Australian-spec MX-5 - where 16-inch wheels and tires with the brake package are fitted as standard - and will be priced at A$55,540 (approximately US$27,880 at the time this is being written) with air conditioning (A$2500 - roughly US$1255) the sole option mechanical option).
Alan Horsley, manager of Mazda Motorsport, has also spearheaded two other locally-developed 'SP' models, a version of the Eunos 800 (Mazda Millenia in North America) and a massaged version of the FD series RX-7 which won the Bathurst 12 hour production car endurance race.
Miata.net will have more on this car - along with a drive - in the coming weeks.
Bob Hall
---
---