Hot stuff from 2002
---
Hot stuff from earlier years
---
Brand new at GoMiata is the Racing Beat Dual Tip Exhaust for the 90-97 Miata!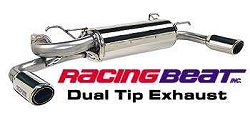 The two 3.5-inch exhaust tips are manufactured using highly polished 304-stainless steel and are slightly oval in shape to provide a perfect balance and proportion with the Miata's rear bumper. Like all Racing Beat exhaust components, this system has been "tuned" to provide your Miata with a deep, throaty exhaust note, without any harsh, buzzy or "raspy" sounds. When combined with a Racing Beat connecting pipe and presilencer combination, this dual tip exhaust system will open up the breathing and add just the right amount of "attitude" to your Miata!
Each system comes complete with fully detailed instructions and mounting hardware, and can be easily installed by the weekend mechanic using only simple hand tools. A positioning template is provided to assist with cutting of the new opening for the additional outlet tip. The new opening can be cut through the soft urethane bumper material using only a small utility knife.
Make your 90-97 Miata the envy of all your friends with these new Racing Beat duals!
For more information: www.GoMiata.com
(Added 12/20/02)

---
We're fairly certain the guys from Moss Motors developed this as an excuse to spend more time over in the pub. "Its for business, mate!" Right.
The perfect gift for the Miata gaming enthusiast! Large 18" diameter bristle dartboard is made to World Dart Federation specifications and features the Miata logo. Don't forget the darts.

For more info: www.miatamania.com
(Added 12/18/02)

---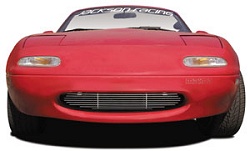 Give your Miata a more aggressive look with the slat grille from Moss Motors. Slats are CNC machined from mild steel for a perfect it, this grille is then powder coated for a long lasting finish. Specifically designed to be strong yet allow maximum airflow to your radiator. Available in Black and Silver, no drilling required.
For more info: www.miatamania.com
(Added 12/18/02)

---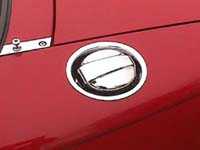 They're back, at last! Brainstorm's very popular Classic Fuel Lids are now available again. Now completely retooled and produced in mirror POLISHED STAINLESS STEEL for a beautiful and lifetime finish. Installs in 10 minutes and retains the factory locking and release mechanism. Available for all year Miatas.
For more info: BrainStorm Performance
(Added 12/13/02)

---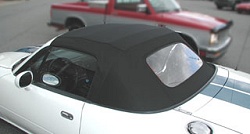 Black German Sunfast Cloth top with defroster and glass window 89+
These new German tops are of the finest cloth quality. Made with thicker cloth material, you will notice a difference in the noise level alone. The beauty of this top for anyone with an 89-97 Miata is that you no longer need to unzip the rear glass window. Glass window is also equipped with a defroster for extra visibility on those frosty mornings.
For more info: RSpeed
(Added 12/6/02)

---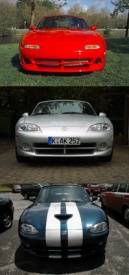 RSpeed is now selling exclusively Viper Bumpers for any year Miata. The Viper Bumper uses stock mounting points and is made with a RTM technology and Epoxy/GFK construction. This bumper is made with the same process as with the aeronautics resin systems. The bumper is ready for assembling without any major adaptation work and is very much like installing the original OEM bumper. Comes unpainted, but ready to paint. All years.
For more info: RSpeed
(Added 12/6/02)

---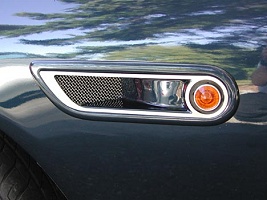 New at GoMiata are the gorgeous Simpson Design Side Louvers!
These louvers are inspired in part by some of the great limited production sports cars of the 50s and 60s. They are fully functional louvers that do allow venting of the engine compartment and do require a hole being cut into the fender. These also feature a side marker light as found on most modern European and Japanese cars. You can choose to have the side marker be a second turn signal or a running light.
These louvers are not massed produced parts; they are hand finished by Jim Simpson himself. Whether you're going for a slightly vintage look or a bold modern look, these will truly set your Miata apart. Available in 3 distinct styles.
Complete instructions and a template for cutting are included.
For more information: www.GoMiata.com
(Added 12/6/02)

---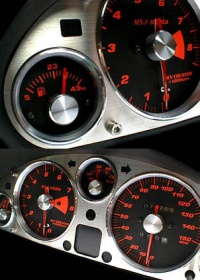 Welcome to the wonderful world of Artworks/Dewa Japan from RSpeed. The AWD product line are simply the most beautifully designed faces and accessories ever created for the Miata. Lovingly hand crafted in Japan, these faces and accessories offer Miata owners dozens of unique choices to choose from. See Rspeed for more information.
For more info: RSpeed
(Added 12/6/02)

---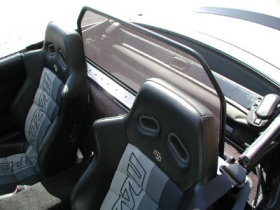 Windschott leather wrapped Windblocker - for All Years
Finally Miata owners can treat themselves to a high quality windblocker at an affordable price and just in time for the cold months ahead. The frame is luxuriously covered in top grade black leather and is height and angle adjustable. CNC machined attaching hardware makes for a quick and easy installation and includes step by step instructions. When not in use the Windblocker folds down and out of the way. Compatible with most roll bars.
For more info: RSpeed
(Added 12/6/02)

---

With the limited space in a Miata, subwoofer enclosers present a bit of a problem. Büthe Motorsport has designed a special Bassbox with integrated style bars (not intended for rollover protection). It includes 10 inch woofers and comes in black finish. The Box does not affect operation of the convertible top and does not limit seat recline.
For more info: www.buethe-motorsport.de
(Added 12/1/02)

---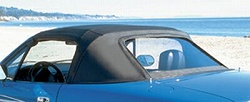 Manufactured exclusively for Moss Motors using a zipperless window design for hassle free folding. Manufactured from Haartz 38oz vinyl and all top seams are dielectrically welded (heat-sealed) inside and out for strength and longevity. Rear window is Heat Sealed for a durable and lasting waterproof seal. Superior fit, quality and value including a 2-year warranty.
For more info: www.miatamania.com
(Added 12/1/02)

---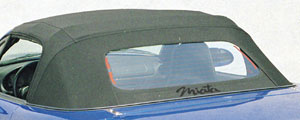 Robbins' best vinyl top just got better. Now availlable with the Miata logo heat embossed below the rear window, a Moss Motors exclusive. Still manufactured from Robbins 38 oz. Cabriolet Grain vinyl, these tops incorporate all of Robbins quality improvement features and have been designed to allow future upgrades to a glass window or easy replacement of the plastic window.
For more info: www.miatamania.com
(Added 12/1/02)

---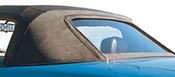 Brand new and available at GoMiata.com are Robbins NO ZIPPER Glass Window tops for the 90-97 Miata! Now you can have the same convenience the 99+ Miata owners have! With no zipper to unzip, you just unlatch, lower the top and go!
These tops are made by Robbins, well known for their excellent fit and top quality! Tops are available in Black or Tan in either Vinyl or Sunfast Cloth. Includes complete installation instructions.

For more information: www.GoMiata.com
(Added 12/1/02)

---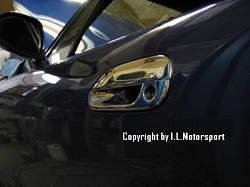 This new door handle cover from I.L. Motorsport comes complete for two doors ( 4 pieces ). The chrome covers the entire door handleand easily installs in minutes.
For more info: I.L. Motorsport

(Updated 11/10/02)

---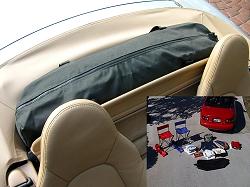 Take advantage of that unused deck on your Miata! GoMiata has introduced custom fit Deck Bags that fit directly on the deck behind your seats. These come with velcro straps to secure the bag to your Miata and also include convenient carry straps. You will be amazed at how much these hold - see the inset picture!
For more information: www.GoMiata.com
(Added 10/30/02)

---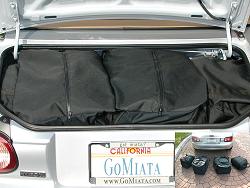 We all love to take trips with our Miatas, but fitting our luggage in the trunk has always been a challenge. Until now... GoMiata has introduced a 4 Piece custom fit Miata travel bag set! These travel bags are made of heavy duty weatherproof material with handles and conforms perfectly to your Miata's trunk so you can take advantage of every square inch! There is no need to leave your Miata at home for long trips anymore! With GoMiata's Travel Bags, you'll be able to take it all with you!
Comes in 2 patterns for the NA and NB, respectiviely.
For more information: www.GoMiata.com
(Added 10/30/02)

---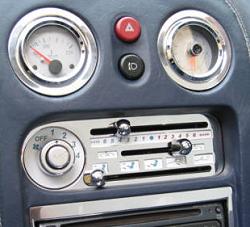 This brand new heater contrl panel from I.L. Motorsport comes complete with chromed trim plate. Gives your console a complete new and different look. A/C panels also available in all colors like their gauge faces.
For more info:
(Updated 10/23/02)

---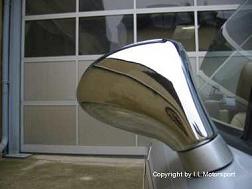 Those chrome door mirror covers help protect against stone chips and bugs - and they are a great new look for your NB Miata!
They are hard chromed and they fit all 99 and later Miatas.
They are a simple installation - just a few minutes.
For more info:
(Added 10/16/02)

---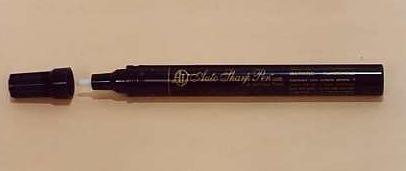 The Pen:
The AutoSharp Pen is an easy to use, fine felt-tip marker used to touch up chips and scratches on your car.
The Paint:
Quality automotive urethane paint for a superior color match and good coverage.
The Results:
The best you can get without repainting. A great cost effective way to touch up your car.
For more information: www.autovisuals.com
(Added 10/12/02)

---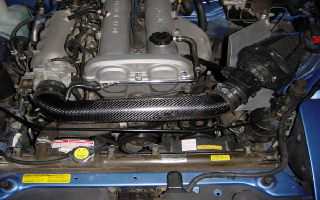 Good-Win Racing introduces their MonsterFlow intake for 94-97 Miatas. Many months in development have produced a bolt-on intake for 94-97 Miatas that produces more horsepower than any other choice, 10hp on the dyno at the wheels without a change in timing advance. Complete in real hand laid carbon fiber with all installation hardware and a brushed aluminum heat shield for $288. Great sports car purr, and installation is an easy 20 minutes.
For more information see www.good-win-racing.com
(Added 10/12/02)

---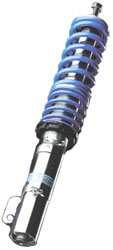 The new PSS9 Coilover Kit from Bilstein is finally available for 1999 and newer Miatas. This is a nine way double adjustable coilover with shortened shock bodies for full travel despite a lowered stance. Precise corner balancing and excellent handling from street to track and home again.
$1289 intro price.
For more information see www.good-win-racing.com
(Added 10/12/02)

---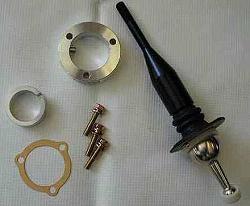 The MazdaSpeed short shifter from SR Motorsports is for the person who wants to increase the performance of their 90'-02' Miata. It shortens up the throw of the stock unit by 40%. For track or street this is the one.These are the finest quality shifters ever made, not like the cheap imitations. It bolts in, just like the stock unit, with hand tools in about a 1/2 hour. Fits 90'-02' Miata.
For more info: www.srmotorsports.com
(Added 9/26/02)

---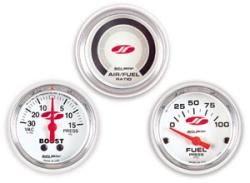 Jackson Racing Gauges allow you to monitor the vital functions of your engine. Made for Jackson Racing by Autometer.
For more info: www.miatamania.com
(Added 9/26/02)

---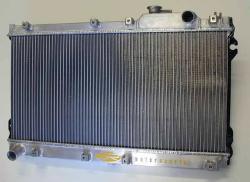 The SR Ultimate radiator was produced for the person who wants to enjoy the full performance potential of their 90'-97' Miata. For track or street this is the one. The all 2 row aluminum radiator has a full 2.0 inch thick core and will solve the tough problem of a hot running Miata. The Ultimate radiator is over twice the thickness of the stock Miata radiator for a 100% increase in size. It bolts in just like the stock unit. This radiator will help cure the overheating problem in your forced induction / high horsepower Miata.
This is a very high performance aluminum upgrade radiator. Fits 90'-97' Miata.
Regularly $539, these units are now overstocked, so Miata.Net readers will receive a special discount price of $399. (Quantities limited.) Tell them you saw it in Miata.net's New and Hot section to receive this price.
For more info: www.srmotorsports.com
(Added 9/24/02)
---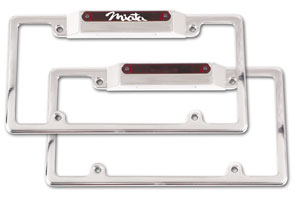 Add precision and flair with the new Billet Illuminated License Plate frames from Moss Motors. Choose to wire into your brake light circuit or headlamp circuit, this is simply the most advanced license plate frame around. Available with or without the Miata logo.
For more info: www.miatamania.com
(Added 9/20/02)

---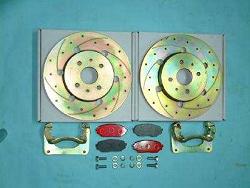 Here's a quick, easy, and affordable way to upgrade your factory front brakes. Introducing the MPCA big brake kit now available for all years and models. 11.5" cross drilled and slotted rotors are Cadmium plated, along with caliper brackets, for rust free operation. Kit includes rotors, brackets, Hawk Pads, and all hardware to transform your regular brakes into some serious stopping power. This is a full upgraded kit for what most other basic kits start.
15" minimum wheel size required.
For more information: www.metromotorsports.com
(Added 9/20/02)

---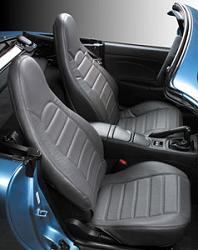 Have you been thinking of upgrading to Leather Seats for your Miata but did not want to pay the high labor costs for a professional installation? Take a look at our Leather Recovering kits, they simply are a stroke of genius. Using some very clever manufacturing techniques, these covers have been made in a way that allows you to simply stretch and fit them over your existing seats. The fit is simply outstanding and total installation time is less than an hour. Contoured, sewn and shaped to specifically fit your Miata's seats, you will be amazed at how great your new leather seats look and have the satisfaction that you did it yourself.
For more info: www.miatamania.com
(Added 9/3/02)

---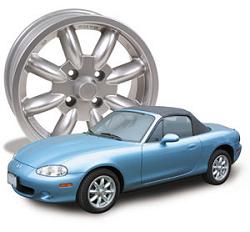 Moss Motors new "Mini-Lite"
Styled after the race bred Mini-Lite wheel used so commonly in the 60's and 70's, this authentic reproduction gives a vintage look with the benefits of modern manufacturing. This all alloy wheel is made specifically for the Miata and has the correct offset for proper tire alignment and wear. Sold as a set of four, each wheel is finely powercoated in a beautiful silver metallic color.
For more info: www.miatamania.com
(Added 8/20/02)

---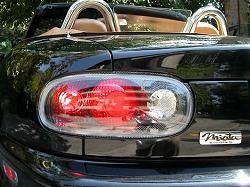 Just introduced, and exclusively at GoMiata.com are the new Carbon Fiber Look Altezza Tail Lamps. If you are looking to improve the "rear view" of your Miata, and the standard "chrome style" Altezza is too flashy for you, these will provide you with a clean and much improved style. Installation is very easy and can be completed in less than 20 minutes.
DOT Approved
For more information: www.GoMiata.com
(Added 8/13/02)

---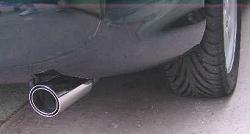 Good-Win Racing introduces RoadsterSport 2, a new version of their popular Miata stainless steel exhaust. This new version sports a 3 inch double walled tip, all polished all 304 stainless construction and a straight through 65 mm (2.56 inch) high performance design for a mellow burble at cruise and a deep purr at full throttle. Fits all 99-02 Miatas.
For more information see www.good-win-racing.com
(Added 8/13/02)

---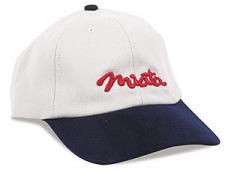 A must have for every Miata enthusiast. Heavyweight brushed cotton twill cap features the Miata logo and is available in a variety of colors. Low fitting, soft front design with matching adjustable cotton twill back strap and brass buckle.
For more info: www.miatamania.com
(Added 8/6/02)

---
Introducing the white clear brake light from I.L.Motorsport. I.L. designed a brand new third brake light for the trunk lid, it is completely clear white with white LED´s. When you step on the brake, the entire unit glows red. It is a simple 5 minute installation - just exchange the OEM Brake light.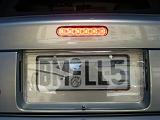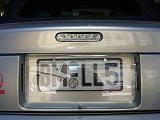 (Designed for 90-97 only.)
For more info: I.L. Motorsport

(Added 8/6/02)

---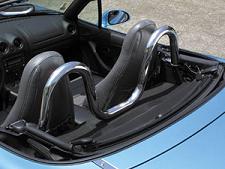 The new Moss Motors Style Bar is manufactured so that no cutting of your interior body panels is required! Additionally, seat travel and recline are not impeded in any way. Available in your choice of Stainless Steel, Chrome or Black Powdercoat. Easily installs in about 30 minutes with simple hand tools. Instructions included.
For more info: www.miatamania.com
(Added 8/6/02)

---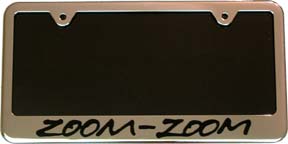 Its seems to be everywhere. From the TV to kids singing it at school. It seems that everyone wants to "Zoom-Zoom." Now you can let the guy following you know exactly what you are doing, with the "Zoom-Zoom" license plate frame from Team Miata. These frames come with either triple thick show chrome or gold finish that is on to stay. Each is made from a solid brass core that won't rust down the line like some other frames on the market. They also have a soft (rounded) look that goes well with the Miata.
For more information: www.teammiata.com
(Added 8/5/02)

---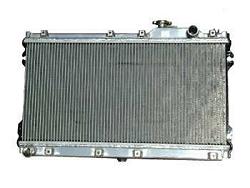 Good-Win Racing introduces all aluminum performance radiators for all Miatas straight from Japan's largest aftermarket radiator maker, KOYO. Made from aircraft quality aluminum with fully polished tanks, this radiator provides substantially more cooling capacity than a standard radiator thanks to its 55mm core. Introductory price of only $399.00. Made from aircraft quality aluminum and Heli-arc welded these cores are NOCOLOK-brazed (no epoxy).
More information: www.good-win-racing.com
(Added 7/30/02)

---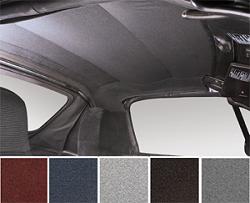 Enhance the look of your interior and have a quieter ride! Moss Motors' convertible headliners install easily in less than an hour without the use of special tools. With the extra insulation provided, there is less road/wind noise, more heat is retained on those cold days and the best part is that it looks really good! Complete installation instructions included and compatible with all OE or aftermarket tops, top boots or tonneau covers.
Now in stock for all years.
For more info: www.miatamania.com
(Added 7/19/02)

---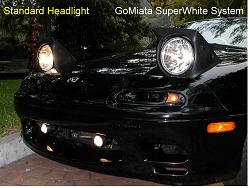 If you are looking to greatly improve the looks and performance of your M1's factory headlights without spending hundreds of dollars, consider upgrading to GoMiata's SuperWhite Headlight System.
The bulbs provided with this system contain Xenon gas, which give the lamp a very white light discharge similar to those found on luxury cars. There is even a small internal blue LED that can also be connected if you want to make the light appear even more blue.
The GoMiata SuperWhite System includes 2 clear glass 7" Euro-style headlights, 2 Xenon Lamps and 2 intergrated blue LEDs. Installation is very easy, requires no re-wiring, and takes only minutes. You'll love the results!

For more information: www.GoMiata.com
(Added 7/19/02)

---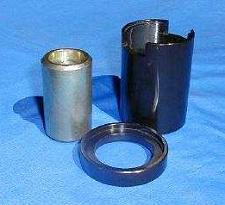 Take the mystery and hassle out of removing your worn out suspension bushings with this plunger kit from Metro Motorsports. Easy to use with just a hydraulic jack. This kit is designed for the home mechanic and also a useful tool for your local Miata Club to pass around to it's members. You'll save time and money. Fits all years and models.
For more information: www.metromotorsports.com
(Added 7/18/02)

---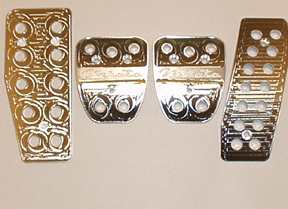 A great upgrade to the interior of your Miata, GoMiata's SRP Race Pedals are made of CNC machined aircraft quality aluminum and feature a much higher grip than factory pedals. These are true bolt on pedals, not cheap clip ons. Made specifically for the Miata, these 4 peice kits even include a custom fit dead pedal cover. GoMiata's SRP Pedals are available with Miata logo, M logo, Roadster Logo, and no logo.
Comes complete with all hardware and detailed instructions.
For more information: www.GoMiata.com
(Added 7/11/02)

---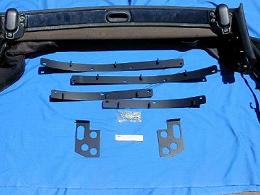 Here's a perfect way to shed over forty pounds from your Miata in just twenty minutes. Introducing the Top Release Kit from Metro Motorsports. Allows you to quickly remove the entire top for that weekend autocross or spec race and then re-install it for the work commute. You can also bring the top in for the winter while using the hardtop, and without risking damage to the soft top. Comes complete with all hardware for a custom fit. Available for all models.
For more information: www.metromotorsports.com
(Added 7/10/02)

---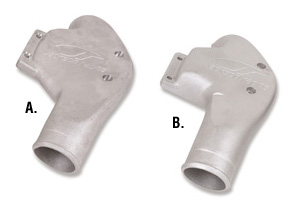 If your Jackson Racing Outlet Manifold does not have a JR logo cast into the top, you have the old design. The new JR Outlet Manifold has been redesigned to provide better airflow and overall aesthetics. Additionally, a lip has been cast into outlet to provide better grip and keep the crossover tube from blowing off.
For more info: www.miatamania.com
(Added 6/28/02)

---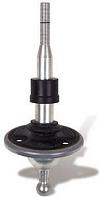 The Miata has a great gearbox but Moss Motors has succeeded in making it even
sportier! The new Moss Motors Sport Shift Kit reduces throw by 25% making
shifting just a flick of the wrist. To ensure OEM quality and performance
they use genuine Mazda parts with their Sport Shifter. Fits 90-02 and complete
with instructions.
For more info: www.miatamania.com
(Added 6/28/02)

---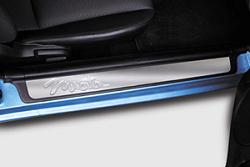 The new Billet Sill plates are a Moss Motors Exclusive and simply the most beautiful available. First, they make the basic shape from solid billet chunks and then carefully sculpt and machine the "Miata" script into the surface. Finally, they polish and polish until they get that show quality shine. Supplied as a pair with installation instructions, these plates install in minutes. On 90-97 models with is a complete sill plate. On 99-02 models with is an insert into your factory sill plate.
For more info: www.miatamania.com
(Added 6/28/02)
---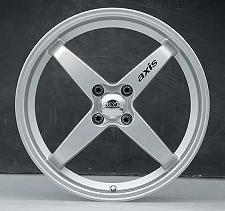 Good-Win Racing introduces the Mag-Lite 15x7 alloy. Just 12.6 pounds for a 15x7, half an inch wider than most of the available light cast 15s. These use a low pressure casting technique and unique four spoke design to arrive at a strong yet light seven inch width.
More information: www.good-win-racing.com
(Added 6/23/02)

---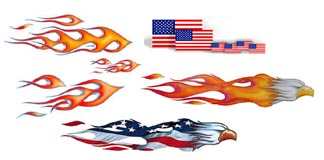 Set your Miata ablaze with these magnetic flames. Perfect for transforming your Miata into a fiery speed demon and back again. These flames offer a cutting edge "dimensional" look with flames on .015" thin magnetic vinyl for easy on/off application to any steel surface. Also available are scoops and U.S. Flags.
For more information: www.teammiata.com
(Added 6/19/02)

---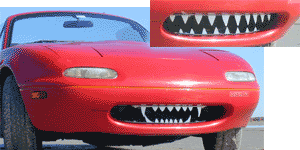 Two new grille teeth models now available to transform your Miata. 'Great White' expands the shark experience with an aggressive, triangular profile. 'Diablo' is in response to customer demand: more canines! Fits all Miata model years using the existing bumper cover mounting holes.
All eight teeth models are priced at $39, from AutoExpressions.
For more information: www.auto-expressions.com
(Added 6/14/02)
---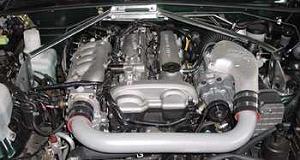 BR Performance has adapted the popular Jackson Racing Supercharger to the 2001-2002 Miata. Previously available only for 2000 and earlier Miatas, these kits offer a 40 horsepower increase to the rear wheels and are available for immediate delivery.
For more information: BR Performance
(Added 6/6/02)

---
The new quick release kit from Finsh Line bolts in between their hub adaptor and any aftermarket steering wheel using a 6-bolt on 70mm diameter bolt circle (such as Momo or Sparco). It will also fit on a Momo hub adaptor. It features a black crinkle and red anodized finish. This quick release brings the steering wheel
approximately three inches closer to the driver.
Introductory price is $139.95.
For more information: Finish Line Performance
(Added 6/6/02)

---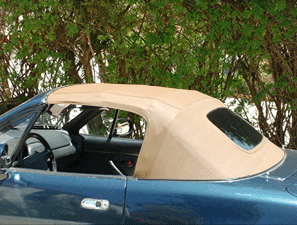 Envious of M2 Miata owners who have glass window tops they can fold down without unzipping the rear window? Now '90-'97 Miata owners can enjoy the same benefits as their M2 counterparts! Developed by Duetto, the no-zip GlassFold™ top folds quickly and easily, from inside or outside the car, without the need for a rear window zipper. Just pull the rear bow forward as you lower the top and the rear window folds into place. Plus when the top is in down, the top material covers and protects the glass from scratches. The Duetto zipperless GlassFold™ top folds low enough to allow for use of your original top boot.
Update: Duetto now carries GlassFold tops for M2s as well as M1s. Unlike other M2 tops, these tops are in the new one piece "SleekTop" style for a seamless look like glass window tops from Porsche, Jaguar and Mercedes.
For more info: www.duettomotors.com
(Updated 5/29/02)

---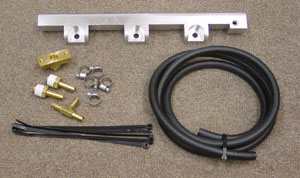 The BRP Billet Aluminum High Flow Fuel Rail features a large 9/16" bore and dual feed design to ensure even fuel flow to all cylinders. Fits 1994-1997 Miatas. Kit includes fuel rail, fuel regulator adapter, fittings, and high pressure fuel hose. Only $235 from BR Performance.

For more info: www.brperformance.net
(Added 5/21/02)

---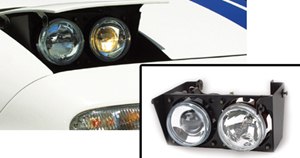 Hella DOT approved lampunits have proper Lo Beam and Hi Beam Lamps supplied. These lamps are easily adjusted with a simple phillips screwdriver once installed. Instead of just being spraypainted, they are completely powder coated for a finish that is as long-lasting as it is beautiful. The Moss Dual Light kit uses a properly engineered and manufactured automotive grade wiring harnesses. These looms allow for "plug and play" installation from the Hella lamps to the factory wiring harness.
For more info: www.miatamania.com
(Added 5/18/02)

---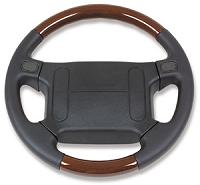 The new EuroSport Wheel is styled after steering wheels usually found only on expensive sport cars and luxury sedans. The EuroSport Wheel contains two key ingrediants - Wood and Leather! Beautiful straight grain rosewood mated with expertly fitted and stitched black leather. If you love the look and feel of leather and wood, nothing else on the market compares.
For more info: www.miatamania.com
(Added 5/18/02)

---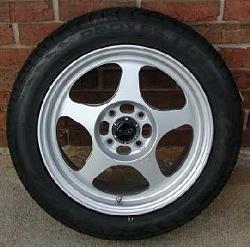 Good-Win Racing introduces the F2, an ultralight five spoke 15x6.5 alloy for the Miata. Just 12 pounds! 40 mm offset and just $99 per wheel.
For more info: www.good-win-racing.com
(Added 4/23/02)

---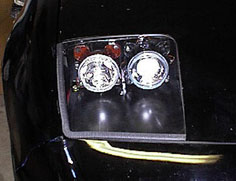 For years, Miata enthusiasts have been looking for a High Quality fixed headlamp system for their 1990-1997 Miata. Through an exclusive agreement with Mid Tenn Miata, RSpeed has them ready for shipment! Using superb 90mm Hella headlamps with 65watt, H9 bulbs, the headlamps are DOT compliant but the lighting pattern is nearly indistinguishable from the renown European ECE lighting pattern. The Aerolite kit is fully adjustable and is a simple plug and play affair with wiring connections to the OEM wiring harness. Comes with detailed instructions and everything you need to
have a unique look.
Introductory Sale Price: $399.95
For more information: RSpeed
(Added 4/12/02)

---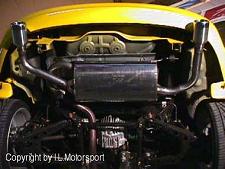 New from Europe is the stainless steel dual exhaust for M2 MX-5 Miatas. Featuring a 90mm tip, this exhaust is covered by a three year warranty. TÜV Aproved and Legal throughout Europe.
For more info: I.L. Motorsport
(Note: The I.L. site will have an English version available by early April.)
(Added 3/26/02)

---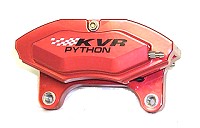 Introducing the first Miata bolt-on caliper upgrade for stock size rotors. Developed with KVR for the Miata, this is not a caliper from another application merely adapted for the task -- this caliper is made for the Miata so there are no weight wasting brackets and it is a true bolt-on which uses your stock rotors and stock brake lines. Fits '94 to present Miatas. Works with even the 14 inch wheels. Billet aluminum and just 3.5 pounds, this caliper removes over 10 pounds of front end unsprung weight while replacing your inefficient large single piston caliper with a compact four stainless steel piston caliper. Improved braking and unsprung weight and great looks.
For more info: Finish Line Performance
(Added 3/12/02)

---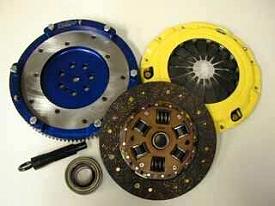 IndigoSpeed HP flywheels are made of the highest quality 7075 aluminum and are anodized with Indigo blue for a beautiful finish. The friction surface is a heat-treated special alloy steel that is attached with aircraft quality hardware. The ring gear is heat-shrunk on and the secured with aircraft quality fasteners.
For your bang-for-the-buck, the IndigoSpeed HP flywheel is the best way to increase your performance in your street or race car. Using a 9.5 pound aluminum flywheel, ACT clutch combination is a race proven way to improve the performance of any street or race car. Indigo HP flywheels and ACT clutches are the perfect choice for street, road racing and autocross.
SR Motorsports is offering the IndigoSpeed flywheels and the ACT clutch in a complete bolt-on package for all year Miata's for a introductory price of only $699.
For more info: www.srmotorsports.com
(Added 3/9/02)
---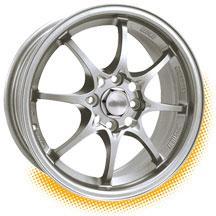 New at Good-Win Racing, the "Helium" ultra light monoblock 15x6.5 Miata alloy wheel is lighter than other cast aluminum choices at just 11.5 pounds. With an introduction price of just $125 a wheel, it is the lightest aftermarket Miata wheel available for the price.
For more info: www.good-win-racing.com
(Added 2/18/02)

---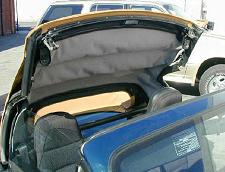 Tired of looking up at your exposed convertible top frame? Now the inside of your Miata top can look as beautiful as the outside. The Convertible Top Headliner from Duetto Motors adds a finishing touch to your interior and provides thermal insulation while quieting road noise. Installs quickly and easily in less than 30 minutes without sewing or special tools. Installation instructions included. Compatible with all boot and tonneau covers and all plastic and glass window tops.
Available in Black, Biscuit/Tan, Dark Grey, Twilight Blue and Burgundy/Maroon.

For more info: www.duettomotors.com
(Added 2/13/02)

---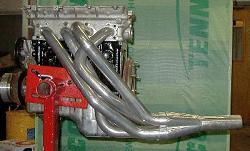 Roadster Performance announces that they are now the exclusive aftermarket provider of the full line of Bob Boig products, formerly available only through Mazda Competition. Bob's products are quite literally track proven in competition events, and have years of development and real world racing behind them. Roadster Performance is offering special Introductory Pricing on Boig Headers, which can give a HP increase over OEM or other aftermarket headers from 10-15 RWHP.
For more information: Roadster Performance
(Added 2/5/02)

---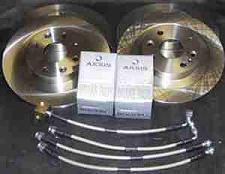 Have you ever wanted to build a brake kit the way you wanted to? Now you can!
Roadster Performance allows you to select from either our high quality OE style or slotted rotors, select the brake pads you want with the kit, and decide whether or not you want stainless brake lines or not, all while saving you money.
Why settle for a 'package deal' if it's not what you want; build your own instead!
Four wheel kits start at $260.00.
For more information: Roadster Performance
(Added 1/18/02)
---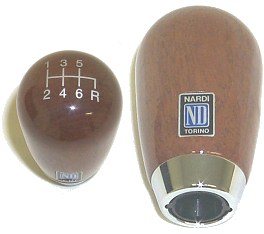 Nardi 6-Speed Wood Shift Knob, features silver 6-Speed pattern, weighted to 6oz. to help limit shift lever vibration and matches factory wood brake handle.

For more info: Finish Line Performance
(Added 1/18/02)

---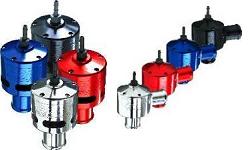 Your turbo system isn't made of plastic, why use a plastic BOV, especially in high temperature locations? Plug and play fitment is a direct replacement for BEGI and FM systems. (Please call the vendor for other applications.) These rebuildable metal BOVs have been tested from 6 PSI to 60PSI in full race applications running upwards of 600HP! The vent to atmosphere valve is designed to vent to atmosphere with an OEM ECU and MAF or AFM setup at almost half the price of an HKS SSQ. A recirculating version is also available for easy replacement of your Mitsubishi/BEGI supplied valves or for your Greddy or custom Miata turbo application.
For more information: Roadster Performance
(Added 1/18/02)
---
Hot stuff from earlier years