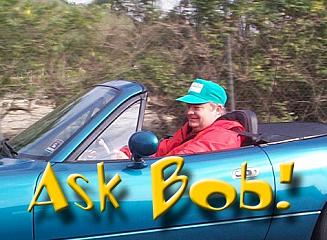 It was early spring, 1979 when the west coast editor of Automotive News and Autoweek came to visit Mazda in Hiroshima. When Mazda managing director, Kenichi Yamamoto asked Bob Hall his opinion regarding "What kind of cars should Mazda build?", Bob's head pretty much exploded with the answer. "A low-priced, open-bodied sports car." Bob then proceeded to draw a sketch which marked the beginning of what we now know as our beloved MX-5 Miata.
That was twenty years ago. While others continue to take the credit (or do little to dispel the myths), Bob is the true father of the Miata. Now living in Australia Bob is also part of the Miata.net community and will answer some of your questions about the Miata, its history, and sports cars in general!
---
Note: Bob is no longer answering questions. Our final Ask Bob! column is the "November/December 2003" edition. We hope you enjoyed it while it lasted. Hopefully it'll start up again soon.
Past columns...
November/December '03
September/October '03
July/August '03
May/June '03
March/April '03
Jan/Feb '03
Nov/Dec '02
October, '02
September, '02
August '02
July '02
June '02
May '02
April '02
March '02
February '02
January '02
December '01
November '01
October '01
September '01
August '01
July '01
June '01
May '01
April '01
March '01
February '01
January '01
December '00
November '00
October '00
September '00
August '00
July '00
June '00
May '00
April '00
March '00
February '00
January '00
December '99
November '99
October '99
September '99
July '99
May/June '99
August '99
---
---
---