Its fun to look back and see what the rumours were and how they compare to the truth. As a result, we decided to save past rumours and edition announcements.
Premium sport 'Blaze Edition' roadster features extensive quality enhancements inside and out
HIROSHIMA, Japan--Mazda Motor Corporation today announced the launch of the special edition Mazda Roadster Blaze Edition for the Japanese domestic market. Mazda's world-renowned lightweight, open-top sports car has been newly outfitted with top-quality interior and exterior features. The Blaze Edition soft-top model goes on sale from today at all Mazda and Mazda Anfini dealers throughout Japan, with the Power Retractable Hard Top (PRHT) version following in April 2007.
The Roadster Blaze Edition takes its name from related words such as "sparkle," "blinding light," and "fiery color," and the images they evoke. It reflects these expressive words in its exterior, which has been enhanced by the addition of special parts, such as forged alloy wheels, which were produced by BBS Japan Co. Ltd. The Blaze Edition also features many chrome and clear parts and an exclusive deep wine-red body color, Radiant Ebony Mica. In contrast, a combination of sand beige and black leather is used extensively for the interior. Accented with various alloy parts to maximize the high-quality feel, the Blaze Edition is both sporty and elegant.
The manufacturer's suggested retail prices (including consumption tax) for the soft-top models are 2,840,000 yen for the six-speed manual transmission (MT) version and 2,870,000 yen for the six-speed automatic transmission (AT) version. The prices for the Power Retractable Hard Top models are 3,040,000 yen for the six-speed MT version and 3,135,000 yen for the six-speed AT version.
---
23 March, 2006
Mazda to Sell NR-A Model Roadster in Japan
Roadster NR-A race specification model is the standard model for Roadster One Make races in Japan
HIROSHIMA, Japan--Mazda Motor Corporation has announced that it will release the NR-A version Mazda Roadster for sale at its Mazda and Mazda Anfini dealers throughout Japan in early April 2006. The Roadster is known as the MX-5 in overseas markets.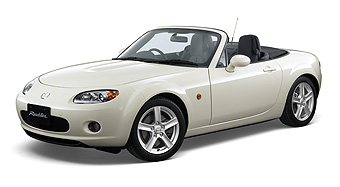 Mazda Roadster NR-A (with factory-installed options)
Designed with specifications that enable drivers to compete in NR-A category races after the addition of special racing kit, Mazda has been selling the base model NR-A Roadster since December 2001. Since then, the NR-A model Roadster has been favorably received by motorsports enthusiasts thanks to its reasonable cost and the added dimension of exhilarating driving possibilities that come with meeting the NR-A race requirements.
The new NR-A model Roadster is based on the third generation Roadster that underwent a complete redesign and launched in August 2005. Employing special equipment on the new Roadster NR-A model--height-adjustable Bilstein dampers, a torque-sensing 'Super LSD' (limited-slip differential), and front strut tower bars--makes this exciting new model more suitable for sporty driving.
The manufacturer's suggested retail price for the Roadster MX-5 NR-A model is 2,300,000 yen, including sales tax. It is only available in the Japanese market.
The new NR-A model was designed to participate in the "Roadster Party" One Make Races in Japan. These events are sponsored by Mazda and will be held from September 2006.
Outline of Roadster NR-A
Base model

Roadster with 2.0-liter DOHC engine and with a five-speed manual transmission
Additional/changed features different from the base model

- Height-adjustable Bilstein dampers
- Torque-sensing 'Super LSD' (limited-slip differential)
- Leather-wrapped steering wheel
- Aluminum gas/brake/clutch pedals
- Front suspension tower bars (braced to the cowl structure)
- 16-inch steel wheels (16-inch aluminum wheels are standard equipment on the base model)
Main specifications of the NR-A Roadster
Model name and type
Mazda CBA-NCEC
Dimensions
Overall length/width/height
3,995mm x 1,720mm x 1,245mm
Wheelbase
2,330mm
Weight
1,120kg (1,100kg with factory-installed aluminum wheels)
Minimum clearance
135mm
Seating capacity
2 people
Steering
Rack and pinion
Suspension (front/rear)
Double wishbone/multilink
Brakes (front/rear)
Ventilated disc/disc
Tires and wheels
Tires
205/50R16 87V
Wheels
16x6 1/2JJ
Engine
Model
LF-VE
Type
Water-cooled inline 4-cylinder DOHC 16 valve
Displacement
1,998cc
Compression ratio
10.8
Maximum output
125kW (170PS) /6,700rpm
Maximum torque
189Nm (19.3kg-m) /5,000rpm
Fuel supply system
EGI (Electronic Gasoline Injection)
Fuel & tank volume
Unleaded premium gasoline / 50 liters
10/15 mode fuel economy
(MLIT inspection values)
13.4km/l
Main fuel economy improvement
Variable valve timing
Minimum turning radius
4.7m
---
26 December, 2006
Mazda Releases 'Japan Car of the Year Award Commemorative Edition' Roadster in Japan
Special edition model with unique interior/exterior color combinations commemorates Mazda's JCOTY award win
To mark the Roadster, known as MX-5 in overseas markets, winning the 2005-2006 Japan Car of the Year (JCOTY) Award, Mazda Motor Corporation will launch a special edition Roadster, called the 'Japan Car of the Year Award Commemorative Edition.' This new model goes on sale in mid-January 2006 at Mazda and Mazda Anfini dealerships throughout Japan. The special edition Roadster features the unique interior and exterior color combinations, in addition to leather bucket seats with a special color, the attractive cloth soft top, and BOSE® sound system--all added as standard equipment. This new special equipment brings out a feeling of higher quality in the world's best-selling lightweight open two-seater sport car from drivers and admirers alike.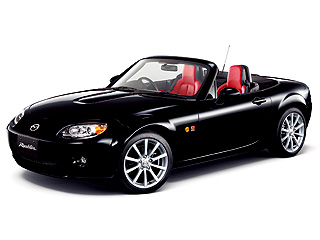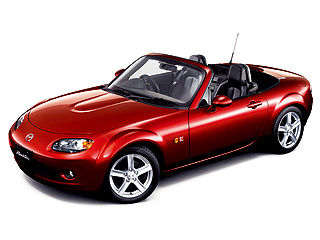 Mazda Roadster 'Japan Car of the Year Award Commemorative Edition'
(Top: Brilliant Black exterior/red interior with six-speed manual transmission)
(Bottom: Copper Red Mica exterior/black interior with six-speed automatic transmission)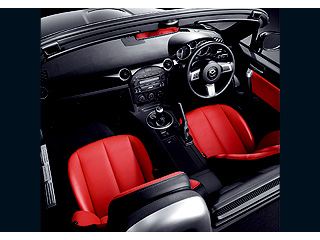 Outline of Roadster 'Japan Car of the Year Award Commemorative Edition'
Base model
Roadster RS (with six-speed manual transmission) or Roadster VS (with six-speed automatic transmission).
Special equipment
Leather bucket seats and color-matched door trims
Heated leather seats in red or black, with door trim color matching the seat color.
Cloth soft top (black)
Black quality texture cloth soft top.
Award commemorative decals
An exclusive decal that celebrates Mazda winning the Japan Car of the Year Award is placed on the passenger side front fender.
Other equipment
The BOSE® sound system with a six-CD changer and seven speakers, the advanced keyless entry and engine starter system, front fog lights, and scuff plates, all come as standard equipment.
Body/interior colors

Two basic body colors, Copper Red Mica and Brilliant Black, are available as body exterior finishes, with an interior color in selection of black or red. Available combinations are as follows:
Body color
Interior
(Leather seats & door trims)
Soft Top
Copper Red Mica
Black
Black
Brilliant Black
Red
Manufacturer's Suggested Retail Prices of 'JCOTY Award Commemorative Edition' Roadster
Model
Engine
Transmission
Retail Price (in yen)
With tax
Without tax
Japan Car of the Year Award
Commemorative Model
2.0L
DOHC
6MT
2,694,500
2,566,190
6AT
2,700,000
2,571,429
In addition to the prices noted above, a separate recycling charge (10,500 yen) is required.
---
The Third Generation MX-5/Miata
---
The Miata Coupe could be coming to a dealer near you!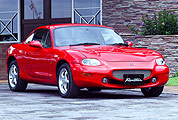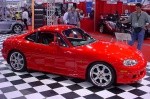 Word on the street is that the coupe is slated for production and will go on sale in November! The bad news: it will only be available in limited numbers - in Japan. No information is available regarding North American availability.
As reported here in January, 2003:
Mazda Motor Corporation showcases a range of exciting customized cars at the 2003 Tokyo Auto Salon held between January 10 and 12 at Makuhari Messe in Chiba prefecture. Exhibits include the "Mazda RX-8 MAZDASPEED Concept," based on the all-new Mazda RX-8 (due to be launched this spring) and fitted with MAZDASPEED brand tune-up parts, and many other vehicles specified below from Mazda Engineering & Technology Co., Ltd.
The RS-A Type (shown)
Fully customized cars based on "Mazda Roadster" and designed to meet the needs of customers who prefer vehicles that "make a personal statement". The A-type model portrays an image of traditional simplicity. MAZDASPEED accessories have been utilized in the suspension and engine intake and exhaust. A minor tune-up along with an interior centered on black tones, including carbon-colored genuine leather seats and instrument panel, create a sportier feel.
31 October, 2003
---
Mazdaspeed MiataTurbo
Mazda's anticipated Mazdaspeed turbocharged version of the Miata will break cover in Japanese domestic specification form at the Tokyo Motor Show on the 22nd of October. Differences between the home market car for Japan and the US one will be relatively minor, the majority focusing on regulatory issues relating to emissions and safety.
However, anyone expecting the car to face off directly against the S2000 (in terms of performance or price) will be disappointed. In Japanese form the new model is rated at 170hp, with maximum torque of 152lb/ft. Horsepower counters will be dismayed, but people who actually take the time to drive the Mazdaspeed version before bad mouthing it may find the car to be another example of one where the numbers don't tell the whole story.
The turbocharged version of the 1.8 litre BP-VE four generates maximum torque through 5500 rpm, with the 152lb/ft number an increase of more than 25lb/ft, and with most of the torque delieverd across a much broader engine speed range. The differences are most noticeable across a broad speed range, with the car's useable performance in the 25 to 60mph range said to be eye-opening, even in the higher gears. Mazda's engineers went to great lengths to maintain the car's balance and responsive handling by making use of more horsepower and torque, but not overdoing things.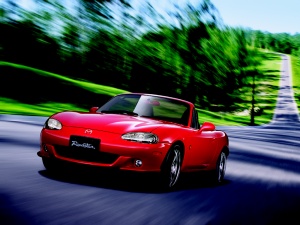 Compared to the MX-5 SP turbo developed by Mazda Australia, the Mazdaspeed car's tuning is delivered to provide a meatier torque curve and has been optimized for driveability in traffic. The Australian turbo was very much focused at top end, with peak power of 200hp. Emission regulation differences between the US and Australia made adoption of the Australian car's hardware an impossibility.
The Mazdaspeed Miata is likely to benefit from the Japanese car's Bilstein shocks with revised spring rates and unique 17-inch five-spoke wheels shod with 205/40 17 rubber. Additionally, radiator capacity has been increased, gearing altered to get the most from the beefy torque plateau (the term 'curve' seems inappropriate), a lower-mass driveshaft fitted and firmer engine mounts fitted to the turbo model.
External differences are minor, with the Japanese model getting tinted headlamp lenses which may or may not make the cut in North America, along with a revised, larger air intake (which is art of the package in the US and Canada). In addition to North America, the turbocharged car will be sold only in Japan (as the Mazda Roadster Turbo) and Australia as the MX-5 SE. At this point in time exports to other markets are not planned. Pricing in the US and Japan has not been announced as this is being written, but word from Mazda Australia indicates that the MX-5 SE is likely to retail for something in the AU$46,000 to AU$47,500 range (roughly US$30,000 to US$31,500 or thereabouts) if currency rates hold. As a point of comparison, the non-turbo car costs just under AU$40,500 (approximately US$26,500) while the MX-5 SP carried a retail price of AU$55,540 (About US$36,650).
14 October, 2003
---
Mazda Ibuki
Ibuki translates to an English phrase for "breathing new energy into" or "adding vigor" from Japanese, but an easier translation for the latest Mazda concept car is 'future Miata directions' While the Ibuki concept is not a disguised version of the upcoming NC Series Miata, it's a hint at what's being investigated for the next-generation version of the World's best selling lightweight two-seat open sports car.
Key to the Ibuki is a reduction in weight, a point the team developing the NC are holding as a key factor in the production car's development. In lieu of upping engine displacement and output substantially, Mazda is focusing on reducing weight from the car with much - but not all - of what's beneath the Ibuki evocative of what's being developed for the NC. The concept car retains a four-cylinder engine (in this case Mazda new MZR all-alloy 1.6 litre twincam 16 valve unit), but in keeping with its concept car status the Ibuki uses a modified hybrid drive system. This features a pancake electric motor between the engine and new lightweight six-speed transmission to serve as a low-speed performance boost. Instead of a large battery pack, the Ibuki fits a 42 volt battery which is somewhat larger than the sort of full-size battery used in most non-Miata cars. Combined output of the drive system is 180hp at 7500rpm, with maximum torque of 133ft/lb at an undisclosed engine speed.
Suspension is RX-8-inspired, though the componentry is unique. Geometry features double wishbones at each corner and a deep-backbone floorpan layout clearly with RX-8 overtones. The all-new architecture has enabled some pretty innovative packaging solutions, not all of which are likely to make it to production. The new package has allowed the engine to be shifted aft of the current NB Series Miata's by 400mm (15.75 inches) and lower by 40mm (1.58 inches) while the radiator shifted back aft of the front-wheel centerline. The air conditioning evaporator is behind the seats, packaged with the fuel tank and primary exhaust silencer (muffler) ahead of the rear wheel centerline. This shift of high-mass components and a reduction in overhangs has allowed Mazda to reduce yaw moment by 15 percent, relative to the current NB.
That figure is meaningless to anyone fixated on horsepower, but what it equates to behind the wheel is an even more responsive chassis. It also indicates that Mazda has some performance baselines with a car of near-identical packaging layout and weight distribution of the Ibuki. An NC mechanical prototype, perhaps? We're not saying.
One look at the car tells you it's small. Smaller, in fact, than an NB by 355mm (14 inches) as far as overall length goes, with the Ibuki spanning a mere 3640mm (143.3 inches) between the bumpers. Overall width is up, and the Ibuki rides on a longer wheelbase.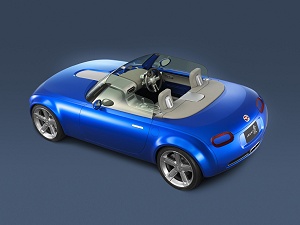 Much of the concept car's bodywork and structure is plastic with a smattering of carbon fiber, items which may not make the cut to NC production. Some of the materials are likely to be along for the ride with the Ibuki to offset the mass of the hybrid drive system, chunky 215/40 R18 run-flat Bridgestone Potenzas and keep the mass reasonable. The NC has a sub 1000kg (2205lb) target weight and is said to be still on target. Let's hope it stays that way.
Don't expect the Ibuki's styling to translate directly to the NC. Take it as a canvas onto which many NC ideas have been daubed. The actual NC (due in perhaps 18 months time) is likely to bear somewhat less resemblance to the Ibuki than the RX-8 does to the original RX-Evolv concept car.
Worth waiting for? Only if you like driving, as opposed to pointing, a car.
Additional images... [Image 1] [Image 2] [Image 3] [Image 4] [Image 5] [Image 6]
14 October, 2003

---
In store for 2006?
The next Miata, code named J04, is expected to arrive early in 2005, but will likely be sold as an early 2006 model year entry. The Miata will be riding on a longer wheelbase, and will measure in a bit longer as well. Slightly roomier inside - occupants will find a bit more headroom, legroom and even more cargo area in the trunk.
Sources tell us the standard engine will be a 1.8-liter VVT four, with a possible rotary engine offered as an option. Enthusiasts are hoping for a lightweight V6 option, but there is no indication that will become a reality.
The new Miata is expected to be offered with ESP (Electronic Stability Program), as well as bigger brakes and 4 airbags.
(Photo Illustration by Brenda Priddy & Company)
Share your thoughts in this lively discussion on Miata Forum. Or this one.
---
A Coupe in the Miata's Future?
Back in the mid '90s, the M Coupe concept car was built by Mazda to show what the NA might look like without a drop-top. It never materialized into a production vehicle. Presumably, Mazda marketing gurus came to the conclusion at the time that it wouldn't sell.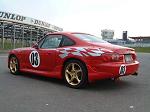 Perhaps they're revisiting that thought. Earlier this year, a concept RS Coupe was shown in Tokyo. We didn't give it much thought at the time. Road and Track offered their opinion, and now we're thinking maybe this is a harbinger of things to come.
These photos of another Miata coupe came to us via our friends in Holland. If you can get past the copper colored wheels, the design is pretty sexy. After 13 years of Miata roadsters, maybe the time has finally come for a completely new concept.
We'd like to think so.
---
Mazda Introduces the 2003 SE and Shinsen models
The latest limited edition Miatas are now out. With production limited to 1,500 units each, the Strato Blue Special Edition and the Titanium Gray Shinsen Version are Mazda's latest incarnation of the popular roadster. The Strato Blue SE includes:
Strato Blue Mica exterior with Gray cloth top
Gray leather trimmed seats
Special Edition Badging
16" alloy wheels with locks
Chrome fuel door
Stainless steel scuff plates
Two-tone leather wrapped shift knob and four-stitch shift boot
Leather wrapped parking brake handle
In-dash 6 CD changer
The Shinsen Version features:
Titanium Gray metallic exterior with Blue cloth top
Blue cloth bucket seats
Two-tone leather wrapped shift knob and four-stitch shift boot
Aluminum-like interior trim
Power door locks, cruise control, remote keyless entry
Limited Slip differential
Additional information at www.mazdausa.com
---
The 2003 Miata with Miata Club Sport (MCS) package - $19,995
Miata racers, Mazda has a special package for you. There will be a special run of 2003 Miatas, designed to reduce the cost and time required to prepare a car for competition for SCCA Club Racing and/or Solo events. Unnecessary equipment such as air conditioning, audio, speakers, power steering and wind blocker has been removed. There will only be two options, a rear spoiler and a hardtop with soft top delete.
Two models of the car will be produced, one with a hardtop aimed at the track enthusiast and one with a soft-top aimed at Solo enthusiasts. Initial production will be 50 vehicles, 25 hardtops and 25 soft-tops. Only two colors, Pure White and Classic Red will be offered.
The Miata with the Miata Club Sports (MCS) Package is available for purchase to members in good standing with MAZDASPEED Motorsports Development Team Support program, Miata Owners Club, and Sports Car Club of America (SCCA), and who wish to purchase the vehicles for competition for the period beginning November 15, 2002 and ending December 16, 2002. Beginning December 17, 2002 the vehicles will be available for sale to the general public.
Download and print these two files for complete information and ordering. The Rules in rich text format, and the Order Form in Excel format.
More at www.mazdamotorsports.com
---
2003 Miata Pricing
We're getting info on the 2003 in bits and pieces. The new color names, Splash Green and Garnet Red, may not be identical for North America, but we're fairly certain the colors themselves will be the same.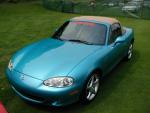 New features for the 2003 model include:
Standard 16" alloy wheels
A new cloth top on the LS model
Strut tower brace now standard
Larger brakes
New colors - Splash Green Mica and Garnet Red Mica
(Photos by Richard Dekker)
Base price starts at just over $21,000 (US). Full pricing details on mazdausa.com.
14 August, 2002
---
2002 Special Edition Announced for North America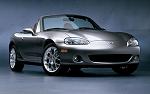 It has long been a Chicago Auto Show tradition to showcase America s love affair with the Mazda MX-5 Miata, and Mazda heats things up again this year as it introduces two new Special Edition (SE) models. Both are limited-production versions of the world s most popular sports car and come equipped with a host of features that make these the "raciest" SE models to date. For starters, both Miata SE s wear exhilarating paint jobs: one is Titanium Gray Metallic, the other Blazing Yellow Mica. The Titanium Gray SE model comes with a deep saddle brown leather faced interior and door panels and the Blazing Yellow SE has, for the first time in the Miata s 13-year history, a black leather interior. The seats on the black leather SE even carry the Miata logo embroidered into the seat back.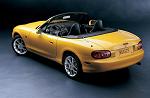 Other features of both 2002 Miata SE models are a standard in-dash 6-CD changer with 200-watt Bose ® AM/FM/CD audio system with speed-sensing audio volume control, a slick-shifting six-speed manual transmission, chrome fuel filler door, custom 16-inch Enkei alloy wheels and Mazda s exclusive Special Edition badging. Also included are two-tone, three-spoke NARDI ® steering wheel, a NARDI ® leather shift knob and handbrake lever, white gauge faces, aluminum accent rings on the gauges, aluminum door handles, aluminum foot pedals and foot rest as well as aluminum scuff plates. Also part of the SE equipment on both models is Torsen ® limited-slip differential, fog lights, a body appearance package and ABS brakes are available as options.

More information can be found on the Mazda web site: http://www.mazdausa.com/miata/
5 February, 2002
---
Canadian Yellow for 2002- with Black Leather
Mazda Canada Product Planning is pleased to announce that the Special Edition Miata will be available this spring for the MSRP of $34,735 (Cdn). The SE Miata, in one unique exterior colour- Blazing Yellow with black leather interior, is available with DHT (in Blazing Yellow). Canadian production is limited to 250 units.
Standard features include:
1.8L DOHC (142 Hp and 125 lb.ft)
6 speed Manual Transmission
Front Strut Tower Bar
Torsen Limited slip differential
ABS
Immobilizer
Keyless remote with two transmitters, panic mode, two-stage unlock, horn and lights feedback and trunk release
16" Unique design Alloy Wheels
205/45R16 83W summer tires
Black manual soft-folding convertible top
Black leather seats with silver stitching and Miata logo
Nardi leather 3 spoke black leather wrapped steering wheel with silver stitching
Black leather gear shift knob with silver stitching
Black shift lever boot with silver stitching
Black leather wrapped parking brake with silver stitching and aluminum button
Aluminum shift plate bezel, foot pedals and foot rest
Aluminum meter rings and center panel
Aluminum inner door handles and four air vent bezels
Air Conditioning
Black Floor mats
BOSE audio AM/FM radio, CD changer with 2 speakers and 2 tweeters
Unique exterior colour - Blazing Yellow (26S)
28 Nov '01
---
1 Nov '01


---
From the Tokyo Motor show...
---
28 Sep '01
---
28 Sep '01
---
So you really wanted a BMW M-Coupe? Or a Miata station wagon?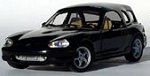 Los Angeles based design studio, The Sketch Farm, has come up with a concept for a new style Miata hardtop. Clearly inspired by the BMW M-Coupe, their goal was to make the fun, affordable Miata more "practical". While we imagine there are some Miata owners who might value practicality, we suspect this design will appeal more to those who might have shied away from the Miata. And perhaps those who can't afford a BMW M-Coupe.
Additional design images available at the Sketch Farm.
28 Sep '01
---
Mazda Miata MPS - at the Frankfurt Auto Show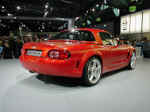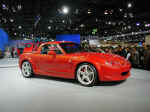 A 200 pony Miata concept car. We've heard that approximately 200 copies are slated to come off the line for the Japan market. Production is expected in late '01.
Read more about it at Edmund's.

26 Sep '01
---
Mazda announces 2002 Special colors - with Yellow!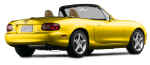 After 10 years, we're finally seeing a comeback of one of the most sought after colors in the Miata lineup. The 2002 Mazda Miata will be available in Vivid Yellow and Laser Blue Mica. In an interesting departure, these colors will only be available through Mazda's new Custom Order Program - and in extremely limited quantities. Orders will be filled on a first come, first served basis.
Officially, the Vivid Yellow is not the same as the Sunburst Yellow from the 1992 model. Nor is it the same as the concept M-Coupe or the one-off driven by Charlie Hughes at the 2001 Monterey Historic Races. The Vivid Yellow is the same that is available on the 2001 Mazda MP3. However, we've learned that the paint code for Vivid Yellow is identical to Sunburst Yellow. You do the math. The Laser Blue Mica is also a current MP3 color.
In addition, Mazda plans to offer an SE (Special Edition) that will be yet-another-Yellow.
More information as it becomes available.
6 Sep '01
---
A V-6 powered Miata concept
Full article by Richard Murray

6 Sep '01
---
Is there yellow in the Miata future?
Perhaps. Mazda put together this one-off concept vehicle to present to Miata owners attending Monterey Motoring weekend in August, 2001. The yellow is a metallic golden yellow, very similar to the yellow used on the M-Coupe developed in 1996, although a shade more brown. (Although it may be difficult to see in these photos, the color is much lighter than Evolution Orange.) Fans of the original 1992 Sunburst Yellow will be happy to know they still have a unique color as this one is very different.
In addition to the color concept, Mazda is showcasing several new interior ideas - some of which were seen earlier in the year on the auto show circuit. Laced with lots of little "light-catchers", the interior reflects recent trends seen in other concept cars.
The goal of this exercise, according to Mazda executives, was to gauge the reaction of Miata enthusiasts. We suspect they achieved that - there were people crawling all over the vehicles. But the question remains: is there another yellow Miata in the future?
22 Aug '01
---
M3 - The Next Generation Miata?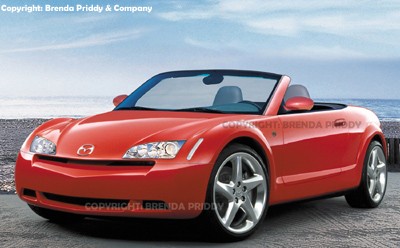 This is a computer illustration. It is an interpretation of what is believed the next Miata will look like.

This is a copyrighted image and may NOT be copied or used on ANY other web sites (club, personal or commercial), print publications, or any other type of media without expressed consent in writing from the copyright holder (Brenda Priddy & Company) and a paid use / licensing agreement.
An early hint of what could be happening to the Miata appeared in our inbox recently. Industry sources tell us this could be the Miata - or a replacement for it - as early as late 2003 or 2004. The engine is purported to be a 2.0 liter or a 2.3 liter powerplant with the larger one being considered for the US market. Rotary powered? Not for this go-round, though the new "Renesis" rotary will appear in the new RX-8 four-door coming in 2003 as well as in the smaller (but still larger than a Miata) two-seat coupe that will be badged as a - get this: RX-7! All three cars are expected to share a considerable amount of componentry - particularly in the suspension and structural architecture - though the skins and design themes are quite different.
We're also hearing that the new Miata will have a more sculpted hood with large air intakes along with huge front wheel arches housing 17" wheels.
Will it really happen? As of this point in time, it isn't a done-deal with Mazda. Here at Miata.net, we sure hope its nothing more than a bad dream.
31 May '01
---
26 Apr '01
---
Other M3 Concepts
Sources in Mazda have hinted that the Miata concept displayed on the 2001 Auto Show circuit just might be pretty close to what the next generation might bring. The concept car features:
Unique Aspen Silver Paint
Mazda Design Rear Spoiler & Front Aero Kit with Performance Brake Ducts
Custom Hood Graphics
17" Mille Miglia Wheels
Yokohama Parada 205/45VR17 tires
12.9" Brembo Brakes with 4 piston calipers
Mazdaspeed/Eibach adjustable suspension
Bosal Dual Exhaust
Carbon fiber convertible top
Custom Sport Leather seats
Aluminum finish interior trim
Body color instrument panel
Sound Bar speaker system mated to a Kenwood Excelon KDCX 815, driving 12 speakers, pumping out 300 watts per channel.
14 Apr '01
---
Factory Turbo
Forced induction lovers from Down Under have something to celebrate! Mazda is doing a factory turbocharged MX-5 for release in the Australian market later this year. What about North America? Unlikely. Between emissions controls and safety issues, we'd be surprised if it were to happen. More information at the Mazda Australia web site.
4 Apr '01
---
The 2001 North American Special Edition
The 2001 Miata SE in British Racing Green is now available. Some features include:
British Racing Green exterior
16-inch polished alloy wheels (w/ locks)
NARDI wood steering wheel
Wood hand-brake grip w/ chrome release button and tan cover
Wood shift knob; tan shift lever boot
Unique tan vinyl convertible top w/ cloth like appearance
Polished aluminum fuel-filler door
Stainless steel scuff plates
Special Edition tan floor mats
Special Edition badging
6-speed transmission is standard.
(Thanks to Michael Hapner for the heads-up!)
15 Feb '01
---
Rumour Mill on the 2003 Miata?
According to Autocar magazine, there may be an interesting model coming in 2003. The exciting news, if it is true, is that there will be a car known as the RX-5 which will be powered by a 280HP Rotary engine shared with the forthcoming all new RX-7. The RX 5 will feature the rotary engine and special sleeker /wider bodywork designed to take advantage of the RX-5's higher performance capabilities.
---
Our sources at Mazda indicate some minor, but interesting changes for the 2001 model year. On the front of the Miata, the foglights will become standard and will be integrated into the fascia. The difference from the current design will be "noticable."
Next comes a new color: Teal. There was a teal "test" color many years ago. We suspect this will be similar.
Inside, we'll be getting more comfortable redesigned seats with better bolstering and higher seat backs to comply with European regulations.
The 2001 model should be available in the September, 2000 timeframe.
---
New Canadian Model
Our grapevine network has also come up with some info on the Canadian offerings for 2001. In addition to the info above, Canada will be getting a Sport Package, consisting of
Electronic brake force distribution incorporated into ABS option
15" wheels with 195-50-R15 tires are now standard
Aero Sport Appearance package

6-speed manual
16" wheels with 205-45-R16 tires
Fog lights
Sport suspension with Biltstein shocks
Strut tower bar
Limited-slip differential

Instrument cluster similar to 2000 SE model
---
New UK Models:
We've been told there are three new limited edition models about to be introduced in the UK market.
Icon
Art Vin Red mica paint (metalic purple); Beiger leather seats; 6 spd manual gearbox; RDS/CD stereo; Wooden steering wheel, gear knob & handbrake handle; white dials with chrome surround (like the early MX-5), chrome handbrake button, and inner door handles; Torsen limited slip differential; 15" 5 spoke alloys; ABS. There will be 750 made.
California
Sunburst Yellow; alloy wheels;CD player. This is a similar package to the Mk1 California Limited Edition.
Jasper Conran
When you bring together the world's best selling sports car with a designer renowned for a superior presence on the fashion catwalks around the globe - the results are pure magic. And even better, the London Lighthouse charity will benefit from Jasper Conran's emphatic style, by receiving a donation from each car sold that bears their patron's name.

Exclusivity and luxury was the brief employed by Jasper Conran on the top-of-the-range 1.8iS Mazda MX-5, and through his flair both limited editions ooze sophistication and charm. Whilst under the bonnet remains the ever reliable and ever powerful 1.8 injection engine - roaring both cars from 0-60mph in under eight seconds.

Only 400 Mazda MX-5 Jasper Conran Classic Black cars are going into production and staggeringly only 100 of the unique Platinum cars will be available - each of which are uniquely identifiable through Jasper Conran's touches.

A unique exterior colour surrounds the Platinum Mazda MX-5 whilst inside a premium red Connolly leather interior extends to the door panels and the hood cover and luxurious red carpeting extends to the boot, adding distinctive style. An aluminium and leather steering wheel adds to the overall driving pleasure and touches of class are exemplified through the aluminium effect fascia, dial console and gear knob.

A slinky little number, the Mazda MX-5 Jasper Conran Classic Black has all the seduction of a siren and the presence of a true star. Aluminium finishes are encompassed in luxurious black Connolly leathers and seductive black carpeting - which extends to the boot - again hides the exciting and heart-racing ride.

A powerful CD / Mini Disk audio system on both cars allows for total driving satisfaction, whilst the 15" BBS alloy wheels add to the superb look and powerful statement created by both.

Both limited editions come with the standard 1.8iS specification including ABS, limited slip differential, dual airbags, glass heated rear screen electric mirrors, windows and antennae.

"These two cars are the exclusive fashion statement for the year. They reflect everything Mazda stands for," says Tim Tozer, Mazda UK managing director. "They have style, panache and major exclusivity."

The Mazda MX-5 Jasper Conran Classic Black car will be on sale for £21,000, whilst the Platinum will retail for £24,000 on-the-road. The Platinum car also comes with an exclusive Jasper Conran luggage set. Every Mazda comes with three-year/60,000 mile warranty, three-year European roadside assistance cover and six-year unlimited anti-perforation warranty.

More info at http://www.mazda.co.uk/mx-5/index.htm
---
---