---

The MX-5 Miatas of the Month from
---
1997 - 2002
Where are they now?
The Miata of the Month selections began nearly six years ago! While we imagine some of the winners from 1997 are no longer Miata owners, we recently caught up with a few some who still are to see what they're up to.

---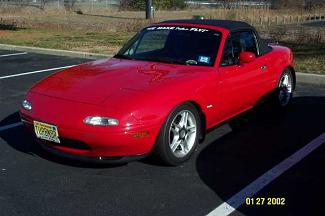 Howard Marder (Miata of the Month, October, 1997) still has his red 1990 Miata. Howard has continued with his Performance Driving ambition and now has an FM Turbo under the hood.
"I do the 'road racing' thing at tracks like Pocono and Summit Point. My Miata is just as eye appealing, if not more, since purchased in December 1989."
Dave Thomas (no, not the founder of Wendy's) still owns his rare Laguna Blue '94 that was featured as Miata of the Month in May, 1997, though its no longer his daily driver. Dave upgraded (he thinks its an upgrade) to a 1999 Porsche Boxster. Still, Dave knows which car is the true passion.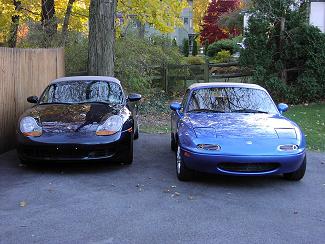 "Although my friends and family think it is crazy to actually own 2 sports cars (neither of which are
that reliable during the Philadelphia winters), I just couldn't bear to sell 'my baby'. It was such an important part of my life for so many years, and I surely would not get what I would consider a fair price considering all of the accessories installed, not to mention the sentimental value. So it now sits under a cover while I garage my Porsche (I just couldn't get my wife to give up her garage space for my second car!)."
While Dave is not as active in his local Miata club - he is a past president of Delval and was the organizer of Miata Mountain Madness - he does occasionally attend events, sometimes in the Porsche. He had fun to taking the Porsche to the annual Del Val Miata Club track day at Pocono Raceway to 'smoke' some of those guys who always gave him fits before!
Jeanne Pandes (Miata of the Month, November, 1997) still has her'92 SE.
"Every once in a while this very fleeting thought comes to mind to swap the car for a new one. But, often times it would only be to swap it in for a new Miata ... like the Titanium Gray Metallic SE or the Blazing Yellow Mica. But, I haven't been able to bring myself to do it because I've grown too attached to my car a bit too much. I think of all the road trips that I've taken with it. And, it's got a whole lot more life in it still.
"Our last big road trip was in Summer 2000. We drove my Miata on an 8000+ mile roadtrip up the Alaska Highway during the "Y2K2AK" trip. Now, that was a blast. We started a web page at
http://www.villacorte.com/miata/y2k2ak/ but have some updating to do. What an adventure that was! It's tough to appreciate doing that trip ... driving on the Alaska Highway (Alcan Highway) without seeing or doing it for yourself.
"Back to why I've kept my Miata .... I think of my buddy who talks so fondly and lustfully of the Austin Healey that he used to drive back in the 60's. Well, he got rid of it after just (too) few years of driving it. Now, 40 years later he's finally getting around to restoring another Austin Healey just like the one he used to drive. Now, I think to myself, "If he had just kept the darned thing, he might be driving the same one today." Well, that might not be totally true for a Healey, but maybe more so for a Miata. And, while my buddy's Healey is getting restored, he's driving, of all things, a '95 M Edition Miata! So, all that to say, that I can't imagine myself trading in being able to satisfy the frequent urges to jump in my Miata for drives on my favorite Miata-roads ... for only fond memories and "remember whens."
In addition to the 5th anniversary of Miata of the Month, Jeanne and Jaime will be celebrating their 5-year anniversary in November. Technically, Jeanne got Jaime's Miata. But she still drives hers ... and he drives his.
"Mine fits too much like a well-worn leather saddle. And, the same goes for his for him."
They did recently trade in their Saab 900S for a 2002 yellow Mazda Protege5. One of the reasons they enjoy the Protege5 is that it drives more so like the Miata, than like a truck (as Jaime describes the Saab).
Rob Young (Miata of the Month, March, 1997), the second Miata featured as a Miata of the Month, has also kept his early 1990 Red Miata looking the same as when he bought it in 1989. Rob and his wife Amy are still as active as ever, having recently attended the Northern Exposure event in Ottawa, Canada.
"Amy and I really enjoyed seeing you and many others again. Renewing old friendships is one of the perks of going to these National and International events."
Rob also picked up a new daily driver - a 1999 Emerald Green Miata!
---
---
---