Hot stuff from 2008
---
Hot stuff from earlier years
---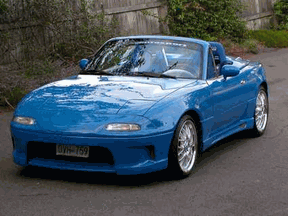 Miata Wizdom Full Body Kit includes Front Bumper, Side Skirts, and Rear Bumper.
For Mazda Miata years 1990-1997
For more information: GoMiata
(Added 12/13/08)

---
The Pro 1.3 is a new version of the Team Dynamics 15x7 Miata track wheel. Even stronger than before, this latest version is just over 13 pounds to be legal for SPEC MIATA and is made 54mm hubcentric especially for the Miata application. Now available in both 25mm and 30mm offsets for any autocross or track Miata. Intro price on new version saves $30 per wheel off the old Pro 1.2 price…just $99 each this month.
For more information: Good-Win Racing
(Added 12/13/08)
---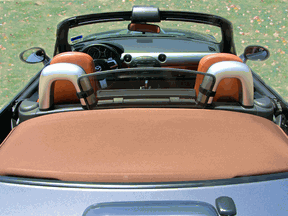 The Sport windblock from GoMiata is made of scratch resistant polycarbonate, and does a great job of reducing cockpit wind noise and turbulence in 2006-2009 Miatas. (It will NOT fit the PHRT models.)
This product works significantly better than the factory windblock, and can be installed or removed in seconds. The factory windblock does not need to be removed (unlike other after market windblocks).
For more information: GoMiata
(Added 12/13/08)

---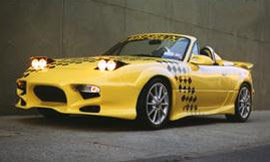 Miata Shogun Style Full Body Kit includes Front Bumper, Side Skirts, and Rear Bumper.
For Mazda Miata years 1990-1997
For more information: GoMiata
(Added 12/13/08)

---
If you have a third generation NC Miata, you're certainly familiar with the all-but-useless center console cup holders. I.L. Motorsport has developed an elegant solution that gives you true, usable storage with an added bonus - a 12 volt outlet!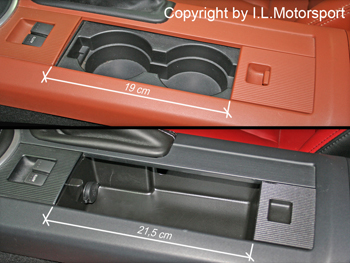 This is one of the most innovative products we've seen to date for the NC!
The opening is large enough handle all the little stuff you have flying around inside your car. Or you can just use it for all your electronics - iPhones, iPods, mobile phone or even your Navigation system. The kit includes everything you need for an easy installation, It is just an swap with the OEM cup holder. The version shown here is a black finish and looks totally OEM. A new sliding lid is also included.
Lots of storage room
12 Volt outlet

Wiring Kit

Opening for wires

Easy installation
Special offer through the end of December, 2008: €50.38
For more information: I.L Motorsport
(Added 12/6/08)
---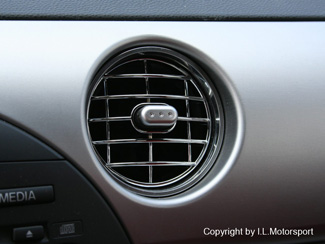 I.L. Motorsport now has a replacement for your OEM air vents to give a nice, shiny finish. Installation is not
difficult and can be done by most do-it-yourself mechanics.
Operates like the OEM vent balls!
For more information: I.L Motorsport
(Added 11/18/08)
---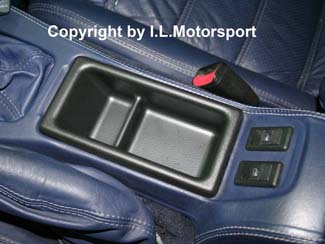 I.L.Motorsport has a new insert that replaces the stock ashtray in all NA Mazda Miatas (1989-1998.)
It is great for small item storage - it will hold your keys, cash, phones, and more!
No instruction needed, its just a simple swap for the OEM ashtray - takes seconds to switch!
For more information: I.L Motorsport
(Added 11/18/08)
---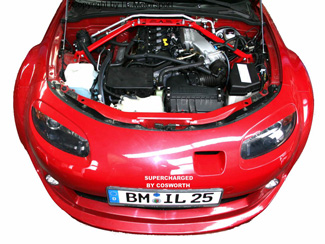 I.L.Motorsport is the European Market distributor for the Cosworth Supercharger. I.L. supplies software that is unique to the European Market. (Software ready in late November.) If you have a European spec car, please contact I.L.Motorsport directly for additional information.
For more information: I.L Motorsport
(Added 11/18/08)
---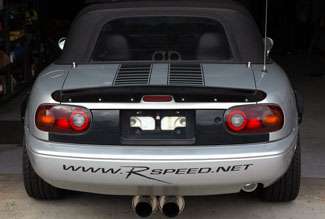 RSpeed is pleased to bring to market the first affordable, Replacement Rear Finish Panel for the 1990-1997 Mazda Miata MX-5. Made from ultra-durable ABS plastic, this OEM quality panel readily replaces your Roadster's broken, cracked, or just age brittle rear panel. When compared the stock finish panel, our panel demonstrates to have a bit more flex for enhanced durability and sturdiness. As a bonus, the alignment holes for the factory emblem are shaved off to give the finisher a ultra-clean look, but is still marked on the backside so you can drill in the correct spot should you prefer to have the emblem in place. The R Speed finish panel is supplied bare and ready to paint or you can leave it as-is for a unique racy panda look! Factory mounting locations are kept intact so that the panel fits perfectly without any modifications; we supply all the necessary factory style bolts, hardware, and clips to make installation a quick and easy affair. SPEC racers may inquire about our special racer discount, so feel free to contact your Miata specialists at RSpeed on how to order.
For more information: RSpeed
(Added 11/8/08)

---
Clearwater 8" Bose® Replacement System
This system consists of (2) replacement 8" woofers, (2) 1" soft dome tweeters, (2) custom sound modules and all the connectors and wiring needed. As with all Clearwater products, this is a simple "do it yourself" installation process. You can easily install this system yourself in about an hour. There is absolutely no cutting, drilling or splicing needed and you can return your speakers back to stock in the event you would ever want to do such a thing. This system is unlike any other available in the world.

Upon first listening to the system you will notice a vastly improved clarity and detail in your music. A well recorded CD will open your eyes and amaze you at what you have missing. Deep and clear bass without strain will be more than apparent on this new system.
Even on "Talk Radio" you will notice improved intelligibility, and will find it easier to understand what is said even at lower volumes.
For Mazda Miata years 1999-2005
For more information: GoMiata
(Added 11/2/08)

---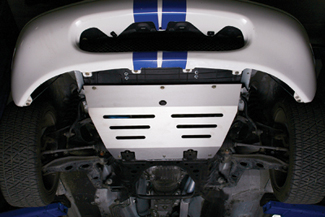 The Miata comes with a flimsy plastic engine tray/undershield that is prone to deterioration and cracking. Once the factory tray is compromised dirt, debris and excessive amounts of water can now get on your engine and belts leading to increased maintenance. The other function of an engine tray is to direct air through your radiator and condenser and not let it escape under them. Cobalt engineers have developed a skid plate to protect your engine, radiator, oil sump and all other vital engine parts from damage. Using stainless steel construction to ensure it is a rock solid addition to your Miata, the Cobalt skid plate will perform the same functions as your original under tray only better.
For more information: www.miatamania.com
(Added 11/2/08)

---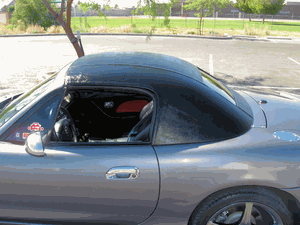 Miata Speedster Removable Hardtop 1990-2005 - SALE!
When the weather is fair and the top is down, nothing beats the joy of driving a Miata convertible! However, when the weather is bad or if you are on a long drive on the freeway, you just can't beat a Hardtop. Here is the good news! Now, you can have the best of both worlds!
GoMiata's Removable Miata Hardtop, which was introduced in 2000, was designed to enhance the overall sportscar look with a totally unique "Speedster" roof silhouette. This exciting Smooth Line design features a curved, flush mounted, convertible sized, rear window for a very sleek and low look. Coming or going, this Hardtop will give your Miata a very aggressive stance that will definitely make heads turn! If you want the "Bad Boy" look, this is it!
For more information: GoMiata
(Added 11/2/08)

---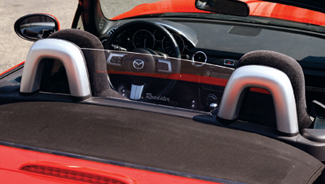 Fall in love with your MX-5 all over again. Wind buffeting might have been a funny little quirk when you purchased your car but as time goes on it makes for a less than ideal driving experience. The Cobalt Clear View wind blocker literally blocks the wind and forces it over the rear of the car. Its sleek shape matches the lines and contours of the MX-5. Water jet cut from ¼" Lexan and features the Roadster logo. Mounts with velcro to the factory roll bar.
For more information: www.miatamania.com
(Added 11/2/08)

---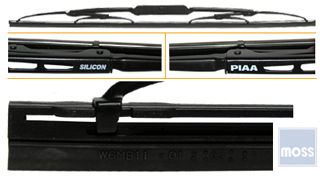 Sporza wiper blades from PIAA add an aerodynamic wing to their best wiper to increase physical down force for the ultimate in high-speed wiper performance. PIAA wiper blades offer the best resistance to all elements – Heat, ozone, and ultra-violet light. Their revolutionary design eliminates squeaks and reduces drag while the blade maintains a sharp, clean edge, even after 1000's of uses. Sold individually.
For more information: www.miatamania.com
(Added 10/17/08)

---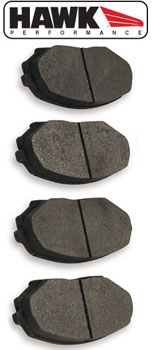 Hawk Brake Pads are manufactured using the highest quality materials available for Street-performance driving. For the serious performance driver, this is the best pad we offer.
Hawk Performance's HP Plus brake pad compound is ideal for Autocross and Track Day drivers looking for a high performance race compound that can take the heat of the track and get you home safely without having to change the pads. HP Plus utilizes a unique Ferro-Carbon, high-tech friction material that was developed and manufactured for sport driving in autocross, Solo II and "track day" applications. The Ferro-Carbon formulation offers lower wear rates and higher torque values than other competitive materials. Extremely high coefficient of friction makes HP Plus the perfect upgrade over stock for high performance streetcars used in autocross competition or that experience repetitive, heavy braking.
Warning! Due to the dramatic friction levels produced by this product to achieve "race-level" braking, rotor wear, noise, dust, and pad life may be affected.
Note: Hawk Performance burnishes its HP Plus brake pads as a final step in the factory, but all brake pads have to be bedded-in with the rotors (new or used) that they will be used against. Properly bedding-in new brake pads results in a transfer film being generated at the pad and rotor interface to maximize brake performance.
For more information: www.miatamania.com
(Added 10/17/08)

---
If you are ready for some awesome power out of your NA or NB Miata, then look no further. Boss Frog has developed some new V8 swap kits that will turn your car from mild to wild!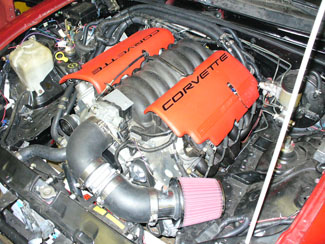 Boss Frog kits do not require cutting into the transmission tunnel, dashboard removal, oilpan modifications, or additional steering joints. The only changes from stock are some trimming of the engine bay gussets, swapping the lower steering knuckle for a slightly longer version, and relocating the sway bar slightly forward.
Boss Frog uses the following drive train components in their kits;
• Engine – any of several aluminum block LSx series GM engines typically used in Corvettes, Camaros, Firebirds and GTOs – which are lighter and more powerful than the Ford 5.0 liter V8's.
• Transmission - a Borg Warner T56 syncromesh 6-speed manual transmission.
• Differential - the track proven Ford 8.8 with independent rear suspension.
• Axles – Ford 7.5 series CV joints with large 1-1/8" diameter custom half-shafts made from high strength 4340 shafting.
The Boss Frog kits are divided up into various components and systems, so that you can purchase exactly what you want, when you are ready for it. The kits include professionally designed subframes with plasma profiled parts and heavy wall rectangular tubing. Boss Frog kits will give you the strongest overall drivetrain available, so that you can put down the most reliable horsepower at the track or the strip.
For more information: Boss Frog
(Added 10/17/08)

---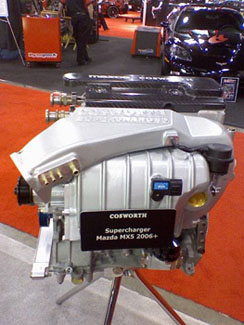 Good-Win Racing is proud to introduce the Cosworth bolt-on Supercharger system for the 2006-2008 Mazda MX-5 Miata. This kit features a state of the art 4th generation Eaton MP62 Supercharger rotating group housed in a custom integral aluminum inlet manifold. It is designed as a compact, flexible supercharger system for increased power with original equipment quietness and reliability without adversely affecting fuel economy. This all inclusive, bolt-on system features an efficient air to water intercooler, upgraded fuel system and complete installation hardware. A high flow air box cover and a revised accessory drive arrangement complete the major components list. An included re-flashing device takes care of fuel and ignition calibration.
For more information: Good-Win Racing
(Added 10/17/08)
---
The CorkSport 'Power Series' Exhaust is designed to optimize exhaust flow for significant power gains over the stock exhaust system. The CorkSport exhaust has the following features;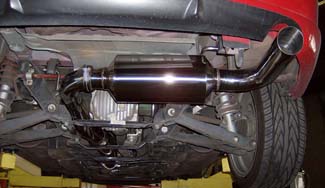 Quality Materials: The exhaust system is constructed with 80mm 304 stainless steel piping and uses stainless steel packing in the muffler and resonator. Stainless steel material was chosen in construction of the exhaust system because of its superior heat retention, strength and corrosion resistance.
Quality Construction: The CorkSport features TIG welds and mandrel bent piping. By using mandrel bending for the pipe the exhaust has a smooth path to travel keeping the restriction to a minimum. TIG welding is used for its strength and good looks.
Quality Sound: By using a straight through resonator and muffler, the CorkSport exhaust note is audible without being annoying or 'Buzzy' like some exhaust systems on the market today.
Quality Performance: With the larger diameter piping and high flow mufflers the turbo will spool quicker delivering faster engine response and more power for your Mazdaspeed Mx5. Everyday driving is improved by the increased boost response, extra torque, and horsepower.
Quality Looks: With polished piping and mufflers, an 80mm slant cut exhaust tip, and TIG welds the CorkSport exhaust system is one of the best looking systems on the market.
Quality Support: CorkSport offers reliable installation support and fill installation instructions with the exhaust system for the do-it-yourself customer.
For more information: CorkSport
(Added 10/11/08)

---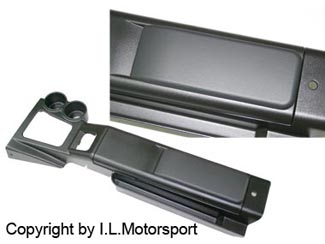 I.L. Motorsport created a soft rubber inlay armrest to fit their center console, providing a smoother, more comfortable ride.
For more information: I.L Motorsport
(Added 10/8/08)
---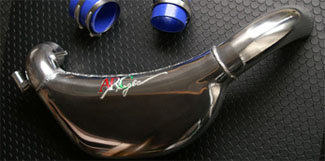 ARC Intake Chamber
Product from JAPAN made by ARC. Legendary and rare intake chamber developed to get maximum power and improve the powerband of the 1.6L engine. Rev9 recorded a 6whp gain over stock in their shop car. It will flatten down the torque curve and also improves throttle response as well as a nicer looking engine bay.
The pictured item is made for 1.6L NA Miata (1989-1993), and it is also available for 1.8L NA (1994-1997) and 1.8L NB (1998-2005).
For more information: Rev9Autosport.com
(Added 9/29/08)

---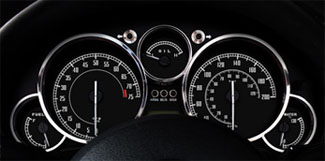 RS Products Meter Panel for NC
This is one of the nicest meter panels available for your 2006+ MX-5. Made by RS Products, this meter panel is of the highest quality and is worth every penny spent. This part is easy to install and you'll enjoy it every time you drive your car.
Also available for NA (1989-1997) and NB (1998-2005) Miatas, only at REV9 Autosport.
For more information: Rev9Autosport.com
(Added 9/29/08)

---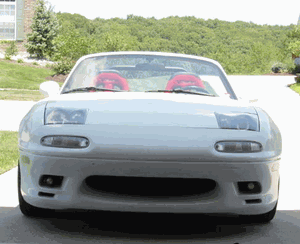 Flush Mount Headlight Kit for NA Miatas on Sale at GoMiata.
Are you tired of the big goofy looking barn door headlights on your Miata? These Mazda Miata Flush Mount Headlight Full Kit is what you Need, to give you the look that will make others look twice at your Miata. The Mazda Miata Flush headlight housings are manufactured with 3 layers of high quality Carbon Fiber with a paintable gelcoat finish. Lexan was used to develop a very durable, lightweight, and scratch resistant cover for the housings.
By utilizing the latest lighting technology form world-class lighting manufacturer Hella the Miata Flush kit dramatically increases light output when compared to the dated OEM lamp housings. The 90mm Hella modules use a projector to accurately direct and amplify light output and increase visible lumens.
For more information: GoMiata
(Added 9/29/08)

---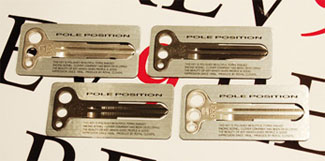 Poleposition Keys
The keys may be the only part that's left unmodified in your car. Poleposition keys are made in Japan, and feature a great look and feel. They are only available for NA (1989-1997) and NB Miata (for keys without chip).
For more information: Rev9Autosport.com
(Added 9/29/08)

---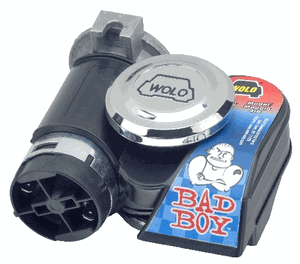 Have you had some close accidents because other drivers didn't see your Miata? Sometimes we have to assert ourselves on the road to let other drivers know we're there. The BAD BOY Air Horn is great to let other know where we are.
The BAD BOY Air Horn is the latest in air horn technology, one-piece design, that requires no hoses. Installs in minutes by simply transferring the factory horn wires to the compressor. Mounts with one bolt included in kit.
Produces a powerful dual tone air horn sound that is two times 2X louder than the factory horn. The BAD BOY Air Horn is compact in size to fit the Mazda Miata and any 12-volt vehicle that wants a loud air horn sound. Heavy-duty maintenance free compressor will provide years of dependable service. Instruction are included.
For more information: GoMiata
(Added 9/12/08)

---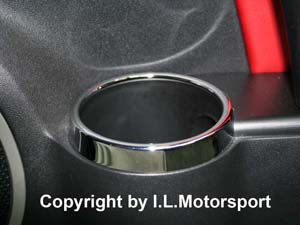 Specially designed and fabricated for all Mazda MX-5 NC models from 2006 and later, a pair of chromed rings that fit precisely on your door cupholders (left and right).
The rings have triple layer chrome finish to enhance the interior of your NC Miata!
For more information: I.L Motorsport
(Added 8/16/08)
---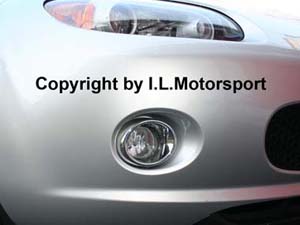 Now in stock for all Mazda MX-5 NC, I.L. Motorsport has the perfect rings for your OEM fog lights. Simple installation takes only a few minutes, and requires no special tools. These rings look like OEM!
Excellent triple layer chrome finish.
For more information: I.L Motorsport
(Added 8/16/08)
---
---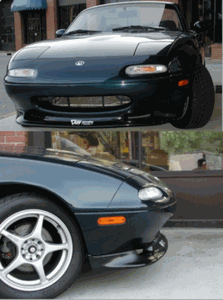 Garage Vary Urethane Front Lip Spoiler Mazda Miata NA 1990-1997
Now this is really cool product. As tuff as they are good looking, these functional spoilers install easily. Your Miata will gain a totally distinctive New look that is more aggressive, yet subtle with just a hint of RX-7.
All Garage Vary Body parts have perfect fit and mount perfectly; made in Japan with the most stringent quality controls.
Quantities are limited so order today!
For more information: GoMiata
(Added 7/30/08)

---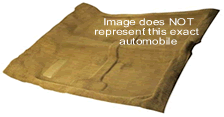 Go Miata is proud to offer the highest quality custom fit Mazda Miata carpet available. Our replacement Mazda Miata carpet kits are made from OEM Quality materials and are custom made using the original Mazda Miata floor pan, providing the best quality and fit. For those items that are molded, the mildew resistant jute padding is heat bonded to the backside of the new carpet kit and a heel pad is welded to the correct location on the driver's side.
This set includes passenger areas, curtain, shelf, and donut.
. Made in USA, with Top Quality materials.
. Heat and pressure molded to the original floor pan, just like OEM Carpet
. Mildew resistant jute padding is heat bonded to the backside
. Heel pad is welded to the correct location
. Mazda Miata Carpet is Guaranteed against Defects
. Will fit the following years: 1990-1997 and 2006-2008
Mazda Miata carpet is manufactured with two different types of backing, standard poly backing and mass rubber upgrade backing, and comes in 11 colors.
For more information: GoMiata
(Added 6/26/08)
---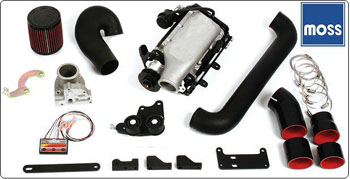 Miata power fanatics can rejoice, "IT" has arrived. Moss Motors' MP62 based Stage 1 CARB approved supercharger system was designed for the Miata enthusiast that wants to make serious horsepower and comply with emissions laws and standards. CARB EO# D-453-8.

The entire system is designed around the Eaton MP62 Supercharger. The MP62 is a roots-type positive displacement blower that delivers instant boost at any RPM. Integrated into the MP62 supercharger is a boost bypass valve. When cruising, the bypass valve opens and re-circulates the air. This allows for fuel economy similar to stock. Put the hammer down and the bypass valve shuts immediately delivering instant boost to your Miata's engine. Every part in this system, including the Eaton supercharger, is warranted by Moss Motors for two years from the date of purchase.

Fuel enrichment and Timing Control under boost is handled by PowerCard. The philosophy is simple - work in harmony with the factory ECU and simply add fuel and adjust timing where necessary and only under boost. This philosophy will quickly become apparent the first time you drive your newly MP62 supercharged Miata. Instant boost, seamless power and no driveability quirks. A steady idle and nothing but a smooth delivery of boosted power that only PowerCard delivers.
For more information: www.miatamania.com
(Added 5/23/08)

---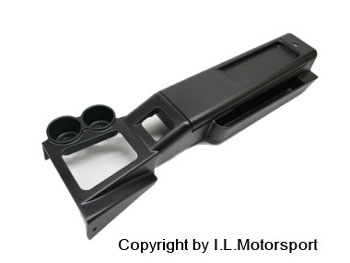 I.L. Motorsport introduces a newly designed center console for all Mazda MX-5 NA from 1989 to 1998. Sporting a much larger glover box and a longer arm rest, it makes long drives more convenient while raising the standard for your Miata.
The OEM (original Mazda®) keylock and window switches transfer from your original center console into the new one. Plus there are two cup holders situated in an ideal position - something that has been missing from NA Miatas from the beginning. This is the best you can get.
I.L. Motorsport is also working on a foam arm rest pad that will fit precisely into the upper glove box lid as well as a universal cup holder adapter to hold your mobile phone or Ipod.
For more information: I.L Motorsport
(Added 5/24/08)
---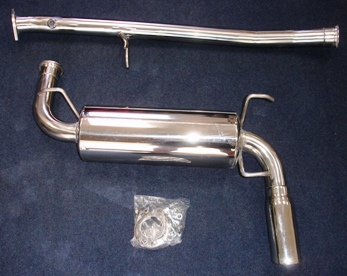 Good-Win Racing proudly introduces its RoadsterSport 3 polished stainless steel exhaust for 90-97 Miatas. Proper sports car sound with a deep mellow tone at cruise and a vintage bark when you put your foot into it. This system includes a unique removable baffle tip so that YOU can adjust sound from sporty, to extra sporty. This complete cat-back system is built in the USA in all 304 stainless steel and includes a lifetime warranty.
For more information: Good-Win Racing
(Added 5/24/08)
---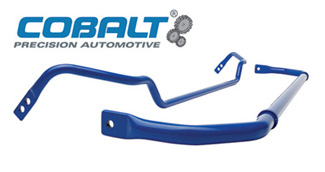 The latest Mazda Miata handles well from the factory, but Mazda had to compromise in order to meet the expectations of all potential drivers. As a result, Mazda has left room for improvement even in suspension of cars with the factory Sport package. The addition of Cobalt hollow sway bars will reduce your Miata's body roll, making your Miata more responsive to turning, more settled in transitions, and more fun to drive. The Cobalt sway bar sets stiffness has been carefully chosen to enhance handling and balance without ruining your ride quality. The rear bar is two position adjustable. Front bar diameter is 25 mm and rear bar is 17 mm.
It's a front and rear Cobalt sway bar set for the 06-08 MX-5.
For more information: www.miatamania.com
(Added 5/16/08)

---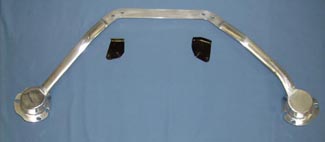 The CorkSport Front Shock Tower Brace reduces a vehicle's chassis flex by connecting the vehicle body at the shocks and firewall for added torsional stiffness. This provides a direct feel of the suspension by limiting the chassis flex under hard cornering.
The CorkSport Front Shock Tower Brace is made from T6061 aluminum and polished to provide a great looking functional part that will last the lifetime of the car. The CorkSport Shock Tower Brace one-piece construction and aluminum material make for a light and strong component.
The CorkSport Front Shock Tower Brace has optional brackets for vehicles that are not equipped with the factory brace. The shock brace includes easy to-follow installation instructions for the Do-It-Yourselfer.

For more information: CorkSport
(Added 5/16/08)
---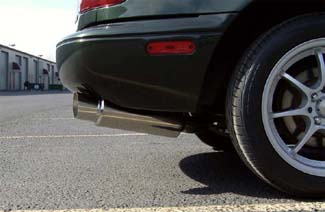 The CorkSport 'Drift' Exhaust is engineered for the sport sound and performance without the 'tinny' noise associated with some performance exhaust systems. Minimum resonation with an aggressive tone is what you will get with the CorkSport Drift exhaust. The CorkSport exhaust features the angled rear muffler with a stylish 'CS' logo plate which compliments the Miata's performance heritage.
The CorkSport 'Drift' Exhaust comes with full instructions and necessary hardware for installation. Featuring polished T304 stainless steel, the system is designed to last the life of you Miata. TIG welded mandrel bent piping flows through stainless packed straight-through mufflers and out an 87mm tip for optimal exhaust flow.

For more information: CorkSport
(Added 4/20/08)
---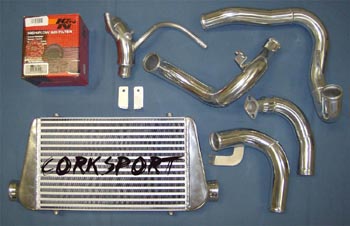 The CorkSport Mazdaspeed Miata Front Mount Intercooler Upgrade Kit increases the efficiency of the turbo system by incorporating a larger bar and plate type intercooler. The intercooler fills the bumper opening taking advantage of all the airflow entering the engine bay with increased surface area. The larger intercooler core allows for better heat dissipation with minimal pressure drop. This allows for engine better air flow, cooling, and increased power for your car. On a stock Mazdaspeed Miata you can expect gains of 14 hp and 9 torque at the wheels. The CorkSport intercooler kit also features a high flow aluminum replacement turbo inlet pipe with the kit.
With your choice of red or blue silicone connectors you can customize the intercooler kit to your own taste.
Kit comes with a 18x11x3 inch bar and plate intercooler core, 58mm aluminum intercooler piping with bead rolled ends, silicone multilayer connectors, and stainless steel t-bolt clamps. The kit comes with full installation instructions and all the needed hardware for a bolt in installation.
For more information: CorkSport
(Added 4/13/08)
---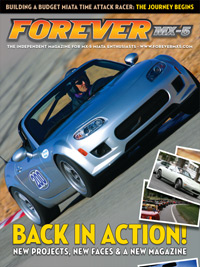 The first issue of Forever MX-5 Magazine is bundled up and in the hands of the United States Postal Service for delivery to subscribers across America and around the globe. The all-new independent MX-5 Miata enthusiast publication represents the long-awaited revival of Miata Magazine.
The new magazine maintains the exclusive focus on the Miata and MX-5 that made the original title a favorite of Miata owners worldwide.
For more information: Forever MX-5
(Added 3/15/08)
---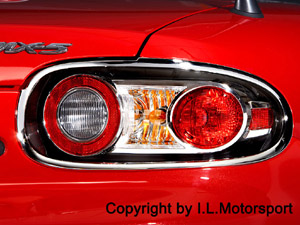 Customize your NC with a new chromed tail light frame from I.L. Motorsport. Fits all Mazda MX-5 NC from 2005 and later. Simple installation takes only minutes with the included 3M double sided adhesive for an OEM look.
For more information: I.L Motorsport
(Added 2/25/08)
---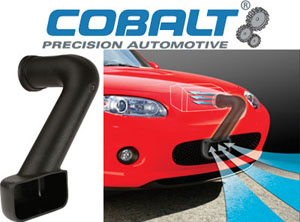 The first cold air intake for the MX-5 that doesn't require you to remove the bumper cover every time you need to clean or replace the filter. The Cobalt intake uses a precisely placed scoop, just behind the grille, to direct pressurized air into the engine. The incoming cool air is pushed through the intake to the engine, increasing HP and TQ output. For even more power output, replace the stock paper air filter with a high flow K&N cotton gauze filter. The K&N filter is a direct replacement and is backed by K&N's million mile warranty. Not CARB approved.
For more information: www.miatamania.com
(Added 2/18/08)

---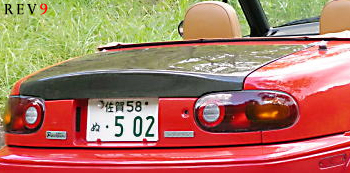 Need to shave some weight of your Miata but you don't want to cut into body panels? This carbon fiber trunk is a great way to shave some pounds and let people know you mean business at the track. Made in Japan, this carbon fiber trunk has a fantastic finish and fits perfectly.

*Also available in lightweight FRP
For more information: Rev9Autosport.com
(Added 1/30/08)
---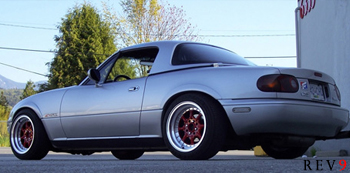 These fender flares are a high quality product from Japan only available at REV9 Autosport. Available in FRP or carbon fiber, the fender flares will give a more muscular and defined look to your Miata. They also provide extra coverage for low offset wheels. Installation of the fender flares does not require drilling or cutting.
*They are also an inexpensive way to hide fender rust.
For more information: Rev9Autosport.com
(Added 1/30/08)
---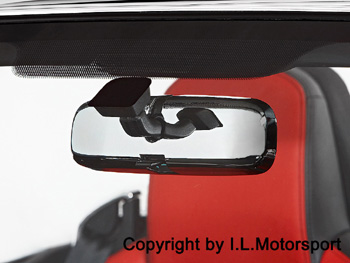 New from I.L. Motorsport - Chromed mirror caps for your MX5. These new mirror cap fit all Mazda® MX-5 NC inside rearview mirrors, as well as NA and NB models with mirrors that attach to the windshield. As with all I.L. Motorsport products, installation is quick and simple - no tools needed. Backed with 3M double layer tape attach mirrors in the proper position.
Fits:
NA&NB 1994-2005 ( All cars with mirror on the windshield )
NC 2005 and up
For more information: I.L Motorsport
(Added 1/19/08)
---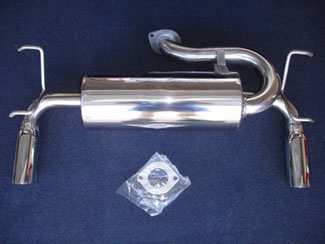 Good-Win Racing is proud to introduce its "RoadsterSport Q" for 2006 through 2008 MX5 Miatas. Finished in 3.5 inch tips with baffles that can be removed to change from a sporty sound, to extra sporty. Also offered are optional packed baffle inserts to offer the enthusiast total control over final sound level. All polished all stainless steel construction with lifetime warranty.
For more information: Good-Win Racing
(Added 1/1/08)
---
Hot stuff from earlier years
---
---